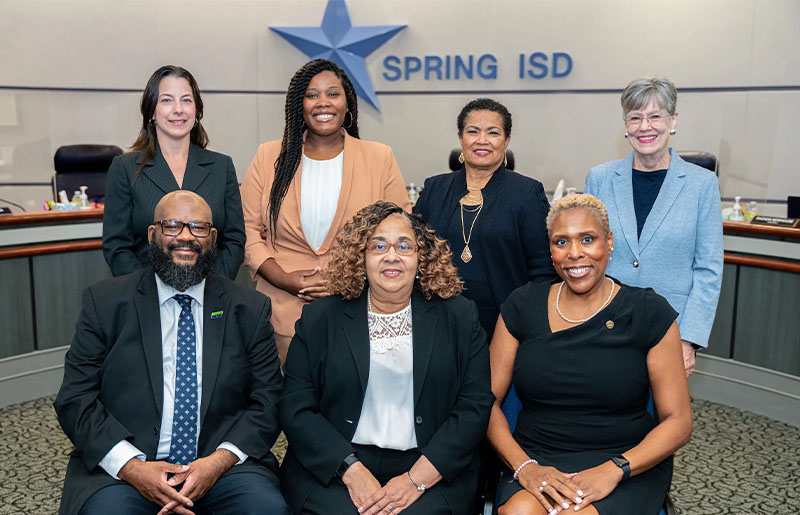 Education
Spring ISD Board of Trustees to Meet in Work Session May 4 and Regular Session May 9
May 03 2023
---
The Spring Independent School District Board of Trustees will meet at 6 p.m. Thursday, May 4 at the Gordon M. Anderson Leadership Center, 16717 Ella Blvd. To ensure public access, the meeting will also be streamed via Zoom.
The agenda includes a review of items that will be presented to the board for approval at the regular board meeting scheduled for 7 p.m. Tuesday, May 9 at Dekaney High School, located at 22351 Imperial Valley Dr., also to be held in person and streamed via Zoom.
Presentations of note on Tuesday include a preliminary discussion on the 2023-2024 budget and an update on the Texas Education Agency's (TEA) refresh of the A-F Academic Accountability System.
The board is also slated to consider approving the Optional Flexible School Day Program (OFSDP) for Momentum High School; approval of the first reading of proposed revisions to Board Policy DMA (LOCAL); approval of the first reading of proposed revisions to Board Policy BDB (LOCAL); approval of the first reading of local policies and notification of legal policies revised by the Texas Association of School Boards (TASB) in Update 120; approval of awarding the contract for medical products, supplies and services, and tax office collections software from a provider selected by the administration through a formal Request for Proposal (RFP); approval of the construction costs and related budgets for the renovation of Clark Primary School and Spring Leadership Academy; approval of the list of investment brokers/dealers; approval of the lease agreement between Spring ISO and Site Concepts, Inc. for a wireless communications facility and tower; approval of the interlocal agreement with the General Land Office (GLO) to supply Spring ISD building with natural gas services for a period of one year starting June 1, 2023; consideration of adopting the resolution determining the minimum hourly wages to be paid to construction workers engaged in public works/construction facilities projects in Spring ISD; approval of the master job order contracts for districtwide projects; an update on the Intruder Detection Audit; a review of the report of cooperative purchases exceeding $50,000; and taxpayer refunds. See Full Agenda.
Members of the public may access the meetings using links that will be posted online at https://www.springisd.org/Page/7703 30 minutes before the start of the meeting.
Source: Spring ISD
« BACK TO NEWS
---
LATEST NEWS
V
All
Food & Beverage
Food & Dining
Shopping
Weather
Development
Dining
Government
Home & Garden
Lifestyle
Outdoors
Pets
Transportation
Community
Non-Profit
Sports
Education
Health & Science
Religion
Groups
Entertainment