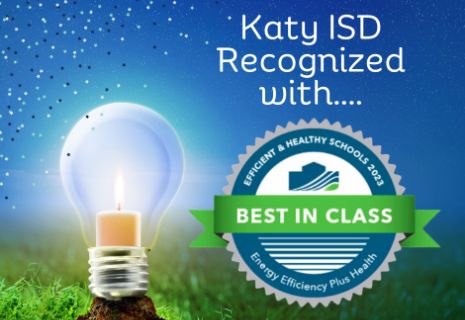 Education
Katy ISD Recognized Nationally for its Energy Conservation
June 29 2023
---
As Katy ISD prepares to observe Energy Savings Week (July 3-7) across its 98 campuses and facilities, it has been honored with the Best in Class: Energy Efficiency Plus Health recognition from the United States Department of Education, U.S. Department of Energy and the Environmental Protection Agency. This remarkable achievement highlights efforts to maintain good air quality while efficiently conserving electricity. Across the nation, six educational institutions received the prestigious recognition, with Katy ISD being the only school district in Texas to receive the accolade.
"With energy costs on the rise, Katy ISD has been proactive in modernizing its building control systems which have contributed to energy conservation as well as operational cost savings for the District," said Nathan Fuchs, Executive Director for Maintenance & Operations. "This effort is made possible because of voter-approved bonds which have allowed the district to optimize the HVAC and Building Management Control Systems (BMCS) at aged campuses and facilities," added Fuchs.
In alignment with the State of Texas' call to conserve energy, Katy ISD will continue its District-wide BMCS upgrades across the district, as well as ensure new campuses open their doors with energy efficiency and conservation approaches. As part of its environmental stewardship, Katy ISD technicians work closely with the District's Energy Management team to sustain efficiency gains and awareness which ultimately provide the best-in-class learning environment for students and staff.
Source: Katy ISD
« BACK TO NEWS
---
LATEST NEWS
V
All
Food & Beverage
Food & Dining
Shopping
Weather
Development
Dining
Government
Home & Garden
Lifestyle
Outdoors
Pets
Transportation
Community
Non-Profit
Sports
Education
Health & Science
Religion
Groups
Entertainment