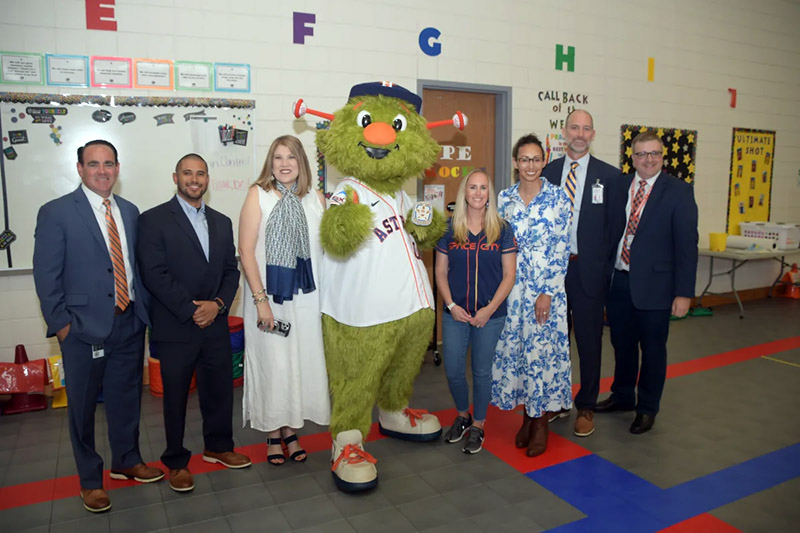 Education
Tomball ISD & CPES Teacher Sandy Guillory Honored as ConocoPhillips' Math Teacher of the Month
May 16 2023
---
A celebration of high-quality teaching took place when fourth grade Canyon Pointe Elementary teacher Sandy Guillory was greeted by the Houston Astros' mascot Orbit and representatives from ConocoPhillips after being named a Math Teacher of the Month.
Guillory teaches 4th grade math at CPES. She is in her 15th year of teaching. During her time as an educator, she has been recognized for her hard work as her campus' Most Valuable Teacher.
"Sandy Guillory uses innovative and engaging methods to ensure student engagement and her continued success demonstrates her ability for helping students to love learning mathematics," said David Surdovel, Tomball ISD Director of Math. "These innovative lesson ideas include using Candy Land to teach fraction word problems, playing flip cup to learn about multiplication, and making a Plinko board for students to review Geometry material."
ConocoPhillips and the Houston Astros recognize six math teachers during the baseball season, running from April to September. The winning teachers were selected by an external committee made up of representatives from academia, business and the nonprofit sector.
Out of more than 500 nominations this year, Sandy was chosen as one of six Math Teachers of the Month and the only one outside of the South Houston area.
When evaluating Guillory, the committee considered several areas in which she excelled as an educator in Tomball ISD. She showcased a commitment to excellence in mathematics teaching, showed evidence of creativity and innovation in the classroom, demonstrated leadership skills, showed effective use of traditional and nontraditional teaching tools, continues to go above and beyond to make in a difference in students' lives, demonstrated increase in student achievement in mathematics and demonstrated increase in student affinity for mathematics.
As a winning teacher, Guillory received a number of awards from ConocoPhillips and the Houston Astros. Along with a campus visit from Orbit, she will receive pre-game recognition and a Minute Maid Park stadium tour, $1,000 donation to teacher's school/school district, a $100 gift card for the purchase of classroom supplies, ConocoPhillips and Houston Astros gift package, pre-game radio interview and recognition on the ConocoPhillips website.
Guillory follows a rich tradition of Tomball ISD math teachers being recognized for this award including Christopher Penny (CPJHS 2017), Haley Galyean (OIS 2018), Allison Bearden (OIS 2019), Susanne Whitley (NIS 2020), Jennifer Koster (TMHS 2022), and Jessica Hampton (OIS 2022). Sandy is also our first math teacher chosen from an elementary school for this award.
Source: Tomball ISD
« BACK TO NEWS
---
LATEST NEWS
V
All
Food & Beverage
Food & Dining
Shopping
Weather
Development
Dining
Government
Home & Garden
Lifestyle
Outdoors
Pets
Transportation
Community
Non-Profit
Sports
Education
Health & Science
Religion
Groups
Entertainment