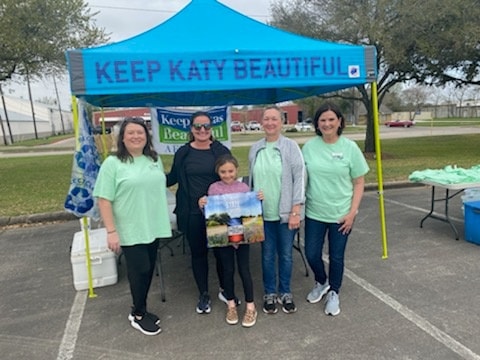 Community
Keep Katy Beautiful Trash Off Coming April 15
March 25 2023
---
Join us for KKB's annual Trash-Off event! The Don't Mess with Texas Trash-Off is spearheaded by TxDOT and Keep Texas Beautiful and serves as Texas' signature event for the Great American Clean-Up which is organized by Keep America Beautiful. This one-day event allows community members to join thousands of other Texans in their hometowns to make a big difference just by picking up harmful litter and debris along roadsides, in local parks, and other places in the city.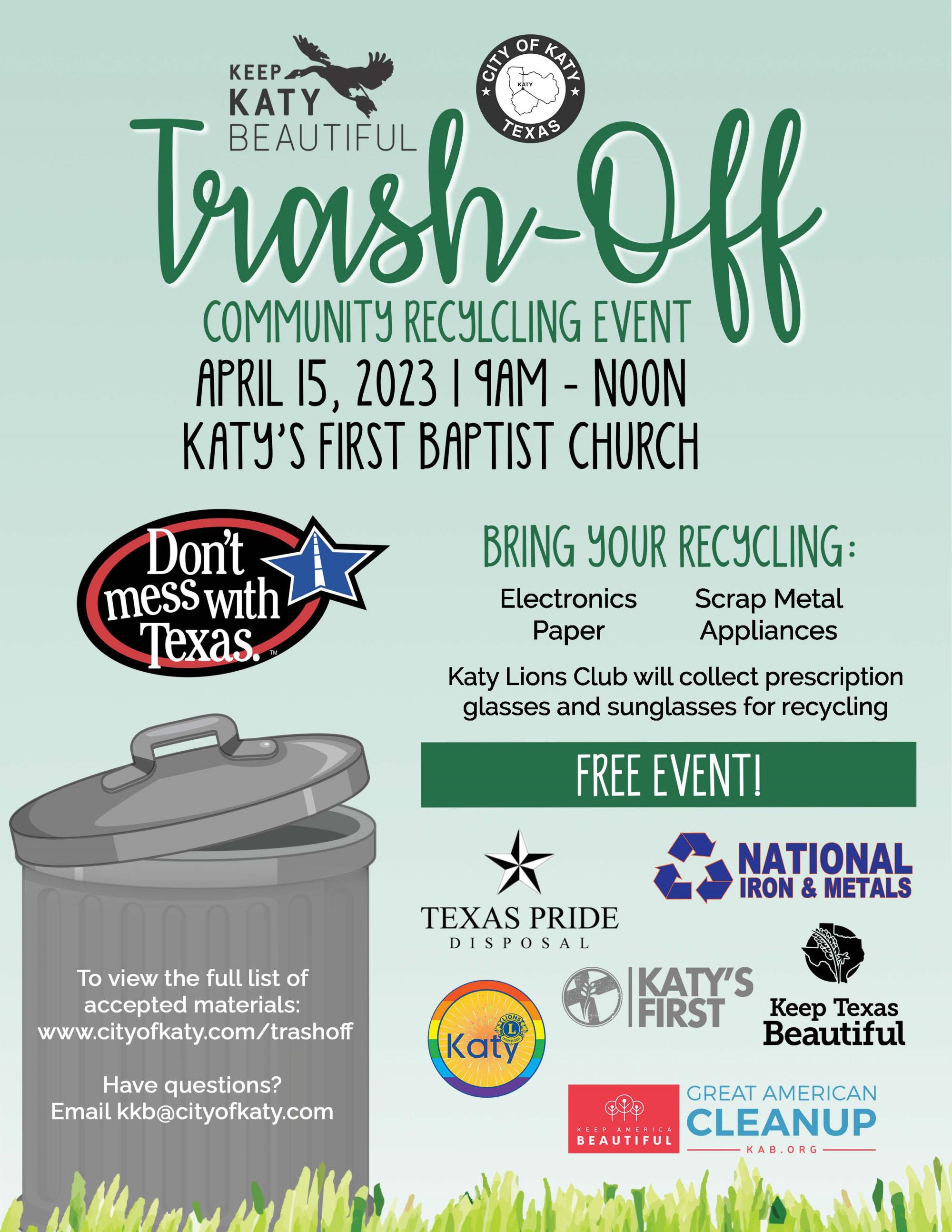 Recycling Collection - We will be collecting the below items for recycling.
Electronics

Computer systems (CPU units)
Laptops, monitors and televisions
Computer printers, scanners, plotters & copiers
Keyboards, mice, speaker, cords, cables
External disk memory and hard drives
Circuit board and electronic components/chips
Network hubs, modems and routers
Photocopiers and multi-use copiers (copy, fax, scan, print)
Telephone, telecommunications/switching systems
PDAs, PDA cradle and other hand-held devices
Cellular phones and cell phone chargers
Toner cartridges (ink jet and laser jet)
CDs, DVDs, magnetic tapes
Batteries (alkaline, lead acid, nickel cadmium, lithium ion, zinc carbon cells, nickel metal hydride, silver oxide, UPS)

Paper - All paper! Can include staples or paperclips. Please remove anything that can NOT be bent with two fingers.
Scrap Meal + Appliances

Metal scraps
Refrigerators
Dish washers
Stoves
Ironing boards
Irons Bicycles & scooters
Rims Ladders
Christmas lights
Extension cords
BBQ pits
Light fixtures
Fans
Sinks/Faucets

Eyeglasses - Katy Lions Club will accept gently used prescription eyeglasses and sunglasses for recycling and donating.
Items NOT Accepted - The following items will not be accepted for collection.
Medical/Biohazard Waste
Nuclear Waste
PCB material
Mercury-containing devices including fluorescent light bulbs and thermostats
Transformers
Tires
Radioactive Waste
Hazardous Waste
CRT Monitors
Carboard
Motor Oil
Paint
Yard Debris
Pallets
About Keep Katy Beautiful
The Keep Katy Beautiful Board, created in 1993 by Mayor Skip Conner has worked hard as a Keep Texas Beautiful and Keep America Beautiful affiliate to promote a clean, litter free community and educate citizens about recycling, landscaping, tree planting and maintenance, as well as waste reduction. Keep Katy Beautiful partners with many student and civic organizations to encourage the mission and goals of these grassroots efforts.
Implementing City budget funds, private donations, grants and the Governor's Community Achievement Award funds, Keep Katy Beautiful has overseen many local beautification projects including the bronze geese entrance features, Harvest Plaza, the landscaping surrounding our Depot and Caboose, old-fashioned streetlights throughout the City and The Katy City Park Arboretum.
For more information about Keep Katy Beautiful, please visit cityofkaty.com/residents/keep-katy-beautiful.
Source: City of Katy
« BACK TO NEWS