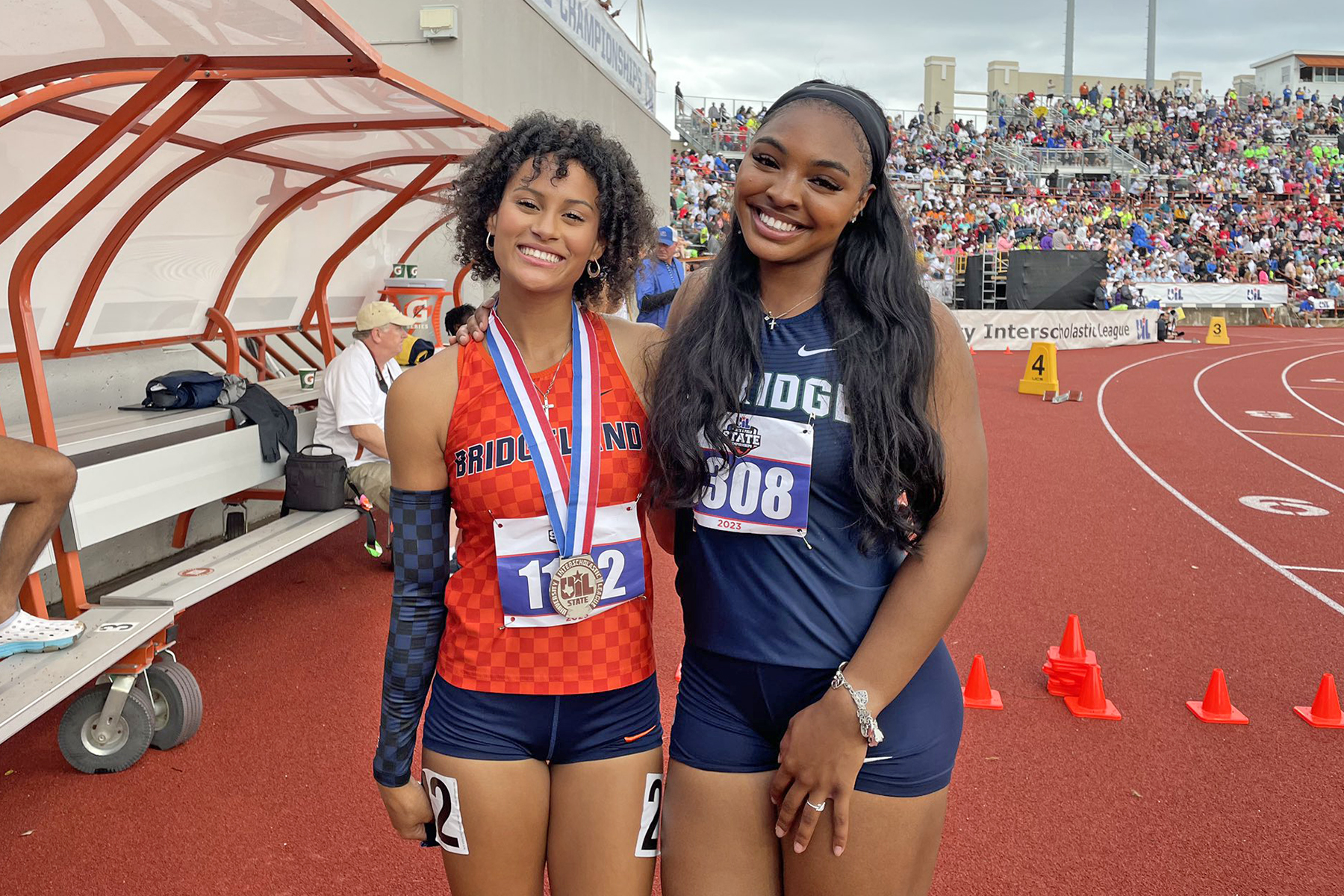 Sports
CFISD Athletes Win Three Championships at 2023 UIL State Track Meet 
May 16 2023
---
CFISD athletes brought home three individual state championships and five total medals from the University Interscholastic League (UIL) State Track and Field Meet, held May 11-13 at Mike A. Myers Stadium in Austin.
All three champions were previous state Class 6A qualifiers. Cypress Ridge High School junior Rylee Hampton won gold in the girls' 100-meter hurdles, Cypress Ranch High School sophomore Celeste Robinson won the girls' 100-meter dash and Langham Creek High School senior Alex Ornelas placed first in the boys' 300-meter hurdles.
Qualifying for state for the third consecutive year, Hampton finished first with a time of 13.64. She now adds a gold medal in the event to the bronze she won in 2022 and fifth-place finish as a freshman.
"I was really excited to finally accomplish this after two years of me going and having that moment that I did it," said Hampton, who is also a back-to-back state qualifier in the 300-meter hurdles. "The race itself wasn't the best for me. I wasn't executing the things I was supposed to but just being the competitor that I am, I fought to the line."
Robinson qualified last season as part of Cypress Ranch's 4x200-meter relay. Now, as a sophomore, she won her event in a time of 11.64.

"If you have told freshman Celeste that she would win state as a sophomore, I don't think I would believe you. So be called a state champion, that's exciting," said Robinson, who helped the Mustangs place sixth in 2022. "Track is a mental game, so I learned that you need to be mentally prepared. When I went last year, I wasn't in my right state of mind. But I've learned from it to be both physically prepared and mentally prepared."

Celeste Robinson

Cy-Ranch High School Sophomore
Ornelas was also able to improve on a previous state performance. He placed fourth as a junior, clipping the final hurdle and falling to fourth place in the 300-meter hurdles.
Alex Ornelas

Langham Creek High School Senior

A year later, he won gold with a time of 36.30.

"It was just confirmation from all my hard work, especially going through what I went through last year," Ornelas said.

"It stuck with me and it was always a reminder. And getting that medal felt amazing. You're not a winner until you win, so even if someone said, 'In my head, you're a state champion,' it's good to have that confirmation. They can call me a state champion and it feels good."
Also earning medals were Bridgeland High School junior Lillian Harden, who placed second in the girls' 100-meter hurdles (13.82), and Langham Creek High School senior Jaquaize Pettaway, who finished third in the boys' 100-meter dash (20.88).
The following CFISD athletes placed fourth through ninth in their respective events:
Bridgeland High School sophomore Benjamin Montgomery placed fifth in the boys' 3,200-meter run (9:00.71);

Cypress Park High School junior Sydnee Burr placed fifth in the girls' long jump (18-9.25);
Hampton placed seventh in the girls' 300-meter hurdles (43.54);
Pettaway placed seventh in the boys' 100-meter dash (10.70);
Cypress Woods High School senior Terrance Green placed eighth in the boys' shot put (54-1); and
Cypress Falls High School senior Jairius Burton placed ninth in the boys' 110-meter hurdles (14.33).
View complete results from the 2023 UIL State Track and Field Championships.
Source: Cypress-Fairbanks ISD
« BACK TO NEWS
---
LATEST COMMUNITY NEWS
V
All
Development
Dining
Government
Home & Garden
Lifestyle
Outdoors
Pets
Transportation
Community
Non-Profit
Sports
Education
Health & Science
Religion
Groups
Entertainment