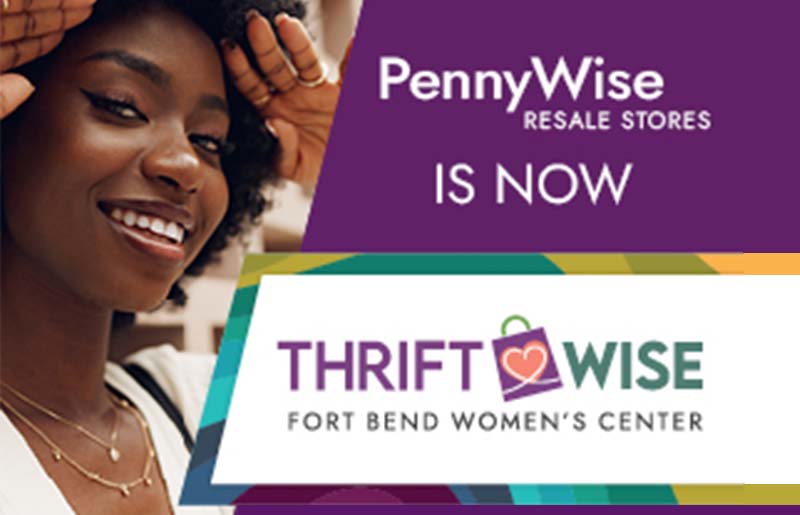 Non-Profit
PennyWise Thrift Stores Rebrand to ThriftWise
November 02 2022
---
Fort Bend Women's Center is announcing that our Pennywise Resale Stores are rebranding to ThriftWise and are undergoing store improvements that will enhance the buying experience. Bargain shoppers and thrifters will find amazingly high-quality clothing, furniture, housewares, electronics, jewelry, art, shoes, handbags, sporting goods, collectibles, and more. All the "Goods that do good" will continue to serve our mission.
How does ThriftWise make a difference for survivors?
When you donate or shop at one of our ThriftWise Stores, you are providing items for survivors in need AND providing much needed funds to make it possible to bring vital services to survivors of domestic violence and sexual assault. We can change lives together!
What happens when you donate to one of our ThriftWise locations in Greater Houston?
When you donate to ThriftWise, you directly support our work in three ways:
Providing families with clothing, furniture and household goods to help them start new, violence-free lives.
You help us provide a quality, reasonably priced product to our community.
When we sell the rest of these donated goods in our stores, that money is directed back into funding our life-saving programs.
What happens when someone donates something unusable or damaged beyond repair?
RECYCLING, that's what happens! Clothing that we are unable to use are recycled with the proceeds then directed back into funding our life-saving programs.
At ThriftWise, YOU MATTER and every little bit helps. So, keep donating, shopping and changing lives!
Yesterday's Goods, Today's Treasures!

Friday, December 16th, the PennyWise locations in Katy and Mission Bend will be closed and the ThriftWise Stores in Richmond and Stafford will have tons of shopping treasures.
Also, stayed tuned for a whole new way to shop online! Our new ThriftWise website will debut in December with over 500 curated items to buy online! In the meantime, you can still find great deals at fbwc.org/esale!
To learn more about ThriftWise and its eStore, please visit fbwc.org.
« BACK TO NEWS