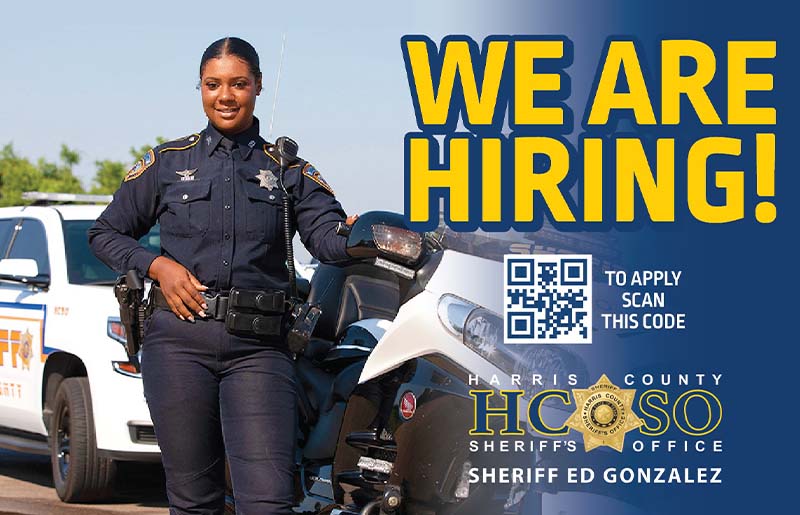 Community
Harris County Sheriff's Office Hiring Lateral Deputies, Additional Positions
December 22 2022
---
Welcome and thank you for your interest in Career Opportunities with the Harris County Sheriff's Office. Join HCSO in their mission to enhance the safety and protect the trust of the citizens of Harris County by enforcing the law with integrity and professionalism.
Each employee is provided basic life, medical, dental and vision insurance coverage at no cost; dependents can be added at an additional cost. Vacation and Sick Leave is accrued in accordance with Harris County Regulations. Each employee can accumulate a total of 240 hours of compensatory time. Overtime will be paid for any hours worked over 240 hours. All employees are enrolled in the Harris County Retirement plan (Texas County and District Retirement System). Each employee contributes 7% of their base pay. Retirement is allowed when the years of service plus your age equals 75 ("Rule of 75" ).
Please see a listing of available positions as of December 22, 2022.
DETENTION OFFICER
Detention Officers are a vital part of the Harris County Sheriff's Office as they are charged with the care, custody, and control of the thousands of inmates at the Harris County Jail. Detention Officers report to and receive assignments, instructions, and direction from Sergeants, Lieutenants, and Captains. The duties of a detention officer include, but are not limited to, monitoring and documenting jail inmate activities, and controlling and directing inmates while out of jail cell areas (e.g. transfers, work assignments, meals, recreation, etc.). Detention Officers may also qualify to attend the Basic Peace Officer Course at our academy and become a Deputy Sheriff if they meet both the requirements set by the agency and the criteria to become a Texas Peace Officer. Detention Officer Applicants are no longer required to run a mile and half as part of the physical ability testing.
DEPUTY ENTRY/LATERAL
The Harris County Sheriff's Office is looking for entry, lateral deputies and experienced deputies to work in divisions ranging from patrol, criminal investigations, homeland security, and the criminal and civil courtrooms. The duties of an HCSO deputy include but are not limited to assisting and protecting the Citizens of Harris County by enforcing laws, investigating traffic accidents, responding to and investigating reports of criminal activities and making arrests when required. The Harris County Sheriff's Office is a pro-active organization with unlimited growth opportunities for its employees to include TCOLE training and rank advancement. If you're looking for an exciting career and wish to make a difference by serving your community, we welcome you to join our HCSO family.
COMMUNICATION OFFICER
Communication Officers are specially trained and certified staff serving as front line contacts for all 9 1 1 emergency and nonemergency calls from residents within the unincorporated areas of Harris County. They are also responsible for dispatching and directing deputies once calls are received. Because communication officers often deal with life and death situations, it is critical that the candidate for this position possess the ability to stay calm while reassuring the caller that help is on the way. Telecommunicators also work and train in mobile command post environments using the Incident Command Structure in active crisis situations, assume on-scene communications, documentation and resource accountability support. If you are looking for a challenging and rewarding experience, and have the ability to multitask, mediate, and lead, we are looking for you.
CLERICAL PROFESSIONAL STAFF
Performs general clerical duties by answering telephones and taking messages. Responsible for data entry of confidential information. File letters, documents and other material as directed. Photocopying and Faxing. May be required to review, validate and process a wide variety of confidential documents. Maintain manuals and computerized records and files. Performs other assignments and duties as required and/or necessary. Reports to a designated supervisor. Types reports and documents for approval and complies with Civil Service, Department Bureau and Division Rules, Regulations and Standard Operating Procedures.
MEDICAL
Renders general nursing care to patients in accordance with approved nursing techniques, assigned delegated responsibility, and exercises varying levels of professional discretionary authority with frequent supervision and instruction. Has access to confidential information. May function as shift supervisor, who will direct, control and coordinate all clinical activity on an assigned shift in compliance with policies and procedures. Also maintains assignment schedules of medical personnel to include timekeeping functions.
PROFESSIONAL OPPORTUNITIES
The Harris County Sheriff's Office offers a wide variety of professional employment opportunities to include but not limited to the list on the right.
Professional minimum requirements:
U.S. Citizen (Born/Naturalized) or show eligibility to work and reside in the U.S.
Must possess appropriate license/certificate or education
Must meet minimum experience when applicable
For more information about available jobs, benefits, and more, please visit harriscountyso.org/News/Careers.
Source: Harris County Sheriff's Office
« BACK TO NEWS