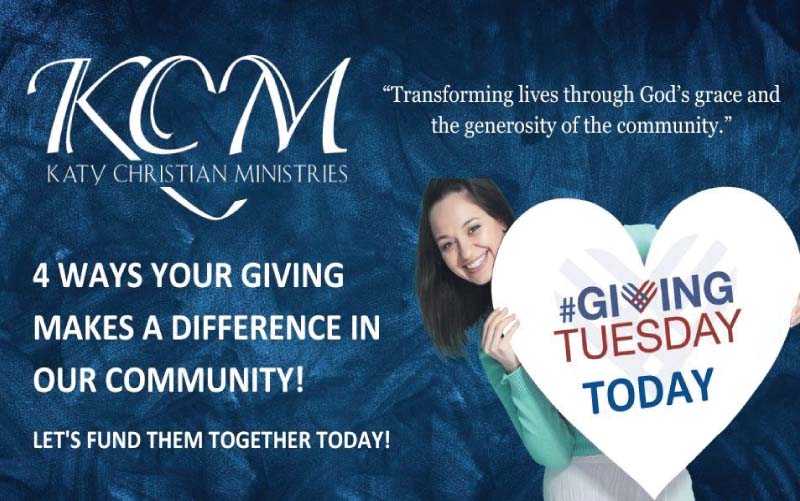 Non-Profit
Giving Tuesday: Support Local Charity
November 29 2022
---
Giving Tuesday is TODAY! KCM wants you to be a part of this special time. KCM provides dozens of programs throughout the year that strengthen individuals, families and our community. Below are just four examples.
No. 1 - SOCIAL SERVICES

Over 12,150 familes have been helped this year with rental and utility assistance, school supplies, and more.

No. 2 - CRISIS CENTER

In 2022 we have assisted 844 Domestic Violence and 870 Sexual Assault survivors with counseling, resources and advocacy.

learn more
learn more

No. 3 - FOOD PANTRY

We have distributed over 1,211,000 Meals to 6,861 Households totaling 1,453,941 lbs. of Food and Fresh Produce.

No. 4 - SANTA'S SLEIGH

So far this season we will supply Christmas presents and other goodies to 1,318 Children and 123 Seniors. The number grows daily.

learn more
learn more
None of this would be possible without you.
Please join us today
in giving to support these critical ministries through 2023 and beyond!
What is Giving Tuesday?
GivingTuesday
was created in 2012 as a simple idea:
a day that encourages people to do good
. GivingTuesday was born and incubated at the 92nd Street Y and its Belfer Center for Innovation & Social Impact in New York City. Whether it's making someone smile, helping a neighbor or stranger out, showing up for an issue or people we care about, or giving some of what we have to those who need our help, every act of generosity counts, and everyone has something to give.
About Katy Christian Ministries (KCM)
We are a Social Service non-profit serving the Katy/West Houston. We have Social Service Departments that offer emergency financial assistance, Food Pantry, a Crisis Center that houses the Domestic Abuse Center and the Sexual Assault Center, Resale Store, Donation Center.
In the early 1980's, Katy area churches struggled to meet the changing needs of a rapidly growing population. With the downturn in the Houston economy, members of the Katy Ministerial Alliance realized that Katy churches were increasingly being asked by long time residents as well as newcomers to provide food and emergency financial resources. First United Methodist Church of Katy housed a food pantry in the church basement, and St. Bartholomew Catholic Church opened a thrift store at Avenue D and 4th Street. It was decided a unified effort would offer a more effective use of their resources, and on June 25, 1984, nine interdenominational churches incorporated as Katy Christian Ministries. Currently, KCM has 35 Coalition Churches.
In 1994 land was donated to KCM for a new operational facility. Hope for the future became a reality on February 26, 2003, when KCM had a ground breaking for their new facility. On August 14, 2004, KCM took occupancy at 5011 E. Fifth St., Katy TX 77493.
In 2009 KCM was contacted by some churches in the Fulshear/Simonton area inquiring about our services. After much prayer and with the support of the community and churches KCM opened their doors for service in Fulshear serving Fulshear, Simonton & Wallis areas in December 2009.
We are currently located at 3506 Porter Road, Katy, TX 77493. This location houses Administration, Social Services, Domestic Abuse Center, and Sexual Abuse Center. In the same building at 5510 First Street, you will find the KCM Food Pantry, and the KCM Resale Store. KCM benefits clients in the Katy/West Houston area, by providing all services in one location. The service area covered by KCM reaches into three counties, Harris, Fort Bend and Waller.
KCM services are offered to everyone in our community regardless of any religious background or affiliation. We do not require participation in any religious activities in order to receive our services.
We rely on area churches, local businesses, corporations and individuals for support. There are many opportunities to get involved and to help us fulfill our mission.
For more information about Katy Christian Ministries, please visit their website at ktcm.org.
« BACK TO NEWS