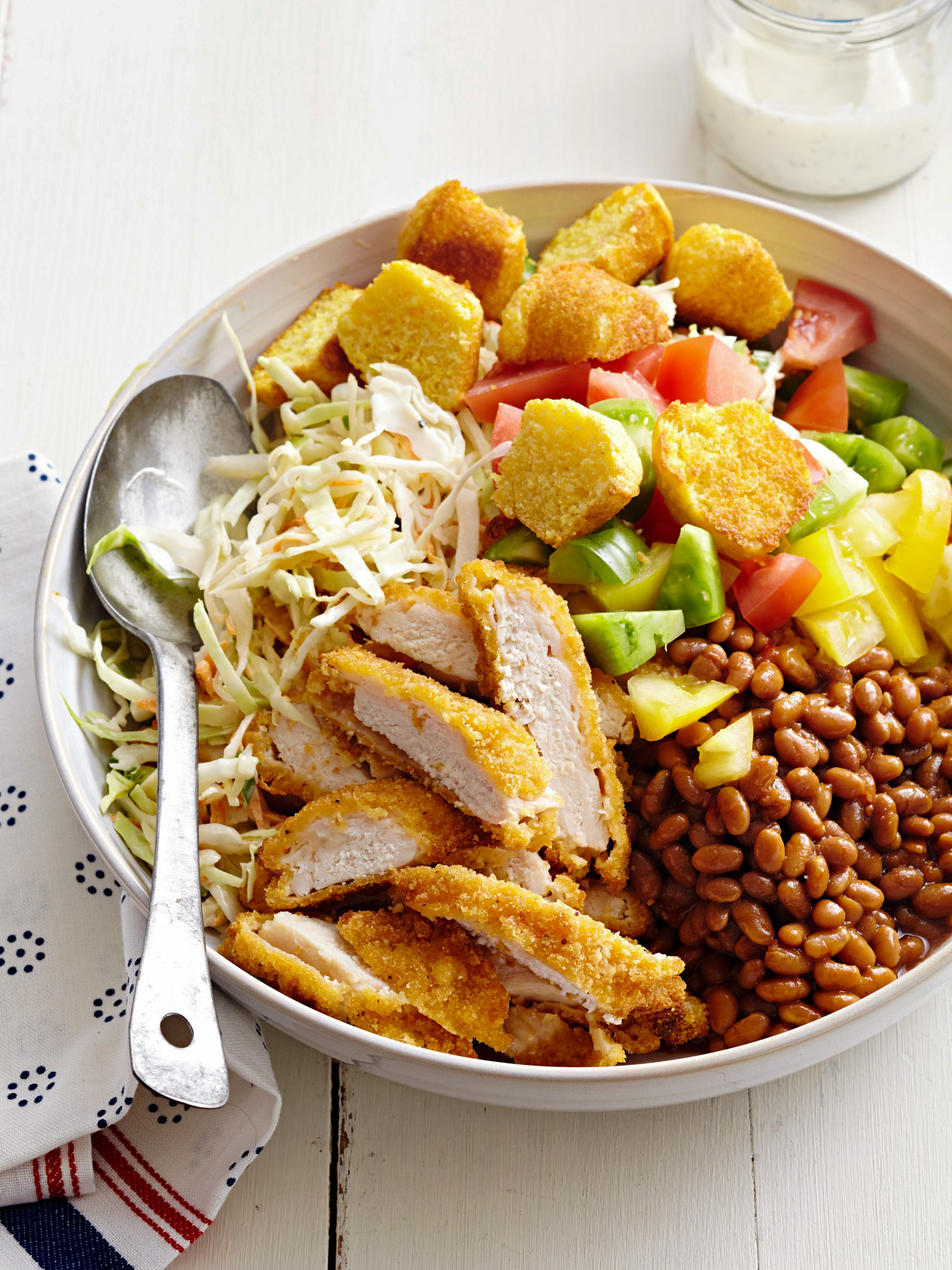 Fried Chicken Dinner in a Bowl
August 30 2021
---
Need some inspo for a quick chicken dinner? Try this recipe by Better Homes and Garden.
Ingredients
4 cups shredded cabbage*
1 cup shredded carrots (2 medium)*
¼ cup thinly sliced green onions (2)
½ cup mayonnaise
2 tablespoons sugar
1 tablespoon lemon juice
¼ teaspoon salt
¼ teaspoon ground white pepper
6 purchased or homemade corn muffins
¼ cup butter, melted
14 ounces frozen cooked, breaded chicken breast fillets, prepared according to package directions
1 15.5-22 ounce can barbecue beans
1 ½ cups chopped green, yellow, and/or red tomatoes (2 large)
¾ cup bottled ranch salad dressing
* If desired, substitute 5 cups packaged shredded cabbage with carrot (coleslaw mix) for cabbage and carrots.
Directions
Step 1: For slaw, in a large bowl combine cabbage, carrots, and green onions; toss to mix. In a small bowl stir together mayonnaise, sugar, lemon juice, salt, and pepper. Add dressing to cabbage mixture, tossing to combine. Cover and chill for 2 hours, stirring occasionally.
Step 2: Meanwhile, preheat oven to 375°F. Cut corn muffins into 1-inch cubes. Place cubes in a large shallow baking pan; drizzle with melted butter, tossing to coat. Bake for 16 to 18 minutes or until crisp, stirring twice. Set aside.
Step 3: Transfer slaw mixture to an 8- to 10-cup clear glass bowl. Cut chicken into strips. Arrange chicken strips evenly over slaw. Spoon beans over chicken pieces, spreading evenly. Sprinkle corn muffin cubes over beans. Top with tomatoes. If desired, cover and chill for up to 6 hours.
Step 4: Just before serving, spoon dressing over all.
Recipe Credits: BHG.com | Photo Credit: Jason Donnelly
« BACK TO NEWS
---
LATEST COMMUNITY NEWS
V
All
Development
Dining
Government
Home & Garden
Lifestyle
Outdoors
Pets
Transportation
Community
Non-Profit
Sports
Education
Health & Science
Religion
Groups
Entertainment