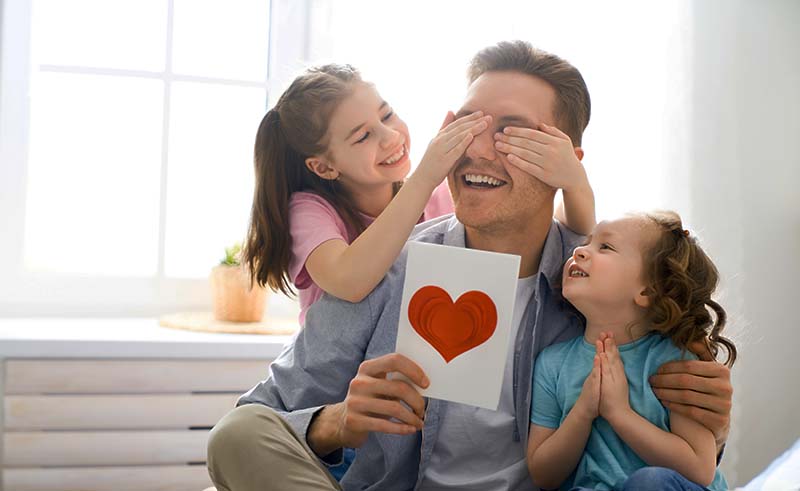 Lifestyle
Father's Day is June 19th
June 12 2022
---
Father's Day is a special day when we celebrate the dads and father figures in our lives. It is a time to pause from the normal rush of everyday living and take a moment to show our appreciation for all that these impactful people do and have done for us. From toy fixers to oil changers, family protectors to Cub Scouts leaders and everything in between, dads and father figures wear a lot of hats. Showing some extra love for all they do will brighten their day in immeasurable ways. So, how can you celebrate them on their special day? Here are a few ideas:
Prepare your dad's favorite meal and serve it outside on your patio or at the family dining table along with his favorite beverage. Need help? Ask mom or someone in your life you know has some cooking chops!

Not much of a cook? No problem! Houston is overflowing with restaurants but remember to call ahead for a reservation at certain eateries. Take your dad to enjoy a relaxing meal at one of their favorite restaurants and pick up the tab. He will SO appreciate the gesture!

Make a digital slideshow of photos to commemorate how awesome your father or father figure is. Plug in some background music and get ready for all the feels. Send it to him via Air Drop, Dropbox, or even burn it on a flash drive so he can keep a copy.

Plan the day around doing what he likes to do! The gift of time and carving it out doing something he loves will mean so much. Is he an avid golfer? Take him for a long round of golf at his favorite course. Does he love to go fishing? Charter a private fishing trip or join a large party fishing outing, or take him to a great fishing pier in Galveston or a peaceful lake like or pond. Is he a movie buff? Take him to see the latest film at a dine-in movie theater. Does he like to attend basketball games? Buy a pair of tickets so you can both go together.

Try doing something with your special guy that they haven't done before but have talked about trying. Have they mentioned how fun it to be to go sky diving or checking out a NASCAR style racing experience but haven't done it yet? Book it!

For the outdoors enthusiast, plan a day around outdoor activities at a local park that your dad will love. Go bike riding, play disc golf, go swimming, kayaking, go for a run - whatever he likes to do outside. If it's something you know he likes but you haven't tried before, live on the wild side and give it a try with him. He will love that you want to explore something he's into.

Does your dad or father figure have a project in mind that they need help with? Lend a hand and help them get it done! Even if it takes a few trips to the home improvement store or longer than one day, they will appreciate the time you took to help out.

Write him a poem or a letter professing how special he is to you, or make him a card or even a special trinket. Receiving something that is truly from the heart is the best physical gift of all.
No matter what you do on Father's Day, remember that it's not about how much money you spend. It's about setting aside time to have quality experiences with the dad or father figure in your life. The gift of time cannot be overstated and remember, material things come and go but memories last a lifetime. Enjoy the day with your special guy!
« BACK TO NEWS