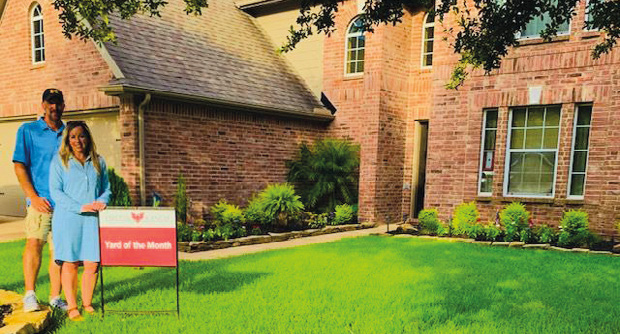 Community
Falcon Ranch Yard Of The Month
Falcon Ranch / September 03 2021
---
Falcon Ranch Yard Of The Month
Jamie and Paul Zink, 2215 Cactus Bloom have been working hard at all the improvements to their beautiful home. They painted their house, they installed a new fence and the final touch was the exquisite Landscape Design they added. Every plant, bush and flower is strategically placed. The focal point of their walkway garden is the lush palm that is planted in the corner, complimented by an array of plants and flowers, all different heights and colors to add depth and beauty to their charming entrance.
They added garden stones around their trees and planted colorful flowers to complete the perfect and appealing Yard Of The Month. Congratulations Jamie and Paul. You are an inspiration to our Community.
Listed below are the Honorable Mentions for July:
25019 Falcon Hollow
24903 Kayvon Ct.
24903 Spring Aspen Ct.
24922 Raven Lake Ct.
2827 Feather Glen Ct.
2307 Golden Mews
24702 Red Bluff Tr.
24535 Lower Canyon
2730 Sica Hollow
2906 Rushwind
2802 Bellfield
2414 Laural Walk Ln.
24827 High Desert Ln.
24603 Cobble Canyon
24738 Cobble Canyon
On behalf of the Falcon Ranch HOA, we would like to thank all of our winners. We appreciate all of you and your hard work to make our Community so appealing. A Special thank you to Jamie and Paul Zink our July Yard of the Month winners. Your home is beautiful.
« BACK TO NEWS