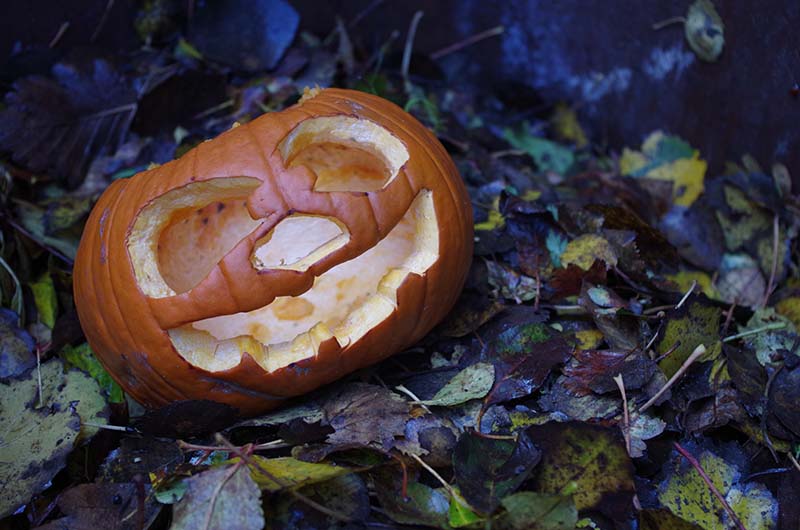 Home & Garden
Don't Throw Away Your Jack-O-Lanterns!
November 03 2022
---
With Halloween behind us, many of us are wondering what to do with our carved and uncarved pumpkins. Rather than simply putting them out in the trash to be hauled off to the landfill, consider these mindful, meaningful alternatives.
Eat the Seeds
For uncarved pumpkins, open the top and scrape out the seeds. Clean thoroughly, pat dry with a towel and allow to air dry, spray lightly with olive oil or cooking spray then sprinkle with your favorite seasoning like salt, Cajun seasoning, or Hidden Valley Ranch seasoning. Bake in the oven at 250-300°F for about 1 hour, stirring every 15 minutes.
Share the Seeds
Birds love pumpkin seeds. Follow the same initial preparation process as above, but skip the seasoning and baking. Once dried, pulse in your food processor to break them up to make them easier for birds to eat. Place your dried, natural pumpkin seeds in a bird feeder for your feathered friends to enjoy.
Add to Compost
After removing any glitter, wax, stickers or paint, have fun smashing your pumpkin by breaking it up into smaller pieces, then place the pieces in your compost bin to decompose. Be sure to break up the seeds also or remove them all together, otherwise they might germinate. The pumpkins will help enrich your compost and in turn, your plants! Don't have a compost bin yet but want to learn how to make one? Check out this informative
article
from the Texas A&M Agrilife Extension.
Donate for Composting
Drop off your pumpkins at the City of Houston Reuse Warehouse from November 1st through 4th! They're taking retired jack-o-lanterns, whole pumpkins, seeds and pumpkin guts - any pumpkin parts you have. Please remove any costumes or non-pumpkin decorations before dropping off your pumpkins.
City of Houston Building Materials Reuse Warehouse
November 1-4
8:30 a.m. to 6:30 p.m.
To learn more about this City of Houston initiative, please visit their
website
.
Donate to Farmers
Did you know that there are nearby farmers who are accepting pumpkin donations to feed to their livestock? Some of these farmers will even take your carved pumpkins!
Klovenski Farms
Contact: Kristen Brown
Notes: Takes carved pumpkins. Willing to pick up. Please call ahead.
O'Rourke Farms
Contact: Jennifer O'Rourke
Notes: Takes carved pumpkins. All donations can be placed inside the black box by front gate if no one is home. O'Rourke Farms truly appreciates any donations for their farm animals. If you would like to call ahead, you are more than welcome to feed the animals yourself, too. They have horses, cows, pigs, ducks, chickens, donkeys, cats and dogs. They ALL love treats!
Triangle B Ranch and Farm
Contact: Michelle Lumpkin-Browning
Notes: Please call ahead of arrival.
Plant the Seeds
If you'd like to try your hand at growing pumpkins, start by scraping out your pumpkin seeds, cleaning then air drying on a paper towel for at least 24 hours. Store the dried seeds in a sealed, plastic bag in a cool, dry place. Plant your seeds anytime between mid-March and mid-July. Hear from a Texas A&M Agrilife Extension expert on everything you need to know to plant your pumpkins properly here.
---
| | |
| --- | --- |
| | Tiffany Krenek has been on the My Neighborhood News team since August 2021. She is passionate about curating and sharing content that enriches the lives of our readers in a personal, meaningful way. A loving mother and wife, Tiffany and her family live in the West Houston/Cypress region. |
« BACK TO NEWS