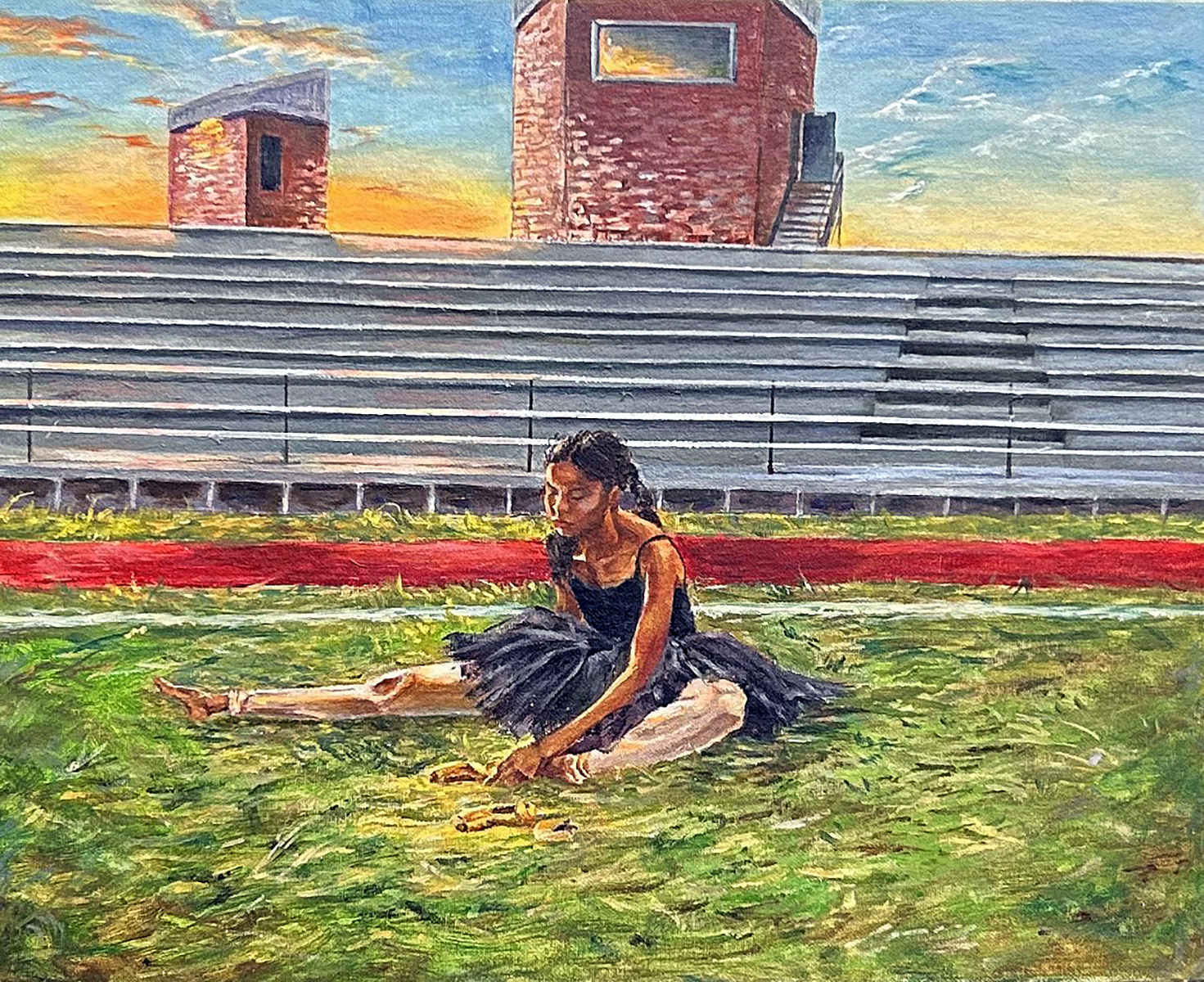 Education
CFISD Art Students Win Awards at State VASE, Junior VASE and TEAM Contests
June 02 2023
---
A total of 49 CFISD art students earned either a state medal, a platinum medal or Top of TEAM award at the State Visual Arts Scholastic Event (VASE), Junior Visual Arts Scholastic Event (Junior VASE) and the Texas Elementary Art Meet (TEAM) Contest, respectively.
"It takes a lot of hard work and dedication to prepare for an art contest, and those who do so deserve admiration for their efforts," said Lee Carrier, coordinator of visual arts. "I wanted to take a moment to express my gratitude for the incredible work CFISD art teachers do by encouraging their students to participate in the VASE, Junior VASE and TEAM art contests. I am proud of the contest results as it is clear that the efforts of our art teachers have a profound impact on students. Through guidance and encouragement, art teachers have helped foster a love for art in their students and have provided them with valuable opportunities to develop their skills, express themselves creatively, and gain recognition for their hard work. By participating in art contests, students are demonstrating a commitment to their craft and a willingness to put themselves out there and take risks. I hope that this year's contest season inspired future generations of artists, who may go on to make important contributions in artistic fields as well as support future generations of young artists."
The State VASE contest was highlighted by 19 different students earning 20 state medals. In addition to a state medal, Langham Creek High School sophomore Katelinn Barnes earned a Gold Seal Medallion for her artwork titled "Loss." A Gold Seal Medallion is the contest's highest honor and is awarded to students who received a Rating V.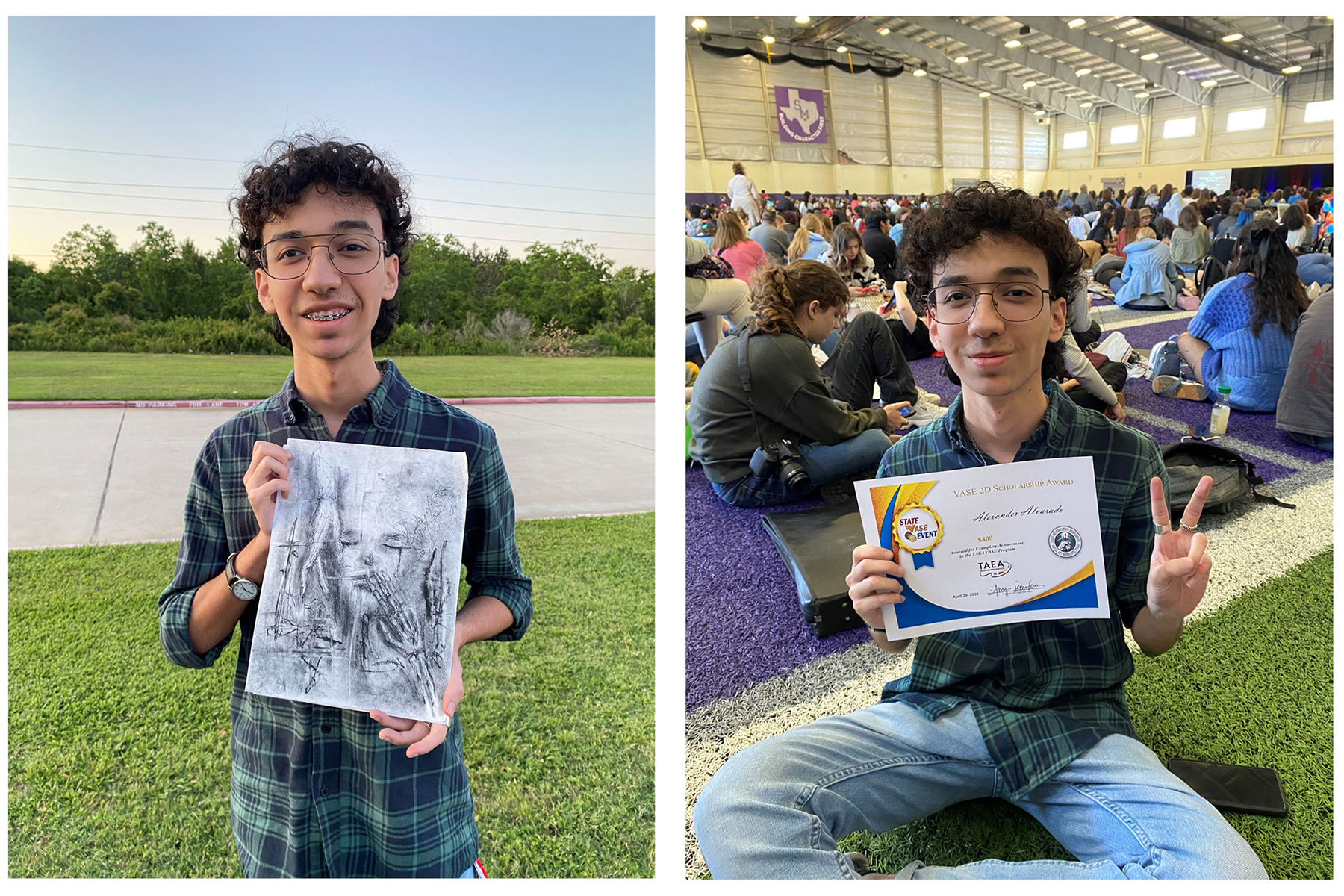 Cypress Springs High School senior Alexander Alvarado received a State VASE medal for his artwork titled "Unbound." Alvarado also received a $400 scholarship for the artwork he completed during a workshop at the State VASE competition.
Cypress Springs High School senior Alexander Alvarado was also awarded a $400 scholarship in addition to his state medal.
The following students received State VASE medals:
Name

High School

Title of Artwork

Ana Morales

Bridgeland

Don't Be A Stranger

Rachael Rivas

Cy-Fair

Emergence

Nhi Vo

Cy-Fair

Harmony

Ravine Cohen

Cy-Fair

Faulty Seams

Milagros Nunez

Cypress Creek

Rendering An Associate

Jia Chadha

Cypress Creek

Scylla

Gabby Littlefield

Cypress Creek

Cottage Core

Perched

Isabel Palencia

Cypress Creek

Floral Vessel

Nelie Wesley

Cypress Lakes

In The Wild

Angelique Flores Urbina

Cypress Lakes

Thermal Silhouette

Ashley Larios

Cypress Ridge

The Eyes of Night

Alexander Alvarado

Cypress Springs

Unbound

Angelina Harper

Cypress Springs

Bark at The Beach

Mia Estrada

Cypress Woods

Inseparable

Evelyn Landreville

Cypress Woods

The Golden Beauty

Katelinn Barnes

Langham Creek

Loss

David Johnson

Langham Creek

The Comedian

Eileen Nguyen

Langham Creek

Ethereal Apathy

Ngoc Nguyen

Langham Creek

Secret Garden
The Junior VASE contest featured 17 different middle school students winning 19 platinum medals. Artworks that earned a "4" rating were considered for a platinum medal, which represents the top 10 percent in each Junior VASE division.
The following students received a Junior VASE platinum medal:
Name

Middle School

Title of Artwork

Reilly Riddle

Anthony

Ceaseless Gale

Fernandez Mikeala

Aragon

Cozy Moments

Lauren Medrano

Arnold

Fatefully Tainted

Trinity Nguyen

Arnold

Mon Amour

Payton Simpson

Arnold

Mnemosyne Boy

Yen Vo

Arnold

Neglecting Responsibilities

True Colors

Aleeza Ansari

Hamilton

Rhapsody In Blue

Tristyn Bell

Hamilton

The Raging Sea

Lily Evans

Hamilton

Heart Shaped Box

Dome of Faith

Dani Kelley

Hamilton

I "Ear" That!

Gabriel Ortiz

Hamilton

Gears Connect

Lillian Pierce

Hamilton

Little Ladybug

Addison Cooper

Hamilton

Nature's Beauty

Zynab Fatima

Labay

A New Chapter

Sophia Parrales

Rowe

Flowers For Nana

Gwen Cruz-Wei

Spillane

Duck Duck Goose

Daniela Izaguirre

Watkins

Cityscape In Motion
The TEAM Contest was highlighted by 13 different elementary school students earning 13 Top of TEAM medals. Top of TEAM medals were awarded to art pieces that earned an "exemplary" or "3" rating. Artwork was judged based on personal expression, technique, technical skills and execution and elements of art and principles of design.
The following students received a Top of TEAM medal:
| | | |
| --- | --- | --- |
| Name | Elementary School | Title of Artwork |
| Adessah Aguilera | Andre' | Freedom |
| Ayleen Rodriguez Oseguera | Bane | My Garden |
| Elizabeth Rojas | Emmott | Pop Flowers |
| Romina Perez | Hairgrove | Art Is Essential |
| Thanh Tran | Hemmenway | Sunnie The Yorkie |
| Thema Fernando | Keith | Endless Possibilities |
| Taylor Pollitt | Keith | Magic |
| Star Caudillo | Lee | About To Melt, Melting |
| Isabella Jew-Gonzalez | Lowery | The Sunflower Tree |
| Aaron Bull | Moore | The United States of Cow'merica |
| Courtney Linden | Moore | Blue Ribbon Bunny |
| Aubrey McAllister | Woodard | Bubbles |
| Sheily Madrid Sosa | Tipps | Shiny Shapes |
Source: Cypress-Fairbanks ISD
« BACK TO NEWS
---
LATEST COMMUNITY NEWS
V
All
Development
Dining
Government
Home & Garden
Lifestyle
Outdoors
Pets
Transportation
Community
Non-Profit
Sports
Education
Health & Science
Religion
Groups
Entertainment