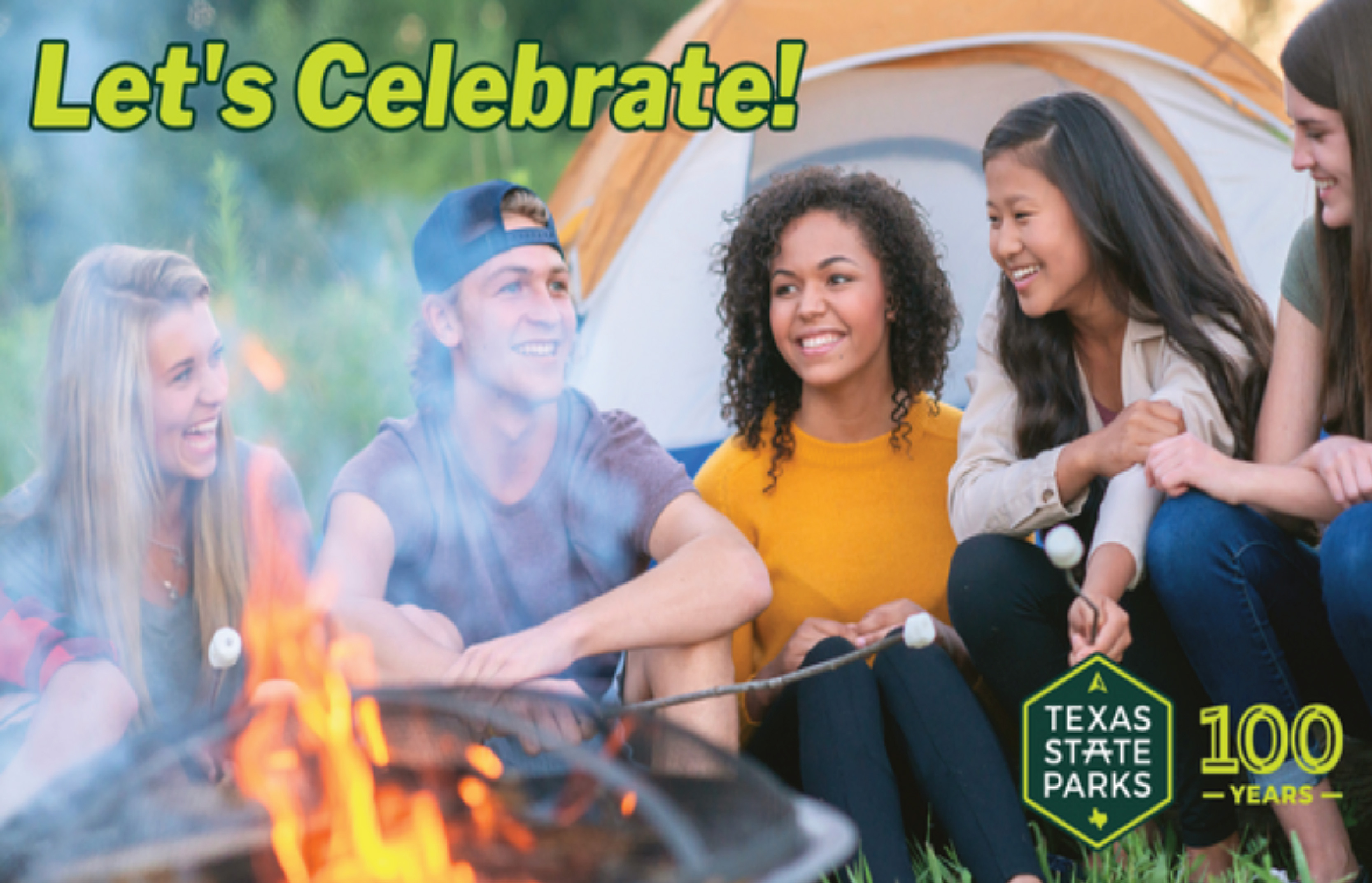 Outdoors
Celebrate 100 S'More Years of Texas State Parks Close to Home
May 11 2023
---
Texas State Parks is celebrating its 100th birthday! And what better way to celebrate than enjoying a timeless campfire treat like s'mores with family and friends?
Head to one of the 80 Texas State Parks - including six near the Greater Houston area - that will be hosting fun and unique s'mores celebrations on May 13 and join in toasting to 100 s'more years of outdoor adventure! Guarantee entry by making a reservation before this special event.
Park events include something for everyone – campfire building demonstrations, making solar-oven baked s'mores, a s'mores cook-off and more. Several parks will be using Solo Stove fire pits to offer visitors a smokeless s'mores-making experience with all the fun of gathering around a fire together.
100 Years of Texas State Parks
Our beloved Texas State Parks carry a rich history rooted in conservation, perseverance and adventure dating back to 1923, when the first, six-member State Parks Board was founded.
Check out these celebrations at six state parks around the Greater Houston Area on Saturday, May 13!
Lake Livingston State Park
Saturday, May 13 @ 3:00 PM - 4:00 PM
Join a ranger for a family-friendly campfire to make s'mores and celebrate 100 years of Texas State Parks! The park will provide everything you need to make some s'mores. Bring a camp chair to sit on and your best s'more making game! The event will be hosted at the park archery range. Click
here
for more details.
Huntsville State Park
Saturday, May 13 @ 10:00 AM - 1:00 PM
Join us to toast 100 years and roast marshmallows for 100 'more. Fire pits, s'mores ingredients and sticks will be available in the day-use area next to the volleyball court. There will be games and a s'mores photo set so you can showcase your perfect s'more. Click
here
for more details.
Sheldon Lake State Park & Environmental Learning Center
Saturday, May 13 @ 10:00 AM - 11:00 AM
Join us in the Pond Center for some good old fashioned s'mores! Graham crackers, marshmallows and chocolate will be available. Feel free to bring other goodies to put on your s'more or your own roasting sticks. Materials will be given out on a first-come, first-served basis. Click
here
for more details.
Stephen F. Austin State Park
Saturday, May 13 @ 4:30 PM - 8:00 PM
Stop in for a little bit or stay the whole time! Make s'mores and tell campfire stories with family and friends in the Amphitheater. All you need to bring is your preferred s'mores making materials, a drink and your imagination. Click here for more details.
Brazos Bend State Park
Saturday, May 13 @ 1:00 PM - 2:00 PM
Help us celebrate 100 S'more Years and learn about reptiles that call Brazos Bend State Park home! Come by
Elm Lake
pavilion and enjoy S'more information about reptiles than you can imagine. There will be campfires, s'mores, and our favorite reptiles as well as rangers to help celebrate 100 S'more years of state parks. Click
here
for more details.
Galveston Island State Park
Saturday, May 13 @ 6:30 PM - 8:00 PM
You are invited to pull up a chair, get toasty around the campfire and make a s'more with us. Join us in the Beachside Day Use area where graham crackers, marshmallows, chocolate, campfire and roasting sticks will be provided, while supplies last. Bring sunscreen, bug spray, water, weather appropriate clothing and shoes, folding/ camping chair, and any special s'more supplies. Entry fee is $5 for adults and FREE for children 12 & under. Park entry free with a
State Parks Pass
. Click
here
for more details.
---
« BACK TO NEWS
---
LATEST COMMUNITY NEWS
V
All
Development
Dining
Government
Home & Garden
Lifestyle
Outdoors
Pets
Transportation
Community
Non-Profit
Sports
Education
Health & Science
Religion
Groups
Entertainment