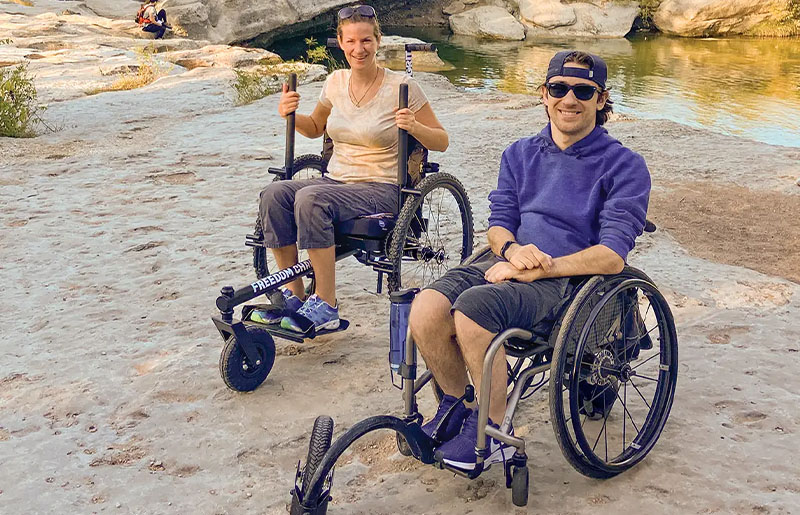 Outdoors
All-Terrain Wheelchairs Offer Greater Trail Access in Select State Parks
May 28 2023
---
By Chris Meza, Texas Parks and Wildlife Department
Several Texas State Parks are rolling out the GRIT Freedom Chair, an all-terrain wheelchair that can handle rougher terrain than traditional wheelchairs. Currently, 10 state parks have the chairs or will have them soon.
The chairs were created by Massachusetts Institute of Technology students using inexpensive bike parts that can be easily purchased (and replaced) from local bike shops. The chairs come with knee straps, helmets and optional tip bars that provide additional balance and safety for users.

Devin Hemker with the Texas Parks and Wildlife Department's state parks facilities management team is championing the chair project. As an intern, she reinvigorated the agency initiative, and is now, as a full-time employee, tackling the details of purchasing, distributing and using the chairs.

"If you are planning to visit a park to use a GRIT wheelchair we advise making a reservation ahead of time," Hemker says. "The chairs are first-come, first-served, but it's easy to reserve by calling the park you're planning to visit. Once you arrive you can sign a waiver and can check it out for day use for free."

The chairs enable people of different abilities to make use of state park trails.

"We want people of all abilities to experience the trails," says Chris Meza, TPWD accessibility program specialist. "Paving the environment is not our goal. Adaptive equipment is a way to include and welcome people with disabilities into spaces they may have historically not been able to access."
State Parks with GRIT Freedom Chairs
Bastrop State Park is located 32 miles southeast of Austin in Bastrop County. It is the site of the famous "Lost Pines," an isolated region of loblolly pines and hardwoods.
A former hunting ranch, Brazos Bend State Park is about 28 miles south­west of Houston and covers roughly 5,000 acres. Its 3.2-mile east­ern boundary fronts the Brazos River on the southeast border of Fort Bend County.
A short drive from the DFW Metroplex, Cedar Hill State Park is home to the Penn Farm Agricultural History Center. Cedar Hill State Park, with 1,826 acres, is located on the 7,500-acre Joe Pool Lake.
Estero Llano Grande State Park
Estero Llano Grande State Park combined multiple parcels of agricultural land into a nature preserve in the Lower Rio Grande Valley. On the southern edge of Weslaco in Hidalgo County, Estero Llano Grande State Park sits at the heart of the Rio Grande Valley.
Government Canyon State Natural Area
On the north side of San Antonio, this 12,000-acre wil­der­ness protects the city's drinking water. Water has shaped the stories of Government Canyon SNA from the beginning: dinosaurs, Native Americans, early settlers, and now, urban water needs.
Families have been enjoying Lake Corpus Christi State Park for more than 80 years. Come for the water sports, varied wildlife and relaxing atmosphere.
McKinney Falls State Park
Just 13 miles from the state capitol, McKinney Falls State Park is a beautiful place to camp, hike, mountain or road bike, geocache, go bouldering, and picnic. You can also fish and swim in Onion Creek.
Palo Duro Canyon State Park
The second largest canyon in the country lies in the heart of the Texas Panhandle. Visit Palo Duro Canyon State Park; experience the canyon's rugged beauty and enjoy its colorful history.
Ray Roberts Lake State Park, Isle du Bois Unit
Just an hour north of the DFW Metroplex, Ray Roberts Lake State Park offers camping, swimming, fishing, hiking, bike riding, horseback riding, rollerblading, geocaching and backpacking.
History and nature converge on the banks of O.C. Fisher Reservoir and the Concho River, near San Angelo. Ex­plore on land, play in the water, and enjoy a look at Texas' past.
« BACK TO NEWS
---
LATEST COMMUNITY NEWS
V
All
Development
Dining
Government
Home & Garden
Lifestyle
Outdoors
Pets
Transportation
Community
Non-Profit
Sports
Education
Health & Science
Religion
Groups
Entertainment