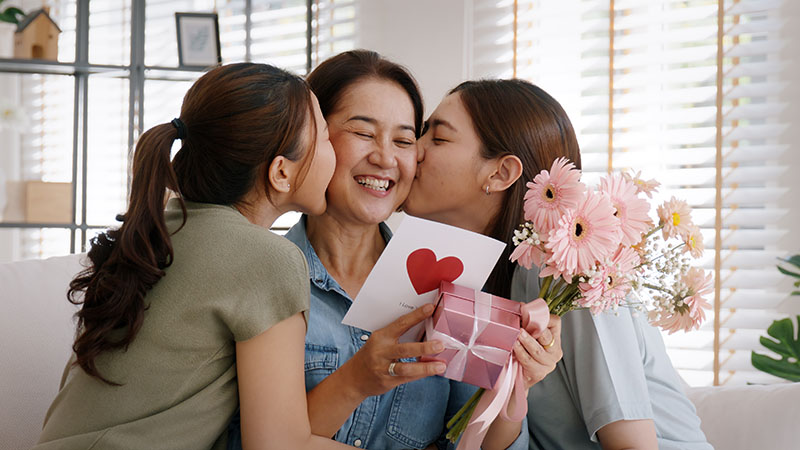 Lifestyle
7 Ways to Celebrate Mom on Mother's Day
May 14 2023
---
Happy Mother's Day to all the moms out there! As one of the most demanding jobs imaginable, being a mom is also one of the most rewarding. From cheerleader to comforter, chef to housekeeper, logistics coordinator to peacemaker and so much more, moms wear many hats everyday throughout each stage of their children's lives. But the common thread that is woven through each of them, year after year, is unconditional love. Moms give so much of themselves to their children and today, they deserve to be shown and told how appreciated they are.
On this special day of acknowledgment, honor your mother by showing her you care and appreciate her. Here are a few ways you can let your mom know how special she is to you and how much her love has meant to you:
Give her a call and wish her a Happy Mother's Day. Even just hearing your voice and knowing you took time out of your day to lift her up will bring her more joy than you could imagine.
Take her out for a meal. Make a reservation at one of her favorite restaurants, or try something new that you think she would like. Keep your schedule open so you can take your time and not be in a rush.
Make a meal for her at your home. Prepare something that you know she will enjoy and don't let her cook clean or prepare anything - just relax with a refreshing beverage and visit with you while you take care of all the details.
Schedule a mani/pedi, massage, facial or even full spa day for her. Moms often put their needs last, yet they often dream about how nice it would be to have a spa day. Make her dreams come true and give her the ultimate gift of self care!
Carry out a house project at her home that she's talked about for a while but hasn't gotten around to do herself. Build a new fence, clean out her flower beds, plant some new shrubs or clean out the gutters at her house. Acts of service are always appreciated.
Make her something. Paint a picture, create a scrapbook, digital slideshow or quilt, to name a few. There's nothing like receiving a gift that was made with the hands of your beloved children.
Take her to a live performance or a movie. The gift of time is one that is most cherished and memorable for many. Sharing an experience together is a great way to make memories while expressing your love and appreciation.
Sharing your love for those you care about is rewarding in itself! Get creative, step outside the box and let your heart be your guide as you express your appreciation for your mom today.
Remember, moms, "being a mama can be tough, but always remember in the eyes of your child, no one does it better than you."
---
| | |
| --- | --- |
| | Tiffany Krenek has been on the My Neighborhood News team since August 2021. She is passionate about curating and sharing content that enriches the lives of our readers in a personal, meaningful way. A loving mother and wife, Tiffany and her family live in the West Houston/Cypress region. |
« BACK TO NEWS
---
LATEST COMMUNITY NEWS
V
All
Development
Dining
Government
Home & Garden
Lifestyle
Outdoors
Pets
Transportation
Community
Non-Profit
Sports
Education
Health & Science
Religion
Groups
Entertainment