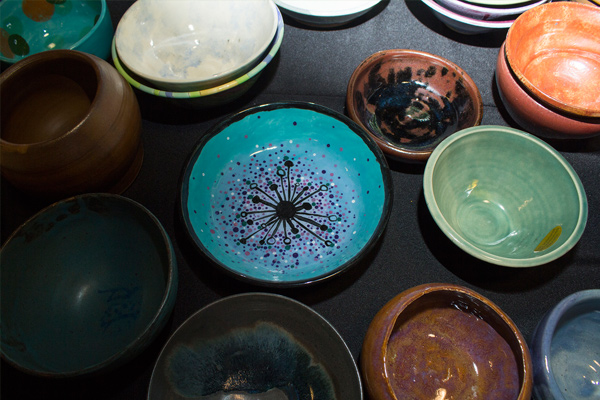 Non-Profit
17th Annual Empty Bowls Houston Benefitting Houston Food Bank Returns May 20
March 16 2023
---
One of Houston's best-loved grassroots fundraising events, Empty Bowls Houston, will return for the 17th Annual event on Saturday, May 20, 2023.
Empty Bowls is an international effort to fight hunger, implemented in Houston to benefit the Houston Food Bank. The unique lunch fundraiser is a collaboration between Houston area ceramists, woodturners and artists working in all media and Houston Center for Contemporary Craft. Since the inception of the event, Empty Bowls Houston has raised $991,293 for the Houston Food Bank! (This equates to more than 2.97 million meals for the hungry!)
Attendees enjoy perusing the 1,500-plus one-of-a-kind, hand-crafted bowls made and donated by Houston area ceramists and craft artists, which are available for a donation to the Houston Food Bank of $25 per bowl (100% goes to Houston Food Bank). There are also larger bowls available at higher prices. Note: for each $1 donated to Houston Food Bank, THREE meals are provided to the hungry, so, each $25 bowl purchased provides 75 meals!
The event will be held from 10:00 AM until 3:00 PM at Houston Center for Contemporary Craft in both the indoor gallery spaces and outdoor garden. Located at 4848 Main in the Museum District, Houston Center for Contemporary Craft (HCCC) is a nonprofit arts organization founded to advance education about the process, product and history of craft. There will be live artist demonstrations outdoors throughout the event, and live music in the garden. All attendees who purchase bowls will enjoy a simple soup lunch. Soup will be served until they run out. For more information, please visit EmptyBowlsHouston.org.
Archway Gallery's Empty Bowls Invitational Exhibition and Sale
Archway Gallery is once again honored to host a special exhibition to raise money for Empty Bowls Houston. Archway Gallery, one of Houston's and the nation's oldest artist-owned and operated galleries. Since 1976, Archway Gallery has been exhibiting the work of the area's finest artists, providing a great selection of affordable, high quality art including sculpture, pottery, and painting in a variety of media and styles.
From May 6 through May 28, more than 30 finely crafted, one-of-a-kind bowls will be displayed along with work submitted by both 2D and 3D Archway Gallery artists. The Empty Bowls artwork will be available through the month of May with proceeds benefiting the Houston Food Bank. There is a special opening reception on May 6 from 5 to 8 p.m. at Archway Gallery, located at 2305 Dunlavy, to meet the artists and view these unique works. The bowls may be purchased and taken home the same day! Archway will have Empty Bowls artwork available as well on their website store. For up-to-date information, visit www.archwaygallery.com call 713-522-2409.
SPONSORS (to date): Houston Center for Contemporary Craft, MD Anderson Cancer Center, SYSCO Nourishing Neighbors, Patterson & Murphy Public Relations, Ceramic Store, Archway Gallery, Virginia & Andy Bally, GoodPop, Katz Coffee, Republic Services, Sofer Entertainment LLC
EMPTY BOWLS COMMITTEE: Chair – Samantha Oldham; Andre Bally, Virginia Bally, Carol Berger, Anna Deans, María-Elisa Heg, Stacy Kuropata, Renee LeBlanc, Paula Murphy, Thomas Perry, Suzanne Sippel
About Houston Food Bank
Serving Houston and southeast Texas since 1982, Houston Food Bank's mission is to provide food for better lives. We provide access to 150 million nutritious meals in 18 counties through our 1,600 community partners of food pantries, soup kitchens, social service providers and schools. Filling gaps on plates, we have a strong focus on healthy foods and fresh produce. In collaboration with our community, we advocate for policy change and racial equity, and promote dialogue on ways to increase access to food and to improve the lives of those in our communities, including services and connections to programs that address the root causes of hunger and are aimed at helping families achieve long-term stability: nutrition education, job training, health management, and help with securing state-funded assistance. We are a resource for individuals and families in times of hardship. Houston Food Bank works alongside our partner food banks in Montgomery County, Galveston County, Brazos Valley, and Trinity River area. Houston Food Bank is a certified member of Feeding America, the nation's food bank network, with a four-star rating from Charity Navigator for the 12th consecutive year.
For more information about the Houston Food Bank, please visit houstonfoodbank.org.
« BACK TO NEWS