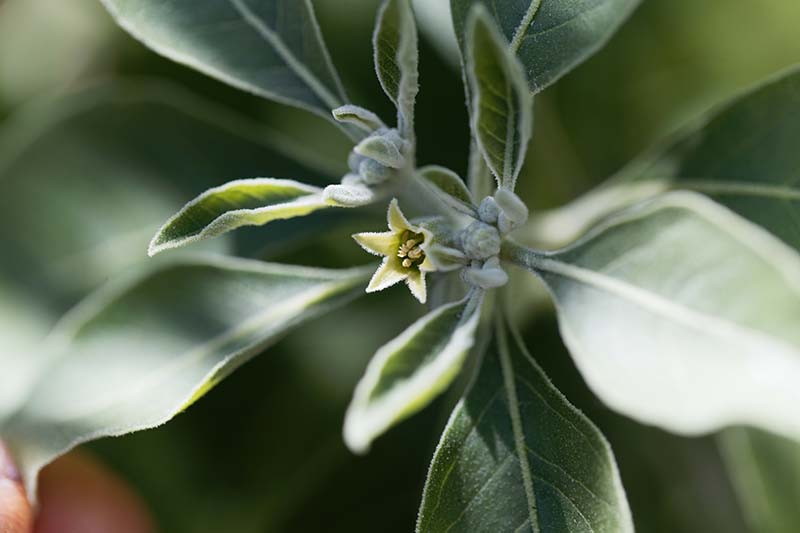 Health & Science
HCMG Herb of the Month: Ashwagandha
September 03 2022
---
by Karen McGowan, Master Gardener
If you are familiar with the East Indian medical system of Ayurveda, or have researched herbal remedies that are suggested for addressing stress symptoms, you have probably heard of this month's featured herb, ashwagandha (pronounced ä-shwəˈgän- də). This herb's star has been on the rise for a few years within both western integrative and holistic medical management.
The herb is a woody, perennial shrub in the nightshade (peppers, eggplants, etc.) family that grows to a height of about thirty inches with branches reaching around five inches in length, producing small flowers throughout the year. Those flowers open up into a bell shape and sprout small orange-red, marble-sized fruits. Leaves are greenish-yellow, and rather banally described as having a "normal and average shape". One could take this to mean that the herb may be difficult to identify in the wild.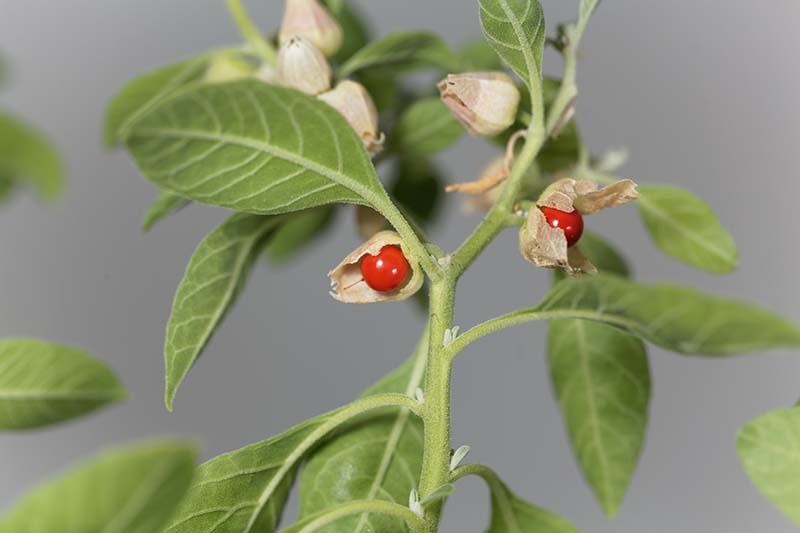 Fruits on a Ashwagandha plant
As the name may suggest, ashwagandha is native to India. With the increased demand in recent years, farmers have begun to cultivate it also in the Middle East, Africa, and North America. Drought resistant and hardy, it prefers to grow at higher altitudes but can be found at almost any elevation. Ashwagandha is known by a bevy of monikers, including ajagandha, Ayurvedic ginseng, Indian ginseng, ghoda asoda, hayahvaya, winter cherry, and vajigandha. Try saying those each five times fast!
Since these plants originate on the Indian subcontinent, they do require warmth. Choose a garden position that is dry where ashwagandha will be exposed to at least six hours of sunlight each day. As ashwagandha likes temperatures between 70 and 95 degrees, in order for it to remain perennial in southeast Texas, it would need to be grown in a container that can be shifted indoors when temperatures drop. However, if you're growing it in a container, make sure to position it so that the light needs are met indoors.
Ashwagandha grows only from seeds. You can plant the seeds any time during warm weather. Plant seeds 2 cm (3/4 in.) deep and 10 cm (4 in.) apart when the temperature is around 70 F (20 C). Germination typically takes place in 2 to 3 weeks. Regarding water needs, as mentioned above, these plants are drought tolerant and do not require frequent watering. Water ashwagandha only when the top two inches of the soil surface is dry. Grown in the garden, the herb is susceptible to spider mites, particularly.
Ashwagandha isn't really a culinary herb, although some attempts have been made to integrate its use in dishes. The story of this herb in large part lies within medicinal usage. In Ayurvedic medicine, it's known as a "rasayana," which is by definition a substance that "nourishes and tones the entire body, has rejuvenating qualities, and enhances longevity." Ashwagandha is also prized for use in easing stress and regulating hormone production. The cautionary message attached to these claims is that, although it is well-tolerated by most people, it can induce nausea, vomiting, and rashes, and any ashwagandha plant that is grown in a polluted area should be avoided altogether.
The real takeoff of this rising herb star seemingly coincided with the recent pandemic. Times of high stress, and certainly somewhat novel, prolonged stressful periods such as what has been experienced globally with the pandemic, tend to stir creativity to find new ways to successfully address the resulting stress issues. However, as we know, there is nothing new under the sun. Ashwagandha has long been used in pockets throughout the world where it has been grown for hundreds if not thousands of years.
In reality, with or without a pandemic, modern life is full of stress triggers, which contribute to physical and mental illness, and thus a search by us for ways to feel better. What is always essential is a healthy lifestyle that includes regular exercise, a good diet, and adequate sleep. But according to integrative medicine specialist Yufang Lin, MD, many people need additional, short-term support. "For some, that might come in the form of prescription medicine that supports serotonin function. For others, it may be botanicals," says Dr. Lin. Here is where ashwagandha meets a need.
Dr. Lin states that, during stressful moments, "the cortisol levels in your body become elevated, and this causes your heart to pump harder and faster. You breathe rapidly and your body generates more glucose for a quick burst of energy. Your mind becomes hyper-focused on any threats, and your body goes into fight or flight mode. When the stressful event is over, cortisol levels normalize and the associated symptoms resolve." She continues, "unfortunately, when a threat is chronic — whether it's stress from finances, work or the pandemic — the stressful response also becomes chronic. Over time, long-term stress can contribute to persistent inflammation and increases the risk for developing chronic conditions such as obesity, diabetes, hypertension, heart disease, stroke, cancer, osteoporosis and fibromyalgia."
Of course, there are pre-existing conditions and other issues that could make usage of ashwagandha inadvisable, and, as always, one should consult with their medical professional before attempting to integrate use of this or any herb into one's health practices.
Options in general are fun to learn about and have handy, and this includes healthy herbal ones! Here's to your health and happy fall 2022, y'all!
Source: Harris County Master Gardeners Urban Dirt Newsletter (September 2022 Edition)
---
About Urban Dirt
Each month, Harris County Master Gardeners publishes an informative, resourceful newsletter entitled "Urban Dirt". This article was derived from the September 2022 edition. To read the September 2022 edition of this newsletter, click the button below.
Urban Dirt - September 2022 Edition
« BACK TO NEWS