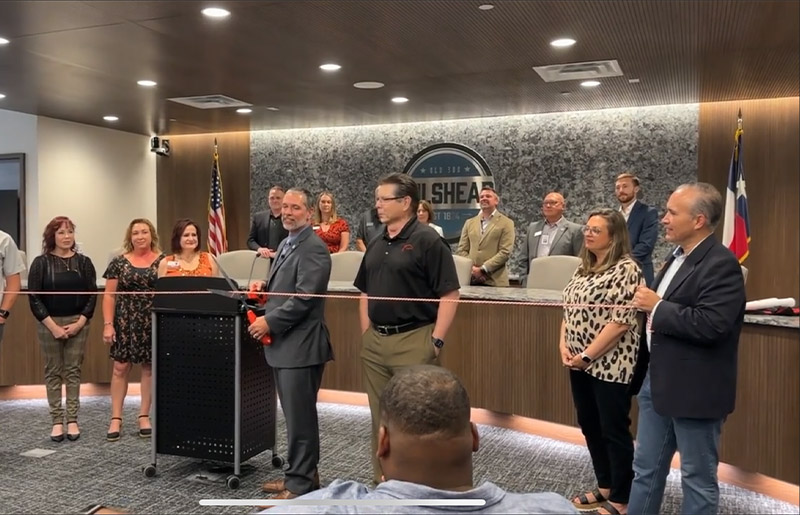 Government
City of Fulshear Celebrates Ribbon Cutting for Municipal Complex
June 21 2023
---
In the year 2000, a little more than 700 residents called the City of Fulshear home. In a little over two decades, that number has expanded by more than 4,900%. The current population in the City of Fulshear is about 35,000 residents and growing daily. To match this growth and continue serving our community, the City of Fulshear opened its doors to a new Municipal Complex in 2022 in the Marcel Town Center.
Yesterday, local officials, professionals and members of the community attended the official, ribbon-cutting ceremony of the City of Fulshear Municipal Complex to celebrate this milestone in what the City of Fulshear has become and where the community is headed. Attendees enjoyed light refreshments, welcome presentations, and group tours of the facility.
The City of Fulshear Municipal Complex is located at 6611 W. Cross Creek Bend in Fulshear. In 2021, the City of Fulshear drafted plans for the new Municipal Complex, which involved the acquisition and renovation of two existing, adjacent buildings within Marcel Town Center. Deteriorating conditions of Fulshear's previous City Hall and limited space ultimately led to the decision to move to the new complex. The new City Hall is located in a two-story building and the Fulshear Police Department is housed in a one-story building within the complex.
« BACK TO NEWS
---
LATEST NEWS
V
All
Food & Beverage
Food & Dining
Shopping
Weather
Development
Dining
Government
Home & Garden
Lifestyle
Outdoors
Pets
Transportation
Community
Non-Profit
Sports
Education
Health & Science
Religion
Groups
Entertainment