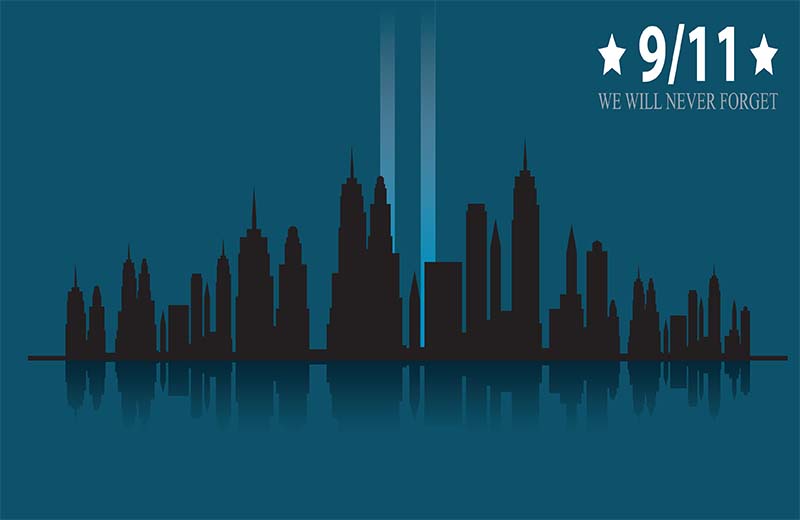 Community
Observing Patriot Day
September 11 2022
---
What is 9/11
Today marks the 21st anniversary of the infamous terror attacks that altered the course of history. "9/11" is shorthand for four coordinated terrorist attacks carried out by al-Qaeda, an Islamist extremist group, that occurred on the morning of September 11, 2001.
Nineteen terrorists from al-Qaeda hijacked four commercial airplanes, deliberately crashing two of the planes into the upper floors of the North and South Towers of the World Trade Center complex and a third plane into the Pentagon in Arlington, Virginia. The Twin Towers ultimately collapsed because of the damage sustained from the impacts and the resulting fires. After learning about the other attacks, passengers on the fourth hijacked plane, Flight 93, fought back, and the plane was crashed into an empty field in western Pennsylvania about 20 minutes by air from Washington, D.C.
The attacks killed 2,977 people from 93 nations: 2,753 people were killed in New York; 184 people were killed at the Pentagon; and 40 people were killed on Flight 93.
Commemoration in NYC
Each year on the anniversary of 9/11, the families of victims gather for a ceremony on the 9/11 Memorial plaza to read aloud the names of the 2,983 men, women, and children killed in the September 11, 2001 attacks and February 26, 1993 bombing of the World Trade Center. Six moments of silence mark the times when each of the World Trade Center towers was struck, when each tower fell, and the times corresponding to the attack at the Pentagon, and the crash of United Airlines Flight 93 in Pennsylvania. Please join us for the ceremony via live stream beginning at 8:40 a.m. on Sunday, September 11.
The Memorial will be closed to the public until 3 p.m. for the commemoration ceremony. The Museum will remain closed to the public all day so that 9/11 families may visit privately.
In May 2014, the 9/11 Memorial Museum opened its doors, inviting visitors to learn about the history of the 9/11 attacks and 1993 World Trade Center bombing at the site where the Twin Towers once stood. The Museum's dynamic blend of architecture, archaeology, and history creates an unforgettable encounter with the story of the attacks, their aftermath, and the people who experienced these events. To learn more about the 9/11 Memorial Museum and the many ways they will commemorate 9/11 this year, visit their website.
When you make a gift to the 9/11 Memorial & Museum, you make it possible to share the stories of hope and resilience, sacrifice and service, good will and community that inspired us all in the aftermath of 9/11 and do so again today.
donate to 9/11 memorial & museum
« BACK TO NEWS