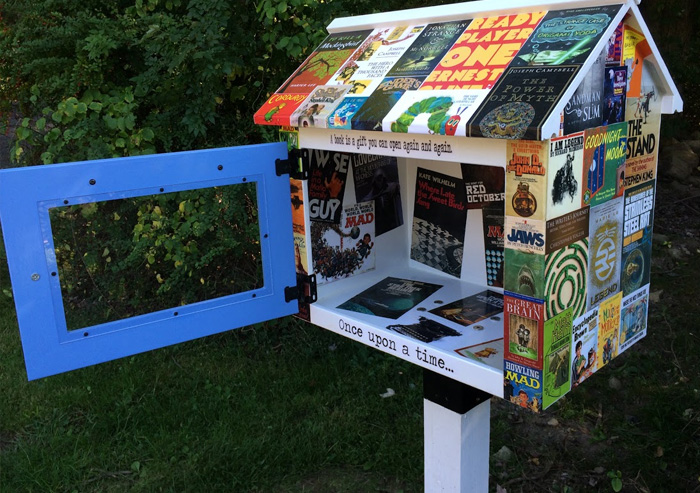 Community
Little Free Libraries: How They Work and How to Start One
August 06 2022
---
Have you ever heard about the
Little Free Library
program, or perhaps have seen one of their registered libraries around town or in your neighborhood? Ever wondered how to start one in your community, or curious about how it works? Find out everything you need to know about Little Free Libraries and how to start one near you!
What is a Little Free Library?
Little Free Library (LFL) is the name of a registered 501(c)(3) nonprofit organization that builds community, inspires readers, and expands book access for all.
The organization helps people around the world start and maintain free "take a book, share a book" book exchanges called Little Free Libraries. LFL grants Little Free Libraries full of books to underserved areas through its Impact Library Program and champions diverse books through its Read in Color initiative.
Little Free Library book-sharing boxes are placed in front yards, housing projects, community centers, schools, parks, gardens, and other easily accessible locations. The Libraries are built to withstand weather of all kinds and hold 20-100 books.
The Organization
Little Free Library is a nonprofit organization based in St. Paul, Minnesota. Their mission is to be a catalyst for building community, inspiring readers, and expanding book access for all through a global network of volunteer-led Little Free Libraries. Their vision is a Little Free Library in every community and a book for every reader. They believe all people are empowered when the opportunity to discover a personally relevant book to read is not limited by time, space, or privilege.
The Little Free Library Movement
People worldwide have embraced the idea of Little Free Libraries and at their headquarters, they're working to strengthen and support them with effective communication channels, programs, events, and partnerships that build on their mission. As of June 2022, there are more than 150,000 registered Little Free Libraries in all 50 states, all 7 continents, and 115 countries. Please see our
map
for more information.
How to Start a Little Free Library
Identify a Location & Steward: First decide where you can legally and safely install the library. The location should also have a lot of foot traffic and be highly visible to anyone nearby. Then identify at least one person to be the steward (steward = caretaker). This person promotes the library and makes sure it is clean and inviting.
Get a Library: You can build your own Little Free Library following any design you like; find someone locally to build one for you; or purchase a library through Little Free Library's online store. Libraries purchased through our online store are automatically registered and come with a charter sign included.
Register Your Library: Register by purchasing an official charter sign. If you buy a Little Free Library from our online store, it will automatically come registered with a charter sign included. If you build your own book-sharing box, register it by purchasing a charter sign. After you register, you gain access to a network of benefits just for stewards, such as the option to set up your steward account and list your library on the Little Free Library mobile app and web map.
Set Up Your Steward Account: After you purchase your Little Free Library or charter sign, you will receive an email with a link to set up your steward account. With an account, you can log in to the Little Free Library app or steward web portal and enter all of your library's details. Push your library's location live on the map whenever you're ready! Plus take advantage of other interactive features in your steward account like enabling a guest book and posting announcements.
Build Community Support: Get your community involved! Tell your friends, family, and neighbors in person. Use social media to engage your community. Hold a Grand Opening Ceremony and invite your neighbors to kick off the library in style with a ribbon cutting, snacks, and books freely exchanged! Submit your announcement to your dedicated My Neighborhood News team and they will help promote your Little Free Library to your neighbors and community. Contact the local paper, radio, and TV stations. Send out a press release. The more people who know about your library and support it, the better.
For more information about starting a Little Free Library, visit this website. Creating a LFL can be a fantastic team building, creative project that brings neighbors together for a unified purpose. Share the joy of reading with your community today!
« BACK TO NEWS