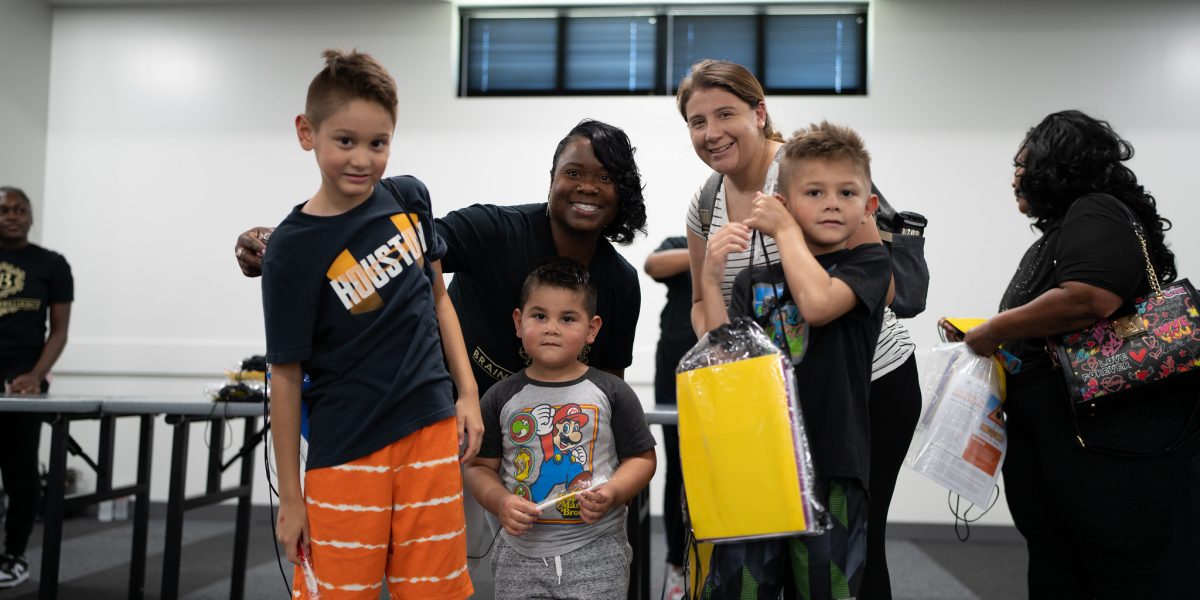 Government
From Computers to Immunizations: How Commissioner Lesley Briones is Helping Families Get Ready for Back to School
August 28 2023
---
As the summer winds down, families have turned to Commissioner Lesley Briones and Precinct 4 to help prepare their children to return to school.
Between multi-million-dollar investments in childcare and a campaign to distribute free Chromebooks to students, Commissioner Briones said it is "absolutely essential" to ensure that all children are set up to succeed.
"Our children are the future of Harris County," Commissioner Briones, the daughter of two public school teachers and a former public-school teacher herself, said. "As we make our way out of the pandemic, it is more important than ever that students have the resources they need heading into the school year."
'Connect 4 Success': Bridging the Digital Access Divide
In Harris County, roughly 600,000 households lack internet connectivity, which poses an undue burden on students trying to get an education and limits their academic and career possibilities.
Through a federal grant awarded to the Harris County Public Library, Commissioner Briones' Connect 4 Success initiative aims to expand internet access to communities historically underserved and overlooked in Precinct 4.
In a series of events running from May through August, Commissioner Briones and local organizations distributed a total of 1,000 free Chromebooks to students in need. Precinct 4 partnered with local organizations, including Amaanah Refugee Services and the Alliance for Multicultural Community Services.
At one of several Connect 4 Success events, students received free Chromebooks to support their academic journey.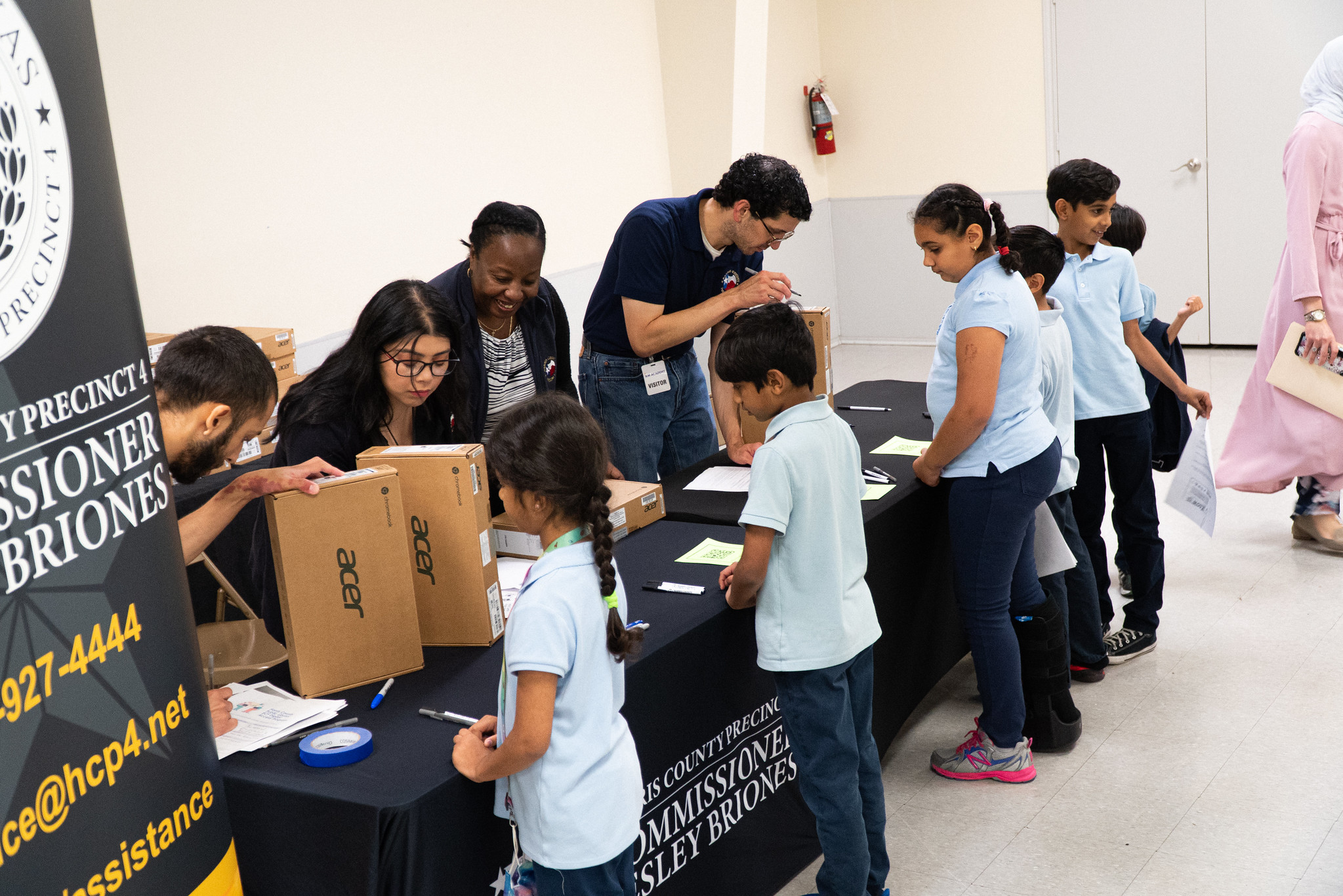 Gearing Up
From her days in the classroom, Commissioner Briones said she knows how important it is for students to be well-equipped for the school year.
"It is critical that all children have access to the basic supplies necessary for success at school. As a former teacher, I have seen first-hand the impacts on learning and self-esteem when children don't have what they need," Briones said.
The cost of school supplies can quickly add up: last year, families spent nearly $600 per child on back-to-school supplies. To ease the burden on parents, Commissioner Briones and Precinct 4 teamed up with local organizations to give out backpacks and school supplies throughout the Precinct, collecting nearly 1,250 items at a supply drive with the Texas Advocacy Project.
Through these efforts, thousands of children and their parents can feel assured headed into the school year.
Children and their families came to Miller Intermediate School on Aug. 5 to pick up free backpacks and school supplies thanks to Lumalali Limu International Organization and Precinct 4.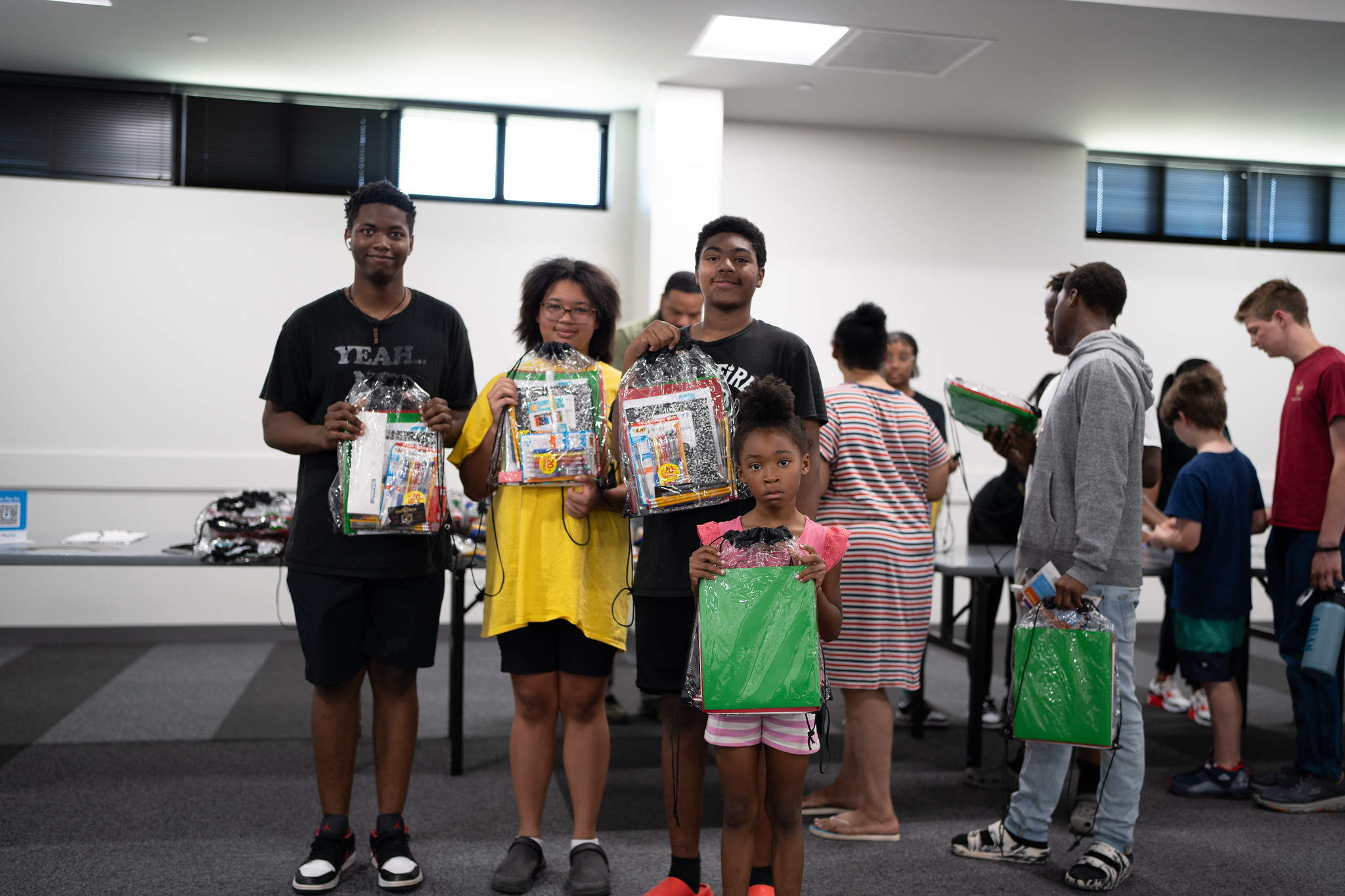 Health and Well-Being (Immunizations)
Before kids head back to school, it is important to make sure they are up to date on their vaccinations to prevent outbreaks and keep kids safe.
Precinct 4 hosted several immunization drives in August to promote public health in school communities and the broader population.
Partnering with Harris Health, Harris County Public Health, and the CHRISTUS Foundation for Healthcare, Precinct 4 prepared uninsured and underinsured children for a healthy school year ahead.
Year-Round Support
While back-to-school puts a special focus on students, Harris County aims to support children and their families throughout the year.
Thanks to the federal American Rescue Plan Act, Harris County has put unprecedented amounts of funding toward early childcare and education. This January, Commissioner Briones and her colleagues on Commissioners Court invested $26 million for the Early REACH program, which will provide free, high-quality childcare for at least 800 children ages 0-3 across the county.
High-quality child care has been linked to higher rates of educational attainment and adult employment, as well as reduced blood pressure, drug use, and criminal outcomes.
In April, the Court also renewed its commitment to County Connections, a vital program that provides summer programming for students in grades K-12. Through a three-year, $7.1 million agreement, the County and the Harris County Department of Education will continue to offer structured summer experiences that benefit students — particularly low-income students — through 2026.
"Through all of our initiatives, we are comprehensively addressing the health and well-being of children in Harris County," Briones said. "I am deeply committed to ensuring that every child is safe, receives a quality education, and has the support they need to thrive."
Source: HCP4
« BACK TO NEWS
---
LATEST NEWS
V
All
Food & Beverage
Food & Dining
Shopping
Weather
Development
Dining
Government
Home & Garden
Lifestyle
Outdoors
Pets
Transportation
Community
Non-Profit
Sports
Education
Health & Science
Religion
Groups
Entertainment