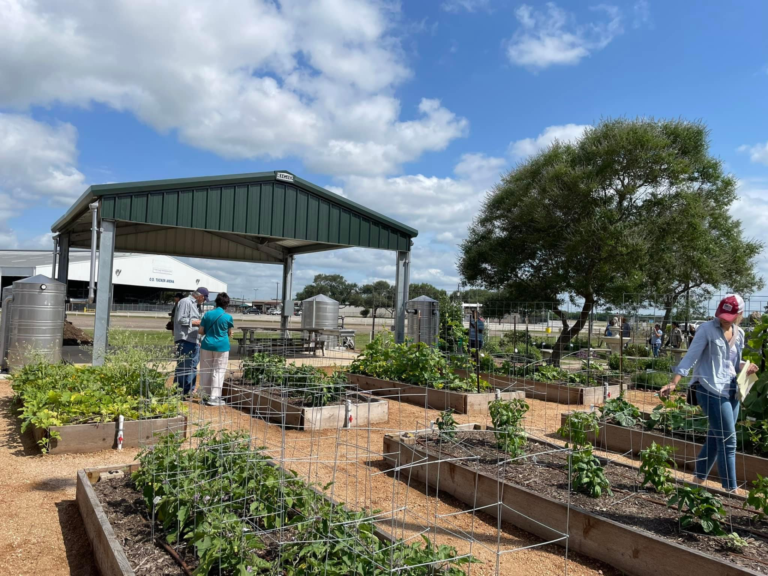 Home & Garden
Fort Bend County Master Gardeners' Vegetable Garden Education Center Wins First Place at Texas Master Gardener State Conference
June 30 2023
---
The Fort Bend County Master Gardener's Vegetable Garden Education Center in Rosenberg was recently awarded first place as a Teaching Site at the Texas Master Gardener State Conference. On June 20, TMG Volunteer Ambassador Louie McDaniel presented the Search for Excellence Award in Rosenberg.
The project began in 2020 with the intention of giving residents an opportunity to gain practical knowledge about gardening and to enable Master Gardeners to grow produce to feed those in need. To kick off the initiative, Master Gardeners applied for and won two USDA-Natural Resources Conservation Service grants totaling $9,000. FBMG added approximately $45,000 to the project and gardeners celebrated its completion in June 2022. The garden near Fort Bend County Cooperative Extension at 1402 Band Road in Rosenberg contains 17 beds and a rainwater collection system attached to a 25-by-25-foot covered, open-air structure.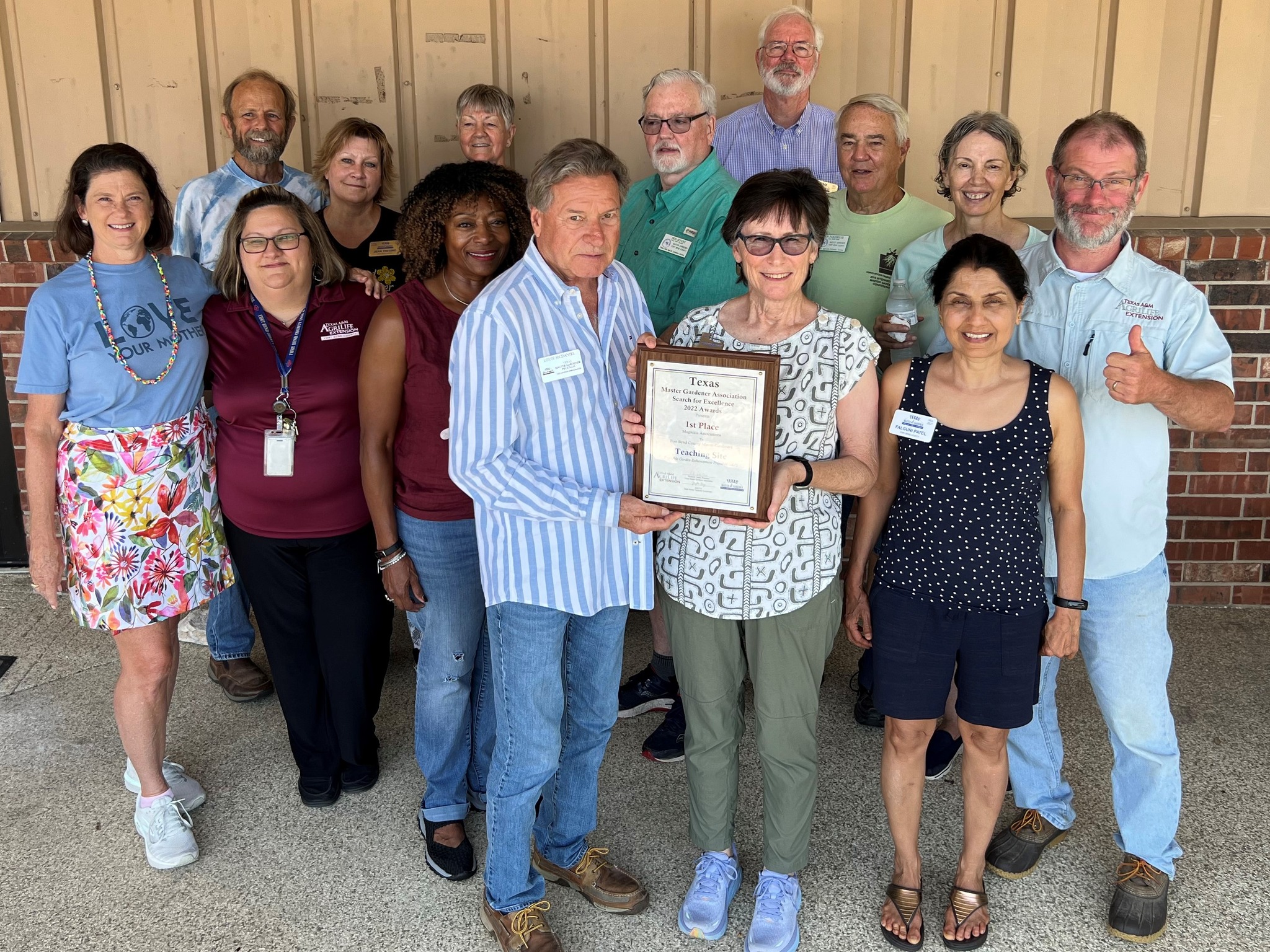 Texas Master Gardener Volunteer Ambassador Louie McDaniel presents the first-place plaque to Fort Bend County Master Gardener Peggy d'Hemecourt, who helped write a grant to partially fund the garden project. With her are the Master Gardeners who have contributed to the success of the garden. (Photo by Jan Poscovsky)
"After looking at your garden," said McDaniel, "It's quite impressive. You all really did a fantastic job and I can see why you won first place. The garden is in beautiful shape and laid out perfectly. You all just did tremendous work." He singled out the rainwater system for praise. "Just keep doing what you're doing," he added.
Jean Trevino, garden co-chair, has worked in the garden since 2015 and has a core group of volunteers who donate their time each week to grow and harvest food to distribute to the Mamie George Community Center, which is designated as Houston Food Bank Neighborhood Super Site.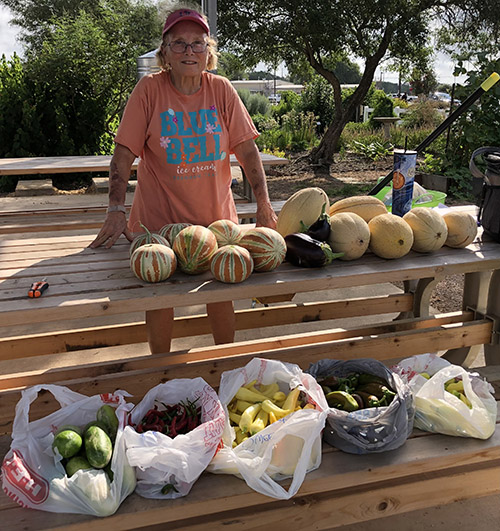 Vegetable garden co-chair Debbie Matherly displays veggies harvested by volunteers on June 28. (Photo by Karen Zurawski)
To learn more about how you can be a part of this project and many other gardening opportunities with the Fort Bend County Master Gardeners, please visit
fbmg.org
.
Source: FBCMG (Leading photo by Jan Poscovsky)
« BACK TO NEWS
---
LATEST NEWS
V
All
Food & Beverage
Food & Dining
Shopping
Weather
Development
Dining
Government
Home & Garden
Lifestyle
Outdoors
Pets
Transportation
Community
Non-Profit
Sports
Education
Health & Science
Religion
Groups
Entertainment