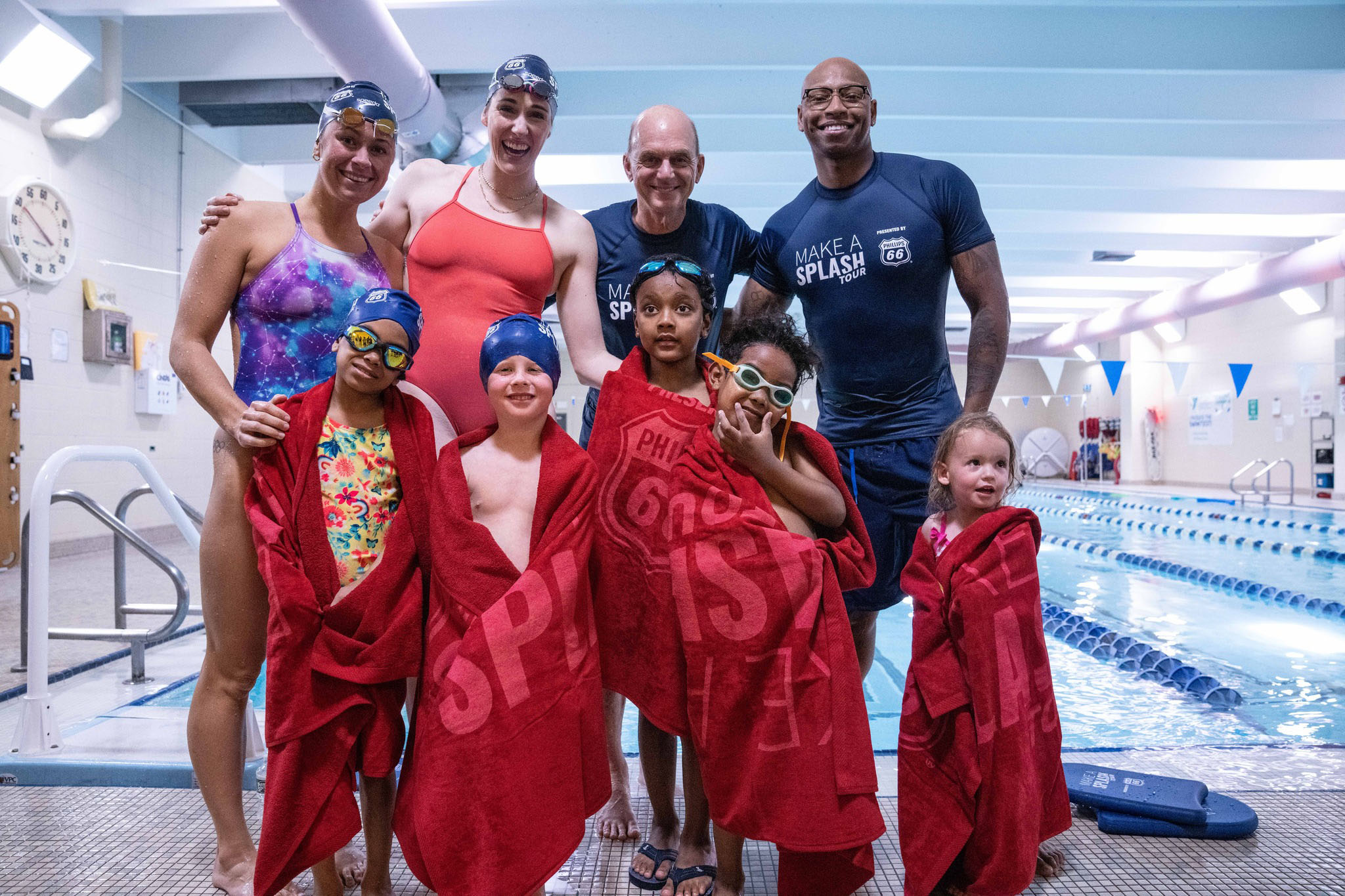 Community
USA Swimming's Make a Splash Tour Coming to Houston
April 26 2023
---
This spring, USA Swimming will visit four cities across the country for their annual Make a Splash Tour, including Houston.
The Make a Splash Tour presented by Phillips 66 aims to raise awareness around the importance of learning to swim. This year's tour will make their first stop in Houston from May 1-3, followed by Lake Charles, Louisiana (May 4-5), St. Louis and Roxana, Illinois (May 14-16) and Billings, Montana (May 23-25).
The USA Swimming Foundation, the philanthropic arm of USA Swimming, and Phillips 66 have collaborated for years to promote water safety and education. Ramping up for their 15th year, this Make a Splash Tour brings USA Swimming Foundation ambassadors and Olympic medalists Rowdy Gaines, Cullen Jones and Elizabeth Beisel to cities across the country to educate children, parents, communities and civic leaders on the importance of swimming as a lifesaving skill.

"The Make a Splash tour is an important opportunity for us to speak loudly about the criticality of learning how to swim," USA Swimming President and CEO Tim Hinchey III said. "We appreciate Phillips 66's continued support of our efforts to bring this vital message to more communities and families across America."
Drowning claims the lives of approximately 3,500 people per year, with nearly 25 percent being children under the age of 14. The problem is particularly amplified in ethnically diverse communities, where the drowning rate is almost three times the national average, according to the Centers for Disease Control and Prevention (CDC). Formal swimming lessons can reduce that risk for children by 88 percent.
"We are proud to work with the USA Swimming Foundation to raise awareness around water safety and teach children to swim," Phillips 66 Senior Advisor of Social Impact Courtney Meadows said. "Safety is pivotal to Phillips 66's operations and culture."
In 2021, the USA Swimming Foundation aligned with U.S. Masters Swimming to create lasting generational impact by bringing support for youth and adult learn-to-swim programs under one umbrella. If a parent doesn't know how to swim, there is just a 19 percent chance that a child in that household will learn how to swim, according to a 2009 study by Pediatrics and Adolescent Medicine. Further, more than one-third of American adults cannot swim the length of a pool, according to the CDC.
Since 1973, Phillips 66's contributions have supported the USA Swimming community through National Championships, international competitions, publication of sport development materials, and many additional endeavors. The Make a Splash Tour, which the company has sponsored since the program's inception in 2009, is a natural extension of Phillips 66's dedication to safety.
To find a youth or adult swim lesson provider near you or for more information on which programs offer free or reduced-cost swim lessons, visit www.usaswimming.org/makeasplash.
---
About the USA Swimming Foundation
The USA Swimming Foundation serves as the philanthropic arm of USA Swimming. Established in 2004, the Foundation works to strengthen the sport by Saving Lives, Building Champions and Impacting Communities. Whether equipping children and adults with the life-saving skill of learn-to-swim, providing financial support to our heroes on the U.S. National Team, or broadening community access to the sport, the USA Swimming Foundation aims to provide the rewarding experience of swimming to all, regardless of their ability to pay. For more information, visit www.usaswimming.org/foundation.
About Phillips 66
Phillips 66 (NYSE: PSX) manufactures, transports and markets products that drive the global economy. The diversified energy company's portfolio includes Midstream, Chemicals, Refining, and Marketing and Specialties businesses. Headquartered in Houston, Phillips 66 has employees around the globe who are committed to safely and reliably providing energy and improving lives while pursuing a lower-carbon future. For more information, visit phillips66.com or follow @Phillips66Co on LinkedIn or Twitter.
Source: USA Swimming
« BACK TO NEWS
---
LATEST NEWS
V
All
Food & Beverage
Food & Dining
Shopping
Weather
Development
Dining
Government
Home & Garden
Lifestyle
Outdoors
Pets
Transportation
Community
Non-Profit
Sports
Education
Health & Science
Religion
Groups
Entertainment