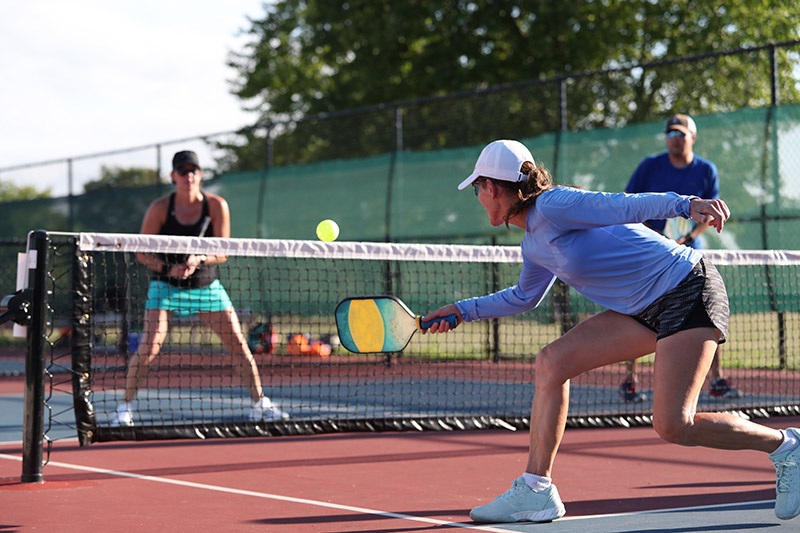 Sports
Tomball Inaugural Pickleball Tournament Set for June 3, Registration Deadline Approaching
May 18 2023
---
The game of pickleball is on the rise across the country. Although the game looks somewhat like tennis, there are some striking differences that make the game more accessible for players of all ages, easier to start and comes with a simple set of rules.
According to USA Pickleball, the sport was invented in 1965 on Bainbridge Island, a short ferry ride from Seattle, Washington. Three dads whose children were bored with their usual summertime activities are credited for creating game. Since its inception, pickleball has evolved from original handmade equipment and simple rules into a popular sport throughout the US and Canada. The game is growing internationally as well, with many European and Asian countries adding courts.
The only equipment needed are pickleball paddles, lightweight balls with holes through them and a net. Pickleball paddles are smaller than tennis rackets but larger than ping-pong paddles, and the balls come in a variety of different colors - although they are often yellow. Indoor and outdoor play call for different ball models created for such conditions.
A pickleball court is the same size as a doubles badminton court. In pickleball, the same court is used for both singles and doubles play. The net height is 36 inches at the sidelines and 34 inches in the middle. The court is striped similar to a tennis court with right and left service courts and a 7-foot non-volley zone in front of the net (referred to as the "kitchen"). Courts can be constructed specifically for pickleball or they can be converted using existing tennis or badminton courts.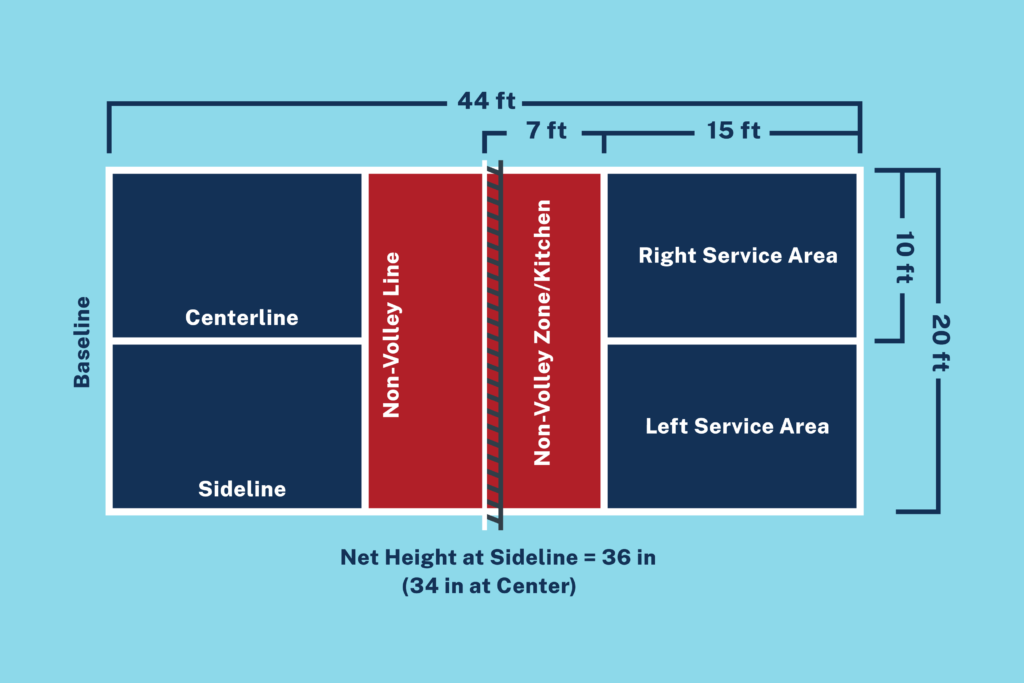 Standard pickleball court layout (Source: USA Pickleball)
The game of pickleball is on the rise across the Greater Houston Area also, including right here in Tomball. On Saturday, June 3, the City of Tomball will host their Inaugural Pickleball Tournament at Juergens Park. With divisions suited for each skill level, all are invited to participate.
According to the City of Tomball, play will occur on 10 courts simultaneously, with yellow outdoor balls provided for play only. Scoring will be on the team honor system, although there will be a double elimination tournament. The tournament will be comprised of open doubles, which can be comprised of males, females or mixed, and the skill level of the players will be grouped by beginner, intermediate and advanced. In the double elimination tournament, there will be awards given for 1st, 2nd and 3rd place. There will also be music, free food and beverages, plus a great raffle item.
Pickleball Tournament Schedule

7:30 AM
7:45 AM
8:00 AM

Player packet pickup begins

15 minute stretch session by Wild Spirit Yoga

Tournament begins

Brackets will be released the night before the tournament
The cost to register is just $35 per team member. Tournament t-shirts will be provided to participants. Registrations must be received by May 24, 2023, so register today! When registering online, an online waiver signature is required. Please note that online payment via PayPal is available for registration fees, and PayPal also allows credit card payments.
REGISTER for pickleball tournament HERE
---
| | |
| --- | --- |
| | Tiffany Krenek has been on the My Neighborhood News team since August 2021. She is passionate about curating and sharing content that enriches the lives of our readers in a personal, meaningful way. A loving mother and wife, Tiffany and her family live in the West Houston/Cypress region. |
« BACK TO NEWS
---
LATEST COMMUNITY NEWS
V
All
Development
Dining
Government
Home & Garden
Lifestyle
Outdoors
Pets
Transportation
Community
Non-Profit
Sports
Education
Health & Science
Religion
Groups
Entertainment