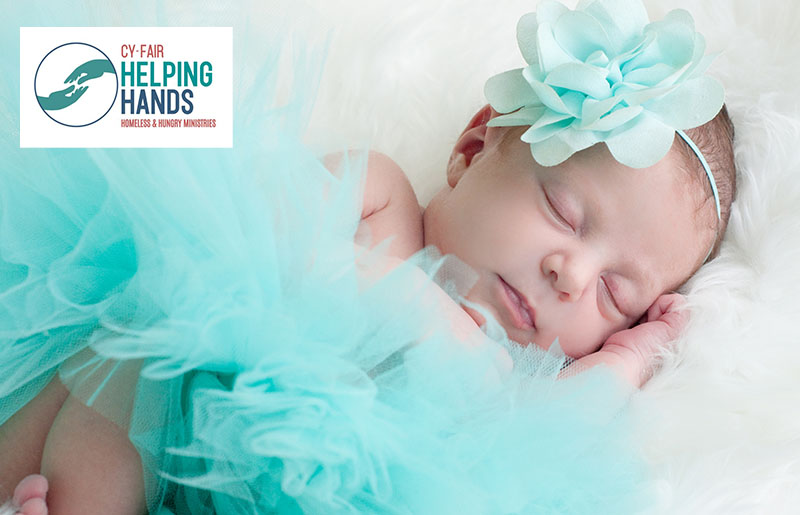 Non-Profit
Cy-Fair Helping Hands Seeking Baby Item Donations for Oh, Baby Day
March 16 2023
---
By Pat Hudson, Director of Community Outreach, Cy-Fair Helping Hands
Some months ago, a pantry client introduced us to a woman that was extremely pregnant, ready to give birth at any moment. Mother, together with her husband and young daughter, had recently arrived stateside with little more than the clothes on their backs and were staying in the apartment with their new friends. With nothing for the baby, our client reached out to Cy-Fair Helping Hands for assistance.
As is often the case, our generous community quickly began delivering clothing, diapers, baby bottles, blankets, car seats, bouncers, and baby bathtubs. The response was overwhelmingly wonderful. The mother was able to have her choice of all of the donations and was excited and prepared to welcome her baby boy into the world.
Through the kindness of strangers, our supply of all things baby had grown considerably. This is why we have decided to hold a special event we are lovingly calling "Oh, Baby Day" where our clients with babies and toddlers may come and "shop," for needed items.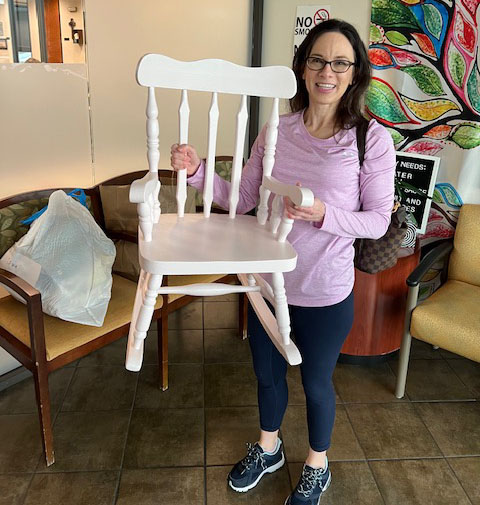 Kelly George donated her childhood rocker, made by her father.
Kelly painted the chair and decided there was plenty of life left for another little one.
We are accepting donations of new or gently used clean cribs with mattresses and bedding, strollers, car seats, high chairs, changing tables, jumpers/activity centers, bath tubs, mobiles, baby shampoo, wash cloths and towels, bottles, bibs, burp cloths, pacifiers and clips, diapers, wipes, diaper cream and changing pads, diaper bags, snack containers, sippy cups, baby utensils teethers, rattlers, soft blocks, educational toys, baby hangers, onesies, sleepers, swaddles, pants and shorts, shirts, socks, and hats.
If you would like to donate large items such as cribs, rocking chairs or high chairs, please contact phudson@cyfairhelpinghands.org or terry@cyfairhelpinghands.org to arrange drop off. Donations may be dropped off to our Cy-Fair Helping Hands office, located at 9606 Kirkton Drive, Houston, 77095, Monday through Thursday, but preferably to the receiving bay door on Monday, Thursday, or 3rd Saturday, between the hours of 9:00 AM and 12:30 PM. The DEADLINE for donations is Monday, March 27, 2023.
"Oh, Baby Day" is Saturday, April 1, from 9:30 AM – 12:30 PM. Cy-Fair Helping Hands clients must have an invitation to attend.
---
About Cy-Fair Helping Hands
Cy-Fair Helping Hands (CFHH), a 501(c)(3) non-profit organization, was founded to help the homeless of Cy-Fair become self-sufficient. The ministry had its humble beginnings in the heart of one woman and a huge pot of soup served from the back of a pick-up truck. For many years, Cy-Fair residents, Jean and John Dreyer, made it their mission to minister to those living on the streets of northwest Houston. They forged relationships with the homeless, collecting and storing food, clothes, and supplies for them in their garage. The couple eventually sold their antique business to fund Cy-Fair Helping Hands.
Since its inception in 2010, the fledgling organization has grown to include a Community Food Pantry, enabling CFHH to serve not only the homeless, but the hungry. Programs for our struggling neighbors include provision of Emergency Shelter for families with children, scholarships for unprivileged students, Homeless Street Outreach, a Homeless Day Center, programs for CFISD students, and events and programs during the holidays and at back-to-school time. 100% of our funding comes from caring individuals, churches, businesses, and organizations. Our mission is to bring hope to the homeless and hungry.
For more information about Cy-Fair Helping Hands, please visit cyfairhelpinghands.org.
« BACK TO NEWS
---
LATEST NEWS
V
All
Food & Beverage
Food & Dining
Shopping
Weather
Development
Dining
Government
Home & Garden
Lifestyle
Outdoors
Pets
Transportation
Community
Non-Profit
Sports
Education
Health & Science
Religion
Groups
Entertainment