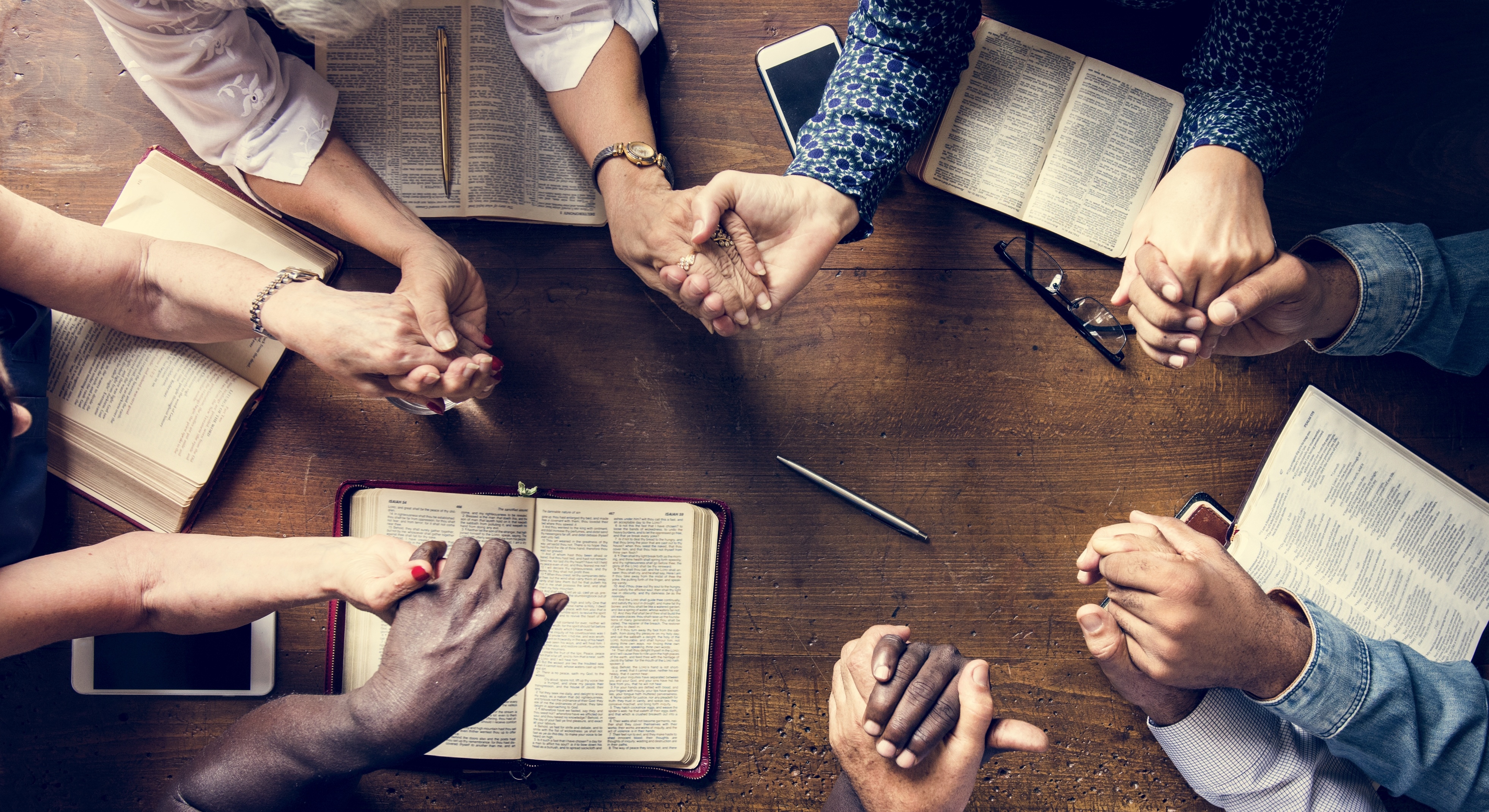 Religion
Area Church News & Upcoming Events
February 05 2022
---
Upcoming Events
ST. JOSEPH ALTAR- CHRIST THE REDEEMER CHURCH
Christ the Redeemer Catholic Church will be presenting our 14th annual St. Joseph Altar on Sunday, March 20, 2022, in the church Parish Hall.
All are welcome to join us for this Sicilian tradition where we will be selling Italian cookies, desserts and a St. Joseph's spaghetti lunch.
Admission to the Altar is free, however, if you would like to enjoy the meal, the cost if $8/adults $4/children 10 and under. Cash, checks and credit cards are accepted. All proceeds will be donated to CYPRESS ASSISTANCE MINISTRIES. For more information, e-mail: carolynlsmith2@gmail.com.
FABRIC DONATIONS NEEDED
The ladies of Concordia Lutheran Church make quilts for Lutheran World Relief and Orphan Grain Train. These quilts are sent to areas within the US as well as abroad which have suffered natural disasters or are simply in need. We are seeking donations of fabrics that can be used in these quilts. Please call Dorcus Coulter at 713-858-1294 with any questions or to schedule a time for donations to be picked up.
ST. ELIZABETH ANN SETON SCHOLA CANTORUM
Do you want your children to become lifelong servants of the Church? Singing in a children's choir is a great way to help that. The St. Elizabeth Ann Seton Schola Cantorum is currently accepting children Grades 4-12 for its after-school choir program. The choir is responsible for enriching the Mass on 10:30 on Sundays and rehearses every Wednesday from 3:45-5 PM. Unique in the area, the choir focuses on singing music from the rich Catholic tradition, including
chant and polyphony, as well as the finest modern church music. Time is devoted to building the children's skills of music reading, vocal technique, thinking about the words and the structure and meaning of the Mass. Service hours are available for older students. For more information, please contact Alexis Kutarna at akutarna@seascs.org.
Church Groups
PRINCE OF PEACE LUTHERAN CHURCH - A WELS COMMUNITY
What's happening at P. O. P.?
1st Sunday of every month: Birthday and Anniversary Sunday - come share fun food treats and Fellowship with our birthday and anniversary Members after Service in the Church reception area. Sundays, 11:30 AM: Choir practice, come listen - better yet, join!
ADULT ENGLISH CLASSES AT ENGLISH GATEWAY
English Gateway is a program designed to teach conversational English. The vision and desire of English Gateway is to assist international families in learning and improving English skills to help them live and be successful here in the United States. We offer 6 different levels and have open registration throughout the CFISD school year. Childcare is available for free for pre- school children as long as they are registered beforehand.
How much does it cost? There is a one-time fee of $20 for the books; classes are free.
Where does English Gateway meet? We meet at Bayou City Fellowship, 12715 Telge Rd., Cypress, TX 77429.
When does English Gateway meet? We offer two options: Thursday mornings, 9:30-11:30 AM, Thursday evenings, 6:30-8:30 PM.
What are the starting dates for English Gateway?
Student Registration: 9:30-11:30 AM or 6:30-8:30 PM
For more information, please contact the English Gateway Program Coordinator: esl@bayoucityfellowship.com.
ST. CUTHBERT YOUTH GROUP
The St. Cuthbert Youth Group is a community of youth and adult volunteers who encourage and support each other in life and in faith. All students in grades six through twelve are welcome to be part of the Youth Group, which offers a wide range of gatherings and events created to provide a fun opportunity for learning and growth. The Youth Group meets on Sundays from 4- 6 PM for fun, Bible Study and fellowship. For more information, contact stcuthbert.org. St. Cuthbert is located at 17020 West Road at Queenston.
Bible Studies
CHRISTIAN FAMILY CHURCH LADIES BIBLE STUDY

Ladies are welcome to join us on Tuesdays at 10 AM for a new Bible study on the book of Romans. In this study you will understand the true extent of mans depravity, the greatness of saving Grace and be introduced to God's plan for spiritual growth. Come make new friends and be encouraged as we are challenged towards a greater level of Spiritual devotion to God. Book fee is $10. No childcare provided.
CORNERSTONE ORTHODOX PRESBYTERIAN CHURCH
www.csopc.org
Ladies, please join us for an in-depth study of 1 Peter! We meet at a house in Bear Creek, Monday nights at 7 PM. Stay after for dessert and fellowship. Contact Melissa at mhaley@csopc.org or 713-899-5745 for more information.
CANYON LAKES WEST COMMUNITY CHURCH BIBLE STUDY
Neighbors of the community gather to meet and greet, share in the word and fellowship Wednesdays at 7 PM at the Richard & Meg Weekly Community Center 8440 Greenhouse Rd. Visit www.cypresstxchurch.org or call 713-302-7325 for more information.
FREE REVELATION BIBLE STUDY AT CHRISTIAN FAMILY CHURCH
5615 Queenston Blvd., Houston, Texas 77084,
832-415-3975,
Tuesdays at 10:00 AM

Come, it's not too late to discover how the book of Revelations offers some of the clearest and sharpest visions of God's ultimate purpose for the whole creation. This book study guide series is designed to help you understand scriptures in fresh ways under the guidance of one of the world's leading New Testament scholar, N.T. Wright. Thoughtful questions, prayers suggestions and useful background and cultural information all guide you as a group more deeply into God's
Word. For more information, call Catarina at 832-465-0695. No Child care provided.
THE FAMILY OF FAITH LUTHERAN CHURCH
BIBLE STUDY: Each Sunday morning at 8:30 AM and 11 AM, adult students of the Bible investigate a new book of the Bible. All are invited.
THE EARLY BIRD BIBLE STUDY: The community is invited to join every Wednesday morning at 6:30 AM at Panera Bread (at 6 and FM 529).
OXYGEN HIGH SCHOOL YOUTH: Sundays after 10 AM service. Join us upstairs in the movie room where we watch music videos, video clips, skits and other media then relate it to God and your life.
TUESDAY EVENING LADIES' BIBLE STUDY AT LIVING WORD LUTHERAN CHURCH
The Tuesday Evening Ladies' Bible Study at Living Word Lutheran Church is informal, but with an emphasis on the Word of God. We invite you to join us. Weekly attendance is not mandatory. Come with your Bible when you are able to and please invite your friends and neighbors for some great study, sharing and fellowship. The group meets from 7 to 8:30 PM on Tuesday evenings in the Micah Room in the Administrative Building. Living Word is located at 3700 S Mason Road in Katy (the corner of Mason Road and Westheimer Parkway).
A private Facebook page will be used to communicate information and facilitate discussion. If you would like to be added to the group, please email Selina at
selinapon@gmail.com
with your preferred email and phone number.
ST. CUTHBERT BIBLE STUDIES
Located at 17020 West Road, Houston, 77095, at the corner of West Road and Queenston. Website at www.stcuthbert.org.
ST. C SENIORS: The St. C Seniors are a great group of fun loving people! The group meets for Bible study and good-natured discussion every Thursday afternoon at 1 PM and have a monthly luncheon every third Thursday. All are welcome; you don't have to be a senior citizen to attend. Contact Sally Mahon at sally@stcuthbert.org for more information.
MOMs: MOMs (Ministry of Motherhood) is a group of moms and expecting mothers who gather each Monday at 9:10 AM to explore God's word through bible studies that focus on motherhood, self care as a mom, marriage, deepening our relationship with God and much more. Childcare is provided at no charge. Email Tiffany at tiffany@stcuthbert.org for more information.
Women's Bible Study Group: Women of all ages gather on Mondays at 7:00 PM via Zoom. For more information, contact Sally Mahon at sally@stcuthbert.org.
PRINCE OF PEACE LUTHERAN CHURCH - BIBLE STUDIES
Adult Bible Study: 9 AM Sundays in Fellowship Hall - Learn the History that goes along with The Word. Grow in faith and Godly living.
Teen Bible Study: 9 AM Sundays: 1st & 3rd Sunday of each month
BEAR CREEK BAPTIST CHURCH
SINGLE MOMS BIBLE STUDY
The Single Moms class at Bear Creek Church invites you to come join us as we study the Bible, share and pray for each other and have great times of fellowship. Our Bible Study enables us to embrace our lives as single women and moms and overcome the challenges that arise as we manage our homes, work and friendships.
We are beginning a new study series that addresses our view of WORK. Whether you are a stay at home mom or a mom that works outside the home, work reaches all of us. The group meets Sunday mornings at 11 AM in Room ED101 at Bear Creek Baptist Church located at 5901 N. Fry Road, Katy, TX 77449. (at W. Little York intersection). Ministry opportunities are also available for your children, preschool through high school. For more information, please call or text Frances at
713-542-7062
or Averil at
832-573-9684
.
Senior Church Groups
COPPERFIELD CHURCH SENIOR ADULTS
GAME DAY - The first Friday of the month - 10:00 AM - 3:00 PM
BIBLE STUDY
- Wednesday - 9:30 AM - 11:00 AM
DAY TRIPS
- Monthly - Schedule differs. For more info.,
www.copperfieldchurch.com
or call
281-856-2273
.
WALKING GROUP
(aka Holy Strollers) - 8:30 AM - 9:30 AM, Monday, Wednesday and Friday.
Come join our group! We are an active, fun-loving bunch. Once you come for a visit and get to know us, you'll want to be a part of our Senior Adult Group. You do not have to be a member of Copperfield Church to be a part of our Senior Adult Group.
BEAR CREEK UNITED METHODIST CHURCH ATTENTION: CAREGIVERS OF ELDERLY PERSONS
Did you know that on the second Friday of each month Bear Creek United Methodist Church provides a caring, Christian atmosphere for your loved one? The program, scheduled from 10 AM to 1:30 PM. This gathering provides free time for caregivers and includes crafts, chair exercises, word games, entertainment, lunch and more. Caregivers are also welcome to stay and join the fun. For more information or to register, please call the church office at 281-463-2330.
Bear Creek United Methodist Church is located at 16000 Rippling Water Drive, near North Hwy. 6 and Kieth Harrow.
Epiphany Bingo has been conducting bingo games on the west side since February 14, 1986. Epiphany conducts their bingo games every Friday night except holidays. THERE IS NO SMOKING ALLOWED DURING ALL BINGO GAMES. They have a jackpot game of $750. Maximum prize giveaways of $2,500, allowed by law, are given away every Bingo Night! They have security, lighted parking, big screen color monitor, computerized bingo equipment, snack bar and large cash prizes. Profits are used for charitable outreach programs, building expansion, and payment towards debt. Epiphany Catholic Church conducts its bingo games at the Church Community Center, 1530 Norwalk Dr. (between Fry and Mason Roads, south of I-10 behind Nottingham Subdivision) off Highland Knolls every Friday night. Early bird games begin at 7:30 PM and regular games at 8:00 PM. For more information, call the bingo hall number 281-578-3905. During Bingo nights, you may also call the Community Center number, 281-578-5078. Come, have some fun, bring your friends and neighbors, win some money and make some new friends.
ST. BARTHOLOMEW THE APOSTLE CATHOLIC CHURCH BINGO
At St. Bartholomew the Apostle Catholic Church in downtown Katy, "BINGO" is being played in our Parish Hall every Friday evening except Holidays. Doors open at 7:00 PM, games start at 7:15 PM with four Early Bird games. Regular games start at 7:30 PM. Maximum Prizes given away every evening of $2,500. Governed by the state of Texas. They have the most modern computerized BINGO equipment for verifying winnings, along with TV monitors for your viewing pleasure. The snack bar is maintained by the KNIGHTS of COLUMBUS 6950, with a variety of food and snacks with soft drinks. All profits will benefit community outreach and Religious Education programs, to better serve the community. The Church is located in downtown Katy at 5356 Eleventh St. You can get to the church if traveling west on Hwy. 90 to Katyland Rd. Turn right at the light, go to the second stop sign (at the stadium) Eleventh St., turn left and the Church Hall will be on your right one block down. Please call for more details to 281-391-4758. Please come play and win. We can accommodate large groups such as social and family groups.
« BACK TO NEWS
---
LATEST COMMUNITY NEWS
V
All
Development
Dining
Government
Home & Garden
Lifestyle
Outdoors
Pets
Transportation
Community
Non-Profit
Sports
Education
Health & Science
Religion
Groups
Entertainment