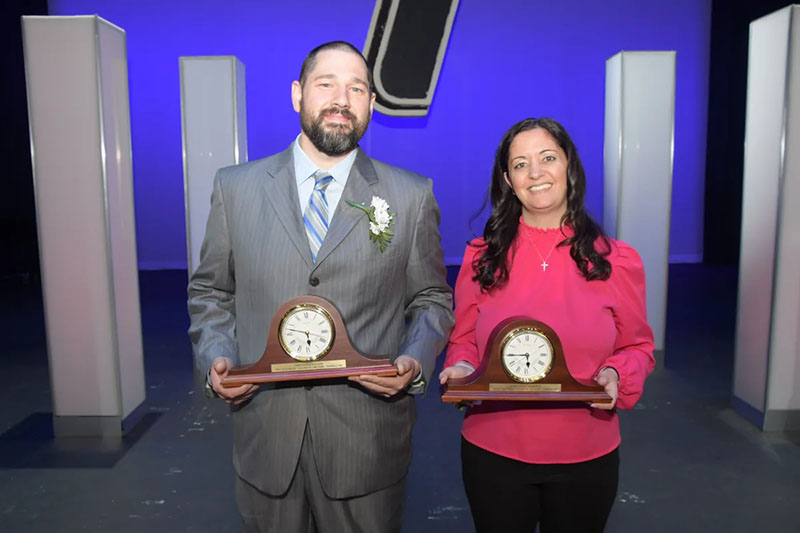 Education
Tomball ISD Names Elementary and Secondary Teachers of the Year; Celebrates Students, Staff at 2022-2023 A+ Awards Ceremony
May 11 2023
---
Tomball ISD recognized high achievement and celebrated the 2022-2023 school year by honoring exemplary students, teachers and staff at the 37th Annual A+ Academic Awards Ceremony held at Tomball Memorial High School. The District wrapped up the event by announcing Mia Tannous from Decker Prairie Elementary as its Elementary Teacher of the Year and Christopher Clark from Willow Wood Junior High as its Secondary Teacher of the Year.
Elementary Teacher of the Year: Mia Tannous
Decker Prairie Elementary | Academic Specialist
Mia Tannous serves as an Academic Specialist at Decker Prairie Elementary and has dedicated over 18 years to education, with the last two years served in Tomball ISD.
What makes your job so special?
"My job is so unique because I not only get to advocate for students with dyslexia, but I also collaborate to advocate for students with various unique needs. My role as an Academic Specialist also allows me the privilege of collaborating with teachers and district colleagues. We are able to advocate for more students to provide equitable opportunities for learning across our District."
Why Tomball ISD?
"When I stepped foot into Tomball ISD, the main focus was students. We all have a common thread in building the future of our community, state, and global impact. Teachers not only advocate for students' academics, but for the needs of our students. This is our future in our hands. We need to protect and guide them to be future leaders."
What does it mean to be named Elementary Teacher of the Year?
"To be named Elementary Teacher of the Year recognizes that I am part of an amazing institute of teachers that are consistently advocating for every student to walk through the threshold of our building doors. On our campus we are only surrounded by great educators that wrap their hands around student needs by using every teachers' expertise to get the best professional development, best possible outcomes and services for our students. I can never do this alone; only together can we achieve building a foundation for our youngest minds."
DPES Principal, Brenda Blackmon, on Mia Tannous...
"We are beyond thrilled to celebrate this accomplishment. Ms. Tannous is such an advocate for students and staff. She excels in supporting our campus in providing targeted support based on student need. Her consistent communication regarding assessment allows our staff to ensure student success and our campus to continue to reach increased levels of achievement. She is truly committed to all students, and we are so glad to have her on our team and Decker Prairie family."
Secondary Teacher of the Year: Christopher Clark
Willow Wood Junior High | SPED teacher in Pass Program
Christopher Clark has served education for three years, two of which have come in Tomball ISD as a Special Education teacher in the Pass Program at Willow Wood Junior High.
Why education? What makes your job so special?
"My job as a PASS teacher is special to me because I get to influence students who are struggling mightily in some way. I find nothing more fulfilling than helping my students learn to cope with their struggles in a way that works for them."
Why Tomball ISD?
"I love working for Tomball ISD. The District's dedication to our students and teachers is unmatched. I enjoy going to work every day."
What does it mean to be named Secondary Teacher of the Year?
"I'm honored to be named Secondary Teacher of the Year. When it comes to work, I've always had the mentality to never grow complacent or stagnant. I will continue working with this in mind to ensure that I continue to grow for now and in the future."
WWJHS Principal, Kevin Williams, on Christopher Clark...
"I'm so excited and proud of Mr. Clark. He is always on the go supporting and going the extra mile serving and supporting students. He has such a big heart and passion for kids. He will do whatever it takes to support our campus and students!"
A+ TEACHERS & STUDENTS FROM ALL TOMBALL ISD CAMPUSES
Canyon Pointe Elementary
Teachers: Tricia Fikes, Jennifer Krug
Students: Amar Sijercic (2nd), Alexandra Williamson (3rd), Josephine Williams (4th)
Creekside Forest Elementary
Teachers: Sara Guynes, Victoria Hunsucker
Students: Annabelle Xie (2nd), Andrew Seelhoefer (3rd), Olivia Leeson (4th), Lorenzo Nehme Ramos (5th)
Creekside Park Junior High
Teachers: Victoria Hagan, Taylor Rowell
Students: 6th - Paige Loftus, Katherine Mei, Ella Varlioglu; 7th - Riddhi Shailesh, Kristiana Sigwarth, Madison Van den Bulck; 8th - Matthew Dixon, Nicholas Doan, Quinn Marcello
Creekview Elementary
Teachers: Jessica Altman, Lauren White
Students: Andrew Walker (2nd), Hannah Huber (3rd), Seeyad Hasnine (4th), Nayan Malnedi (5th)
Connections Academy
Teacher: Frank Harmeier
Decker Prairie Elementary
Teachers: Andrea Ortiz, Mia Tannous
Students: Isabella Shaver (2nd), Katherine Redfield (3rd), Caitlyn Stewart (4th)
Grand Oaks Elementary
Teachers: Charles Hawkins, Kristy Marberry
Students: Janice Ho (2nd), Rylee Welch (3rd), Hannah Lagaly (4th)
Grand Lakes Junior High
Teachers: Marianne Kosik, Jennifer Love
Students: 7th - Syril Brual, Lilyan Nguyen, Camille Velasquez; 8th - Christopher Hansen Jr., Ethan Purba, Bhawyanjani Singh
Lakewood Elementary
Teachers: Heather Cantu, Kelly McNickle
Students: Emily Rust (2nd), Lydia Chang (3rd), Irene Chen (4th)
Northpointe Intermediate
Teachers: Brittany Brecht, Dawn Melton
Students: 5th - Amy Nguyen, Mateo Nunez; 6th - Tamasi Ellendula, Isabel Villares-Rios
Oakcrest Intermediate
Teachers: Matthew Anderson, Jennifer Souheaver
Students: 5th - Kiara Chandila, Kavya Sivakumar; 6th - Maddison Konneker, Emmy Trinh
Rosehill Elementary
Teachers: Stephanie McInnis, Adry Salazar
Students: Ella Snow (2nd), Abby Pedraza (3rd), Jackson Gandre (4th)
Timber Creek Elementary
Teachers: Wade Hare, Holly Smith
Students: Jace Herring (2nd), Milan Mirah (3rd), Ellery Harris (4th), Kinley Brown (5th)
Tomball Elementary
Teachers: Sarah Barranco, Kate Peterson
Students: Kaylee Nauck (2nd), Kylle Gonzales (3rd), Zuriel Orta (4th)
Tomball Intermediate
Teachers: Martina Jaud, Zachary Sebastian
Students: 5th - Connor Gibson, Calyx Millano; 6th - Genevieve Ademola, Jacob Redfield
Tomball High School
Teachers: Jay DeCoste, Nicole Flies, Laura Lowe, Libby Mondello
Students: 9th - Aidan Lam, John Lezama, Lucy McBride, Carson Pogach; 10th - Olivia Alvarez, Brody Hoge, Allie Moon, Ashley Smith; 11th - William Klein, Carly Metz, Askshita Santra, Catherine Walker; 12th - Ana Cecilia Castillo, Paola Chow Lomeli, Brynn Johnson, Melissa Ordonez Watt
Tomball Junior High
Teachers: Rebecca George, Maria Krein
Students: 7th - Lillian Bardo, Elana Casteneda, Keeley Millspaugh; 8th - Abigail Barrandey, Gracie Metz, Sophia Suazo
Tomball Memorial High School
Teachers: Lori Hunt, Christine Kilcoyne, Cristina Monroe, Shelley Stout
Students: 9th - Aubrie Austin, Tanmayi Kumar, Mason Lopez Martinez, Kyle Storey; 10th - Parker Bertram, Alan Brosnan, Jessica Ho, Heath Luebsen; 11th - Natalie LoGiudice, Priyanka Sugumar, Adam To, Olivia Vatuna; 12th - Kaylee Caudle, Neeraja Sankrit, Bill Sun, Roland Wang
Tomball Star Academy
Teachers: Sheri Frost, Dr. Nora Pacha
Students: 9th - Austin Fontenot, Tyler Ashton Tran; 10th - Natalie Bricio Camacho, Elizaveta Khudorozhkova; 11th - Isabella Lezama, Peyton Thompson; 12th - Linh Nguyen, Jett Sioson
Wildwood Elementary
Teachers: Candace Bailey, Alison Love
Students: Akshara Sarawana (2nd), Dominic Tserkus (3rd), Angela Jin (4th)
Willow Creek Elementary
Teachers: Alison Scott, Meri Thomas
Students: Phu Luu (2nd), Riley Blemings (3rd), Musa Hakim (4th)
Willow Wood Junior High
Teachers: Christopher Clark, Brooke Lee
Students: 7th - Zian Antivo, Stella Mejia, Noel Niemann; 8th - Haania Atif, Zoee Clesi Moiz Shaikh
PARAPROFESSIONALS OF THE YEAR
Instructional Paraprofessional of the Year: Ala Alqtaishat (Grand Oaks Elementary | Student Support)
Administrative Paraprofessional of the Year: Linda Stoll (Central Office | Executive Assistant to the Chief of Staff and School Leadership)
PRINCIPALS OF THE YEAR
Elementary Principal of the Year: Allyson Jordan (Creekview Elementary)
Secondary Principal of the Year: Dr. Jeff Bailey (Tomball Memorial High School)
ESL/BILINGUAL TEACHERS OF THE YEAR
Elementary ESL Teacher of the Year: Elizabeth Smylie (Creekview Elementary)
Secondary ESL Teacher of the Year: Crystal Carroll (Tomball Intermediate)
Bilingual Teacher of the Year: Xochitl Johnson (Rosehill Elementary)
Source: Tomball ISD
« BACK TO NEWS
---
LATEST NEWS
V
All
Food & Beverage
Food & Dining
Shopping
Weather
Development
Dining
Government
Home & Garden
Lifestyle
Outdoors
Pets
Transportation
Community
Non-Profit
Sports
Education
Health & Science
Religion
Groups
Entertainment