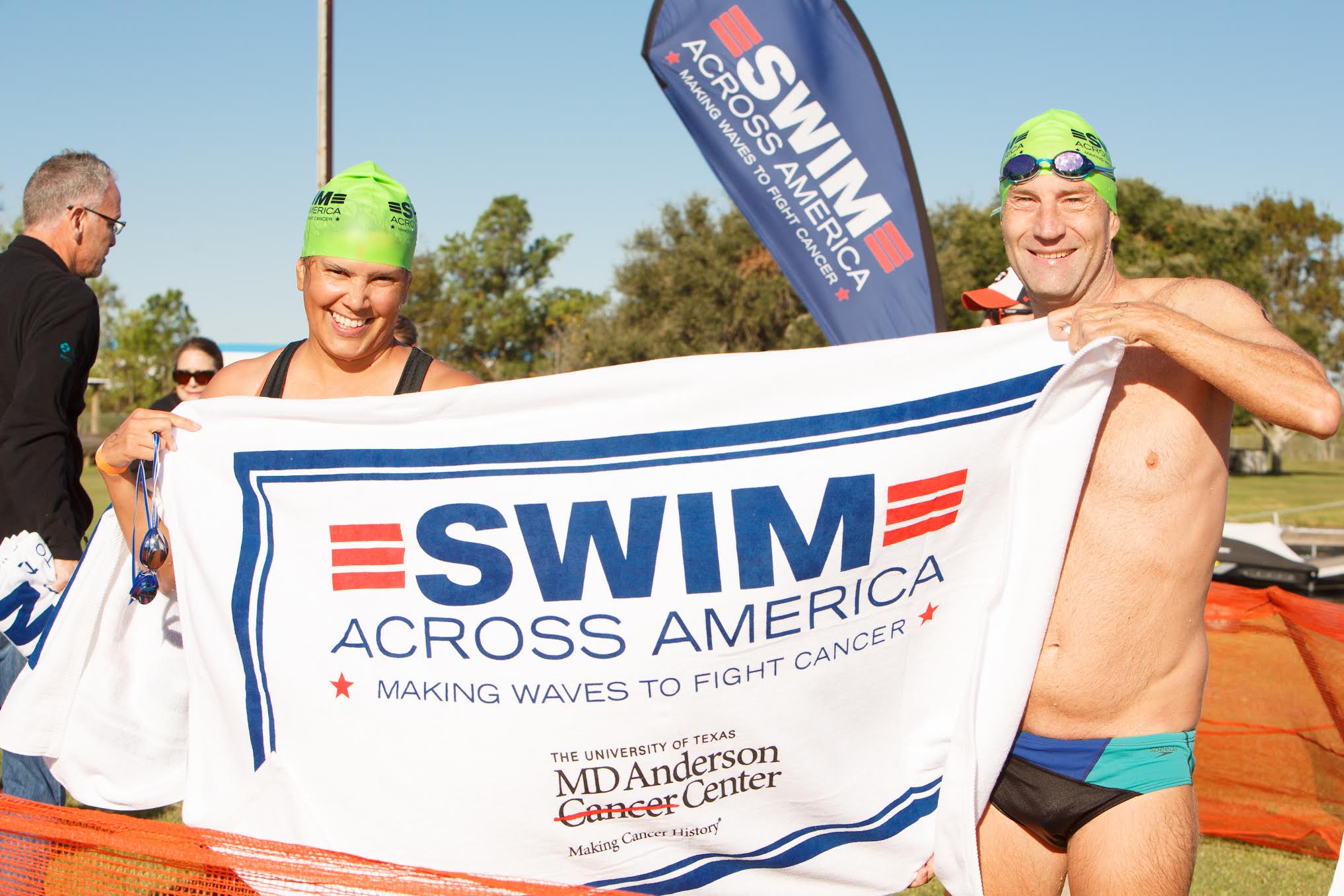 Non-Profit
Robert McLaren of Houston Plans to Swim Across America
April 30 2022
---
Robert McLaren, age 60, of Houston, Texas, is swimming across America! Swim Across America is a national nonprofit that raises funds to fight cancer. The organization holds 24 open water swims from Boston to the Golden Gate Bridge each year, all in support of raising funds for cancer research. This year, Swim Across America is celebrating 35 years of #makingwaves to #fightcancer and Robert is one of Swim Across America inspiring stories highlighted in a special "35 Stories of Impact'' webpage. It is Robert's goal to swim in all 24 Swim Across America open water swims. He has already completed eight Swim Across America open water swims, seven of them in 2021, and plans on swimming nine more in 2022. It is his goal to swim all 24 in three years!

Robert McLaren first got involved with Swim Across America in San Francisco in 2009 as a way to honor many who have battled cancer and to do his part to Make Cancer History. After moving to Houston, he has raised more than $107,000 to support cancer research and clinical trials. Robert's father was sadly diagnosed with pancreatic cancer in 2005 at the age 80, but was successfully treated at MD Anderson Cancer Center. MD Anderson later treated his Dad for lymphoma and prostate cancer.

"I'm grateful for the incredible care given by MD Anderson to my dad, which provided him and our family with another 14 years of high quality life," said Robert McLaren. Robert continues to be inspired by other cancer survivors in the Swim Across America community like Susan Helmrich, Vicki Bunke and Adam Schoen, who have also swam Across America with swims in multiple communities. "The courage, tenacity and fun loving spirit I see in these people makes me want to never stop!" said Robert.

Robert will swim in his first open water swim in his hometown of Houston on Saturday, April 30, 2022, with additional swims this year in San Francisco (September 24, 2022), Charleston-Kiawah (June 12, 2022), Long Island Sound Westchester County, NY (July 30, 2022), Nassau/Suffolk - Sound to Cove, Long Island (July 31, 2022), Chicago (August 6, 2022), St. Louis (August 27, 2022), Seattle (September 10, 2022) and Charlotte, North Carolina (October 2, 2022).
Swim Across America was founded in 1987 and went from a sunken boat in Long Island Sound to raising $100 million to fight cancer. This year celebrates Swim Across America's 35th anniversary and the nonprofit organization is sharing 35 Stories of Impact throughout the decades with a special website at
swimacrossamerica.org/35
. In the 35 years, more than 100,000 swimmers and Olympians have swum the circumference of the earth three times uniting a movement to fight cancer that has created a groundswell of support spanning all generations. Today, more than 24 communities hold open water swims and charity pool swims each year, which over the 35 years, have raised $100 million supporting innovative cancer research, detection, and patient programs.

Swim Across America's funding of clinical trials for patients helped contribute to four FDA approved life-saving immunotherapy cancer treatments: Yervoy, Opdivo, Tecentriq and Keytruda. More than 60 scientific grants are funded each year and there are ten dedicated Swim Across America Labs at major institutions including: Children's Healthcare of Atlanta, John Hopkins Medicine Baltimore, Rush University Medical Center Chicago, Baylor Scott & White Charles A. Sammons Cancer Center at Dallas, Memorial Sloan Kettering Cancer Center New York, Nantucket Cottage Hospital, Palliative and Supportive Care of Nantucket, Adolescent and Young Adult (AYA) Lounge at the Moffitt Cancer Center in Tampa, UCSF Benioff Children's Hospital Oakland and San Francisco and the Seattle Cancer Care Alliance.
The April 30, 2022, Swim Across America Houston open water swim takes place at Lake Longhorn in League City, Texas, where hundreds of swimmers will spend the morning swimming ½-mile, 1-mile and 2-mile distances to raise funds to fight cancer. Funds raised will go to the local Houston beneficiary the University of Texas MD Anderson Cancer Center. To learn more about the Houston swim or to register to swim or volunteer, visit
swimacrossamerica.org
.
To see Swim Across America's "35 Stories of Impact" with Robert McLaren's full story, visit
swimacrossamerica.org/35
.
About Swim Across America
Swim Across America, Inc. (SAA) is dedicated to raising money and awareness for cancer research, prevention and treatment through swimming-related events. With the help of hundreds of volunteers nationwide and past and current Olympians, Swim Across America is helping find a cure for cancer through athleticism, community outreach and direct service. To learn more visit
swimacrossamerica.org
or follow on Facebook @SwimAcrossAmerica or on Instagram or Twitter @SAASwim.
« BACK TO NEWS
---
LATEST NEWS
V
All
Food & Beverage
Food & Dining
Shopping
Weather
Development
Dining
Government
Home & Garden
Lifestyle
Outdoors
Pets
Transportation
Community
Non-Profit
Sports
Education
Health & Science
Religion
Groups
Entertainment