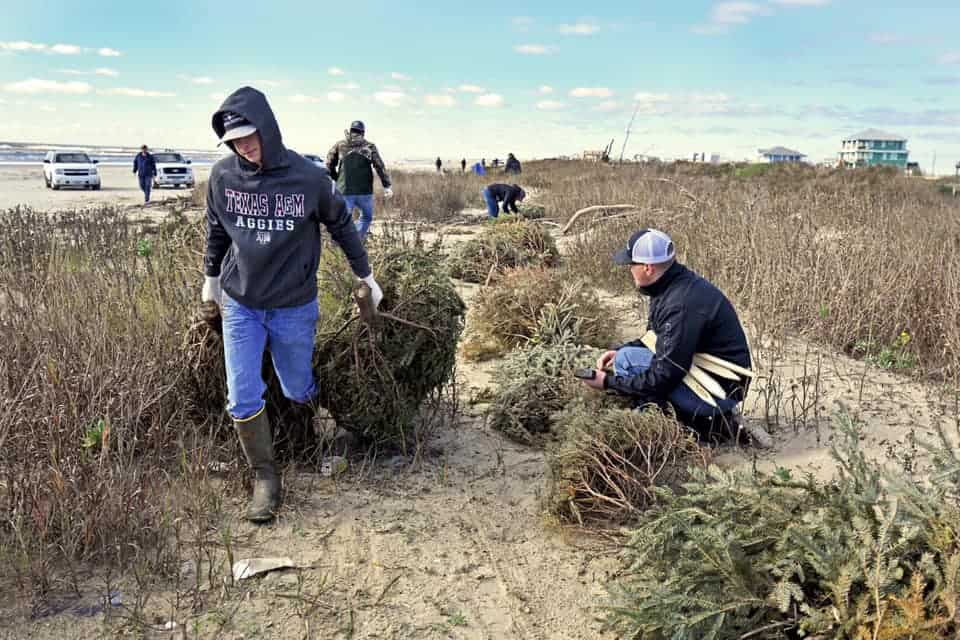 Community
Parks Department Seeks Tree Donations and Volunteers for Dunes Day Event
December 26 2022
---
Brazoria County needs your help for Dunes Day on Follett's Island. On January 21st, 2023, volunteers are needed to help stake down recycled Christmas Trees on area beaches to help rebuild the dunes. The natural process of a sand dune cycles between build-up in the years between storms and then partially erodes back during storm years. Placing recycled Christmas trees on the beach greatly supports the onset of the dune building process. Christmas trees act as sand-fencing and aid sand accumulation. Once the trees start to decompose, they act as fertilizer for dune-stabilizing grasses to grow and continue the process.
Dunes Day will start at 9am at Stahlman Park in Surfside Beach. Stahlman Park is located at 2211 Bluewater Hwy, Surfside Beach, TX 77541.
The need for volunteers and recycled Christmas trees is imperative for dune rebuilding this season. Live Christmas trees may be donated at any one of eight donation sites in Brazoria County. Please share this community project with your neighborhood groups, social clubs, scout troop, churches, and schools to encourage a Christmas tree drive to be collected and recycled for Dunes Day.
Outdoor work attire such as long sleeves and long pants with closed toed shoes are recommended, as well as work gloves and a hammer to drive stakes into the sand. Volunteers will be given instructions on where and how to stake out the trees at the meeting location. A chili dog lunch will be served starting at 11:30 am at Stahlman Park. To reduce the amount of trash in general, water bottle and water cups will not be provided. Filtered water will be available for volunteers to refill their own water bottles.
For more information, contact Brazoria County Parks, mikem@brazoria-county.com or 979-864-1152.
Drop off locations:
Brazoria County Parks, 313 W. Mulberry St., Angleton, TX 77515
Surfside Beach Main Entrance, Surfside, TX
Manvel Substation , 7313 Corporate Drive, Manvel, Texas 77578
Precinct 1 HQ, 1432 Highland Park Drive, Clute, Texas 77531
Precinct 2 HQ, 21017 CR 171, Angleton, Texas 77515
Precinct 3 HQ, 2508 North Gordon Street, Alvin, Texas 77512
Precinct 4 HQ, 121 North 10th Street, West Columbia, Texas 77486
Stella Roberts Recycling Center, 5800 Magnolia , Pearland
For more information contact Brazoria County Parks at mike@brazoria-county.com or 979-864-1152.
Source: Brazoria County Parks Department
« BACK TO NEWS