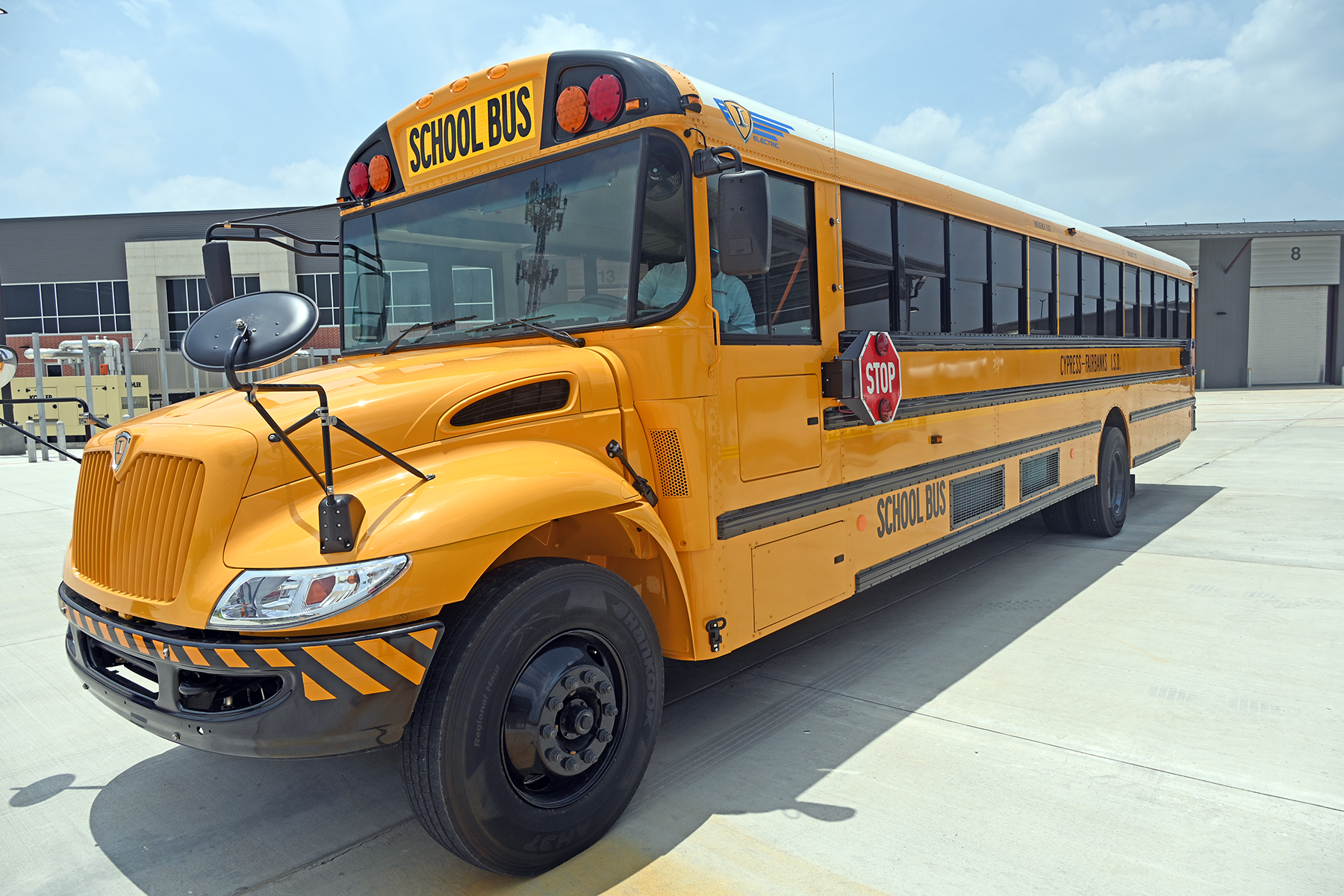 Education
New CFISD Electric Buses Provide Environmental, Cost Benefits 
August 04 2023
---
In continuing to provide an environmentally conscious and cost-efficient product to CFISD students and the community, the transportation department has acquired 10 electric buses.
The first bus arrived at the new Jarvis Transportation Center on June 14 following the approval of the buses and electric charging stations by the Board of Trustees. Buses were approved at the September 2022 regular meeting and electric charging stations were approved at the May 2023 regular meeting.
Supervisors and trainers had the opportunity to drive the vehicle and see the differences between the electric bus and its fuel-powered counterparts.
"It's exciting to see that first new electric vehicle (EV) school bus come into our fleet and it's going to be the largest EV fleet in Texas just with these first 10 that we purchased," said Dr. Kayne Smith, CFISD director of transportation. "We have been a fleet that's been transitioning away from diesel over the past several years. Through the 2019 Bond, we have invested in propane-powered buses."
The transportation department was awarded a grant for electric buses from the Houston-Galveston Area Council (HGAC). The 10 buses were purchased and will serve as a pilot.
The move toward cleaner transportation is a continuation of 266 propane buses acquired in 2021, funded by the 2019 bond package to replace their diesel counterparts. Propane fueling stations were also constructed at each current CFISD transportation center, with each housing an 18,000-gallon tank to service the buses.
The transportation department now features electric, propane, diesel and gasoline buses. Smith said the intention now is to compare each fuel type and each type of bus to determine cost per mile and overall operation cost to determine which is best for students and the CFISD community.
Drivers and technicians will train on the electric buses in August.
"It is an EV vehicle so it is different than a diesel, gasoline or internal-combustion engine," Smith said. "We will have training on the basics of driving the vehicle. Pre-trip inspection is going to look different and post-trip inspection is going to look different because it doesn't have the gasoline, diesel or propane engine in it. Technicians will go through different training because it doesn't have as many moving parts as an internal-combustion vehicle."
Noticeable differences for drivers and passengers will be the lack of noise and emissions.
"These buses are extremely quiet," Smith said. "Students can hear the driver better and the driver can hear the students better."
A report from the United States Environmental Protection Agency (EPA) found that one electric bus can eliminate 1,690 tons of carbon dioxide over a 12-year lifespan—the equivalent of taking 27 cars off the road.
"There are no tailpipe emissions nor gas emissions on these buses," Smith said. "It's a cleaner bus for our drives, for our students and for our community. The differences between an EV school bus and an EV car are all the safety features that are required on a school bus. There's rigorous testing that goes on with these vehicles."
Source: CFISD
« BACK TO NEWS
---
LATEST NEWS
V
All
Food & Beverage
Food & Dining
Shopping
Weather
Development
Dining
Government
Home & Garden
Lifestyle
Outdoors
Pets
Transportation
Community
Non-Profit
Sports
Education
Health & Science
Religion
Groups
Entertainment