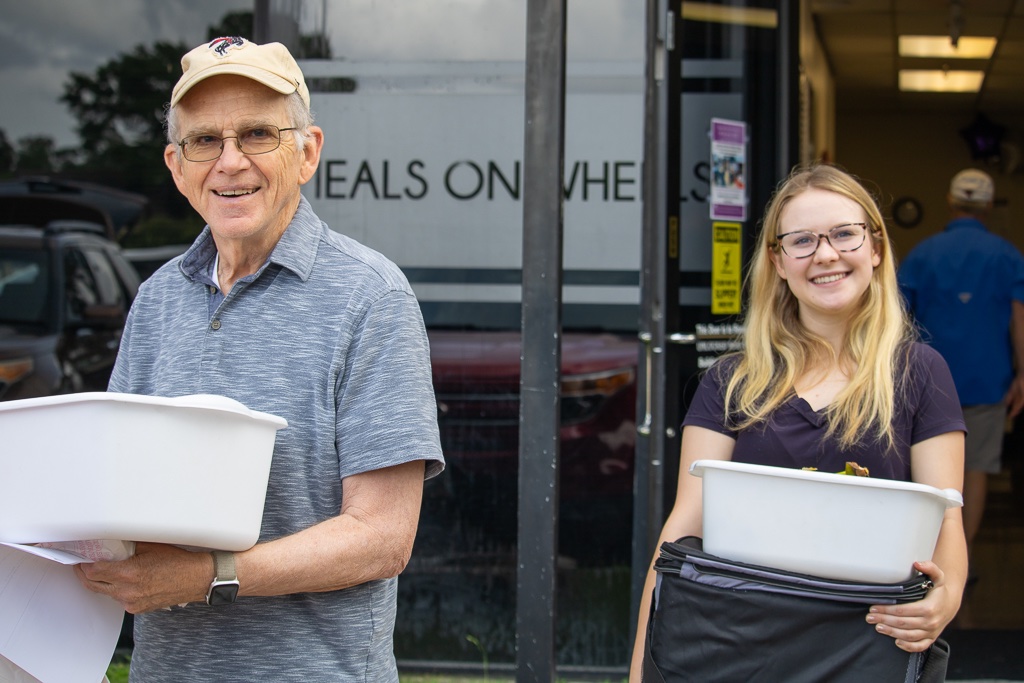 Non-Profit
NAM Meals on Wheels Volunteers Needed
March 24 2023
---
"If You Can Drive, You Can Help!"

Northwest Assistance Ministries needs drivers for their Meals on Wheels program, which delivers hot, well-balanced meals to the doors of seniors and other neighbors who are homebound because of disability or illness.
By supporting their nutritional needs, this program helps participants maintain or improve their health, remain independent, and stay in their homes for as long as possible.
Volunteer drivers collaborate to deliver thousands of hot, nutritious meals six days per week. Qualifying individuals receive meals each weekday, and Saturday meals are provided to some clients. Drivers also deliver groceries once a month to low-income seniors through NAM's Senior Food program.
With each delivery, volunteers provide a few moments of conversation, a check on their clients' well-being, and something for seniors to look forward to each day. Volunteers can serve once a week, once a month, or several days every week.
NAM has volunteer opportunities at 3 locations to make it convenient to serve.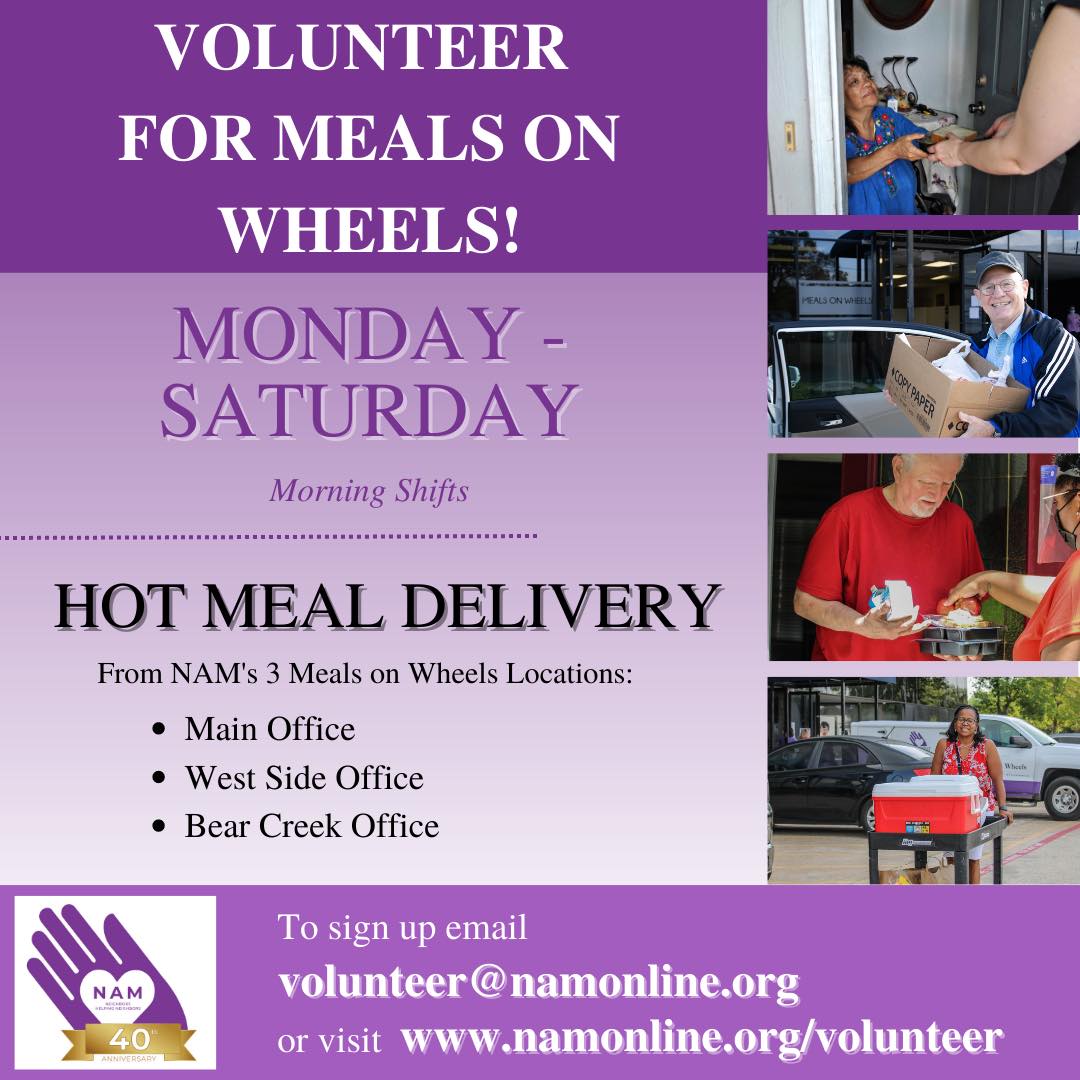 Areas Covered
NAM's Meals on Wheels service are is limited by contractual agreement with other social services agencies. Elderly, homebound or disabled individuals who live in the following ZIP Codes may qualify for NAM's Meals on Wheels Program: 77014, 77038, 77041 (Jersey Village Area), 77064, 77066, 77067, 77068, 77069, 77070, 77084, 77086, 77377, 77090, 77095, 77375, 77429, 77379, 77388, 77389, 77040, 77065, 77447 (Harris County portion Near Hockley), 77484 and 77433 (only Harris County side).
NAM staff members will refer those individuals residing outside the NAM service area to the agency that serves the area where those individuals reside. MOW also delivers groceries once a month to qualifying seniors through NAM's Food for Seniors Project. These seniors can cook for themselves but do not have the funds to pay their monthly food bills.
Many Meals on Wheels clients have needs other than food, and case managers help refer them to appropriate sources to meet those needs.
Sometimes, seniors find themselves parenting their grandchildren, and these youngsters are eligible for basic school supplies through NAM's Back-to-School Project as well as new toys or gifts through the Holiday Project.
Meals on Wheels is funded by the Health and Human Services Commission through the Harris County Area Agency on Aging and partially by the Harris County Community Services Department.
About NAM
Northwest Assistance Ministries (NAM) is a nonprofit, community-based, multi-program social service agency that strives to meet basic human needs through Neighbors Helping Neighbors. NAM provides assistance in areas including food, shelter, health, education, safety and financial education.
Our service area covers over 660 square miles of northwest Harris County, an area with over 1,500,000 residents.
For more information about NAM, please visit namonline.org.
Source: Northwest Assistance Ministries (NAM)
« BACK TO NEWS
---
LATEST NEWS
V
All
Food & Beverage
Food & Dining
Shopping
Weather
Development
Dining
Government
Home & Garden
Lifestyle
Outdoors
Pets
Transportation
Community
Non-Profit
Sports
Education
Health & Science
Religion
Groups
Entertainment