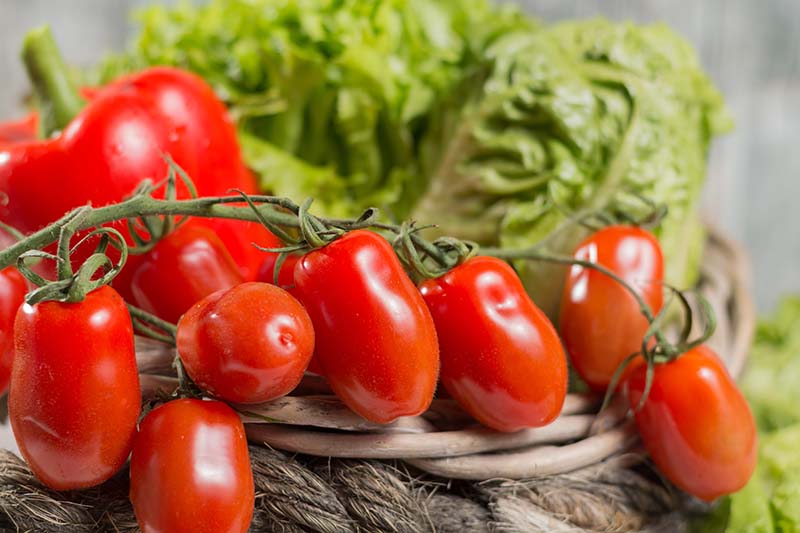 Home & Garden
Growing Tomatoes as a Fall Vegetable Crop
August 27 2022
---
Article by Terri Simon, Harris County Master Gardener
Fall is just around the corner, so now is the time to plan your fall garden if you intend to have one. Tomatoes make an excellent addition to your fall garden. According to the Texas A&M AgriLife Extension Fall Vegetable Gardening Guide for Texas, use tomato transplants in your fall garden. You will have a better chance at succeeding if you use transplants as much as possible. Fall gardening has several advantages. Plants grown in the fall do not suffer as much from transplant shock since the weather is cooler. There are also fewer insects. Fall water usage also has an advantage. Plants use less water in the fall since the weather is cooler, which means you don't need to water as often. Generally fall weather is not as windy so your plants don't dry out as quickly. The AgriLife guide suggests planting your tomatoes by July 1st.
Roma tomatoes are excellent for use in your garden. Recom- mended Roma varieties for our area include Roma and Viva Italia. These paste tomatoes yield a deep colored meaty flesh that is wonderful for tomato sauces and paste. Romas are also called Italian tomatoes or Italian plum tomatoes. They have a thicker wall and less seeds. These tomatoes have an oval shape and may also have a point. You can eat them raw, but they are best used for sauces and pastes. In San Marzano, near Naples, Italy, growing conditions are perfect for Roma tomatoes and it is here that Italians use the Romas extensively in pastas, soups, and of course pizzas. The Spaniards located tomatoes in Mexico centuries ago and in the 1600s sent some to Europe. They did not catch on very well until stories circulated regarding their aphrodisiac qualities. After that, they became quite popular.
Try your hand at growing some Romas this year for your own sauces and pastes. If you are into canning as I am, they make wonderful Christmas presents. Since it takes so long to make tomato paste, I do not hand out jars of my homemade tomato paste willy-nilly. Most of them I keep and a few are doled out to special relatives or friends. A friend of mine has terrible reflux problems that can be aggravated by canned tomatoes, canned tomato sauce and canned tomato paste. He can eat fresh tomatoes so I freeze tomato sauce and can tomato paste for him. He has even had reflux problems from eating one slice of pizza. My sauces and pastes don't affect him.
« BACK TO NEWS