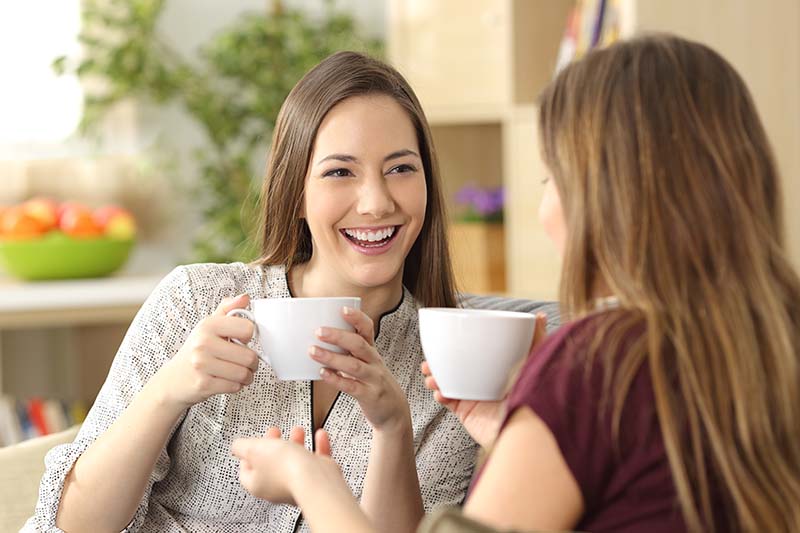 Community
Who Lives Next Door?
August 18 2022
---
As a child, I remember knowing all of my neighbors. Most of them were older couples whose children were grown and had little ones of their own, many of whom I would visit and considered to be my "bonus grandparents". Some were kids my age and we would go back and forth to each other's houses to play, especially in the summer. Our next-door neighbors on the right had two older sons who would babysit us from time to time, and the other next-door neighbors became our godparents. But one thing we all had in common was that we lived on the same street. We looked out for one another and fostered a sense of community that makes me smile as I reminisce.
One winter in the early 90s, there was a horrible ice storm that knocked out power to most of Houston (much like the freeze in early 2021). With no power, most of the homes on our street were without the means to cook since many of our neighbors had electric stoves. We were fortunate enough to have gas burners so we were able to cook and best of all, we were able to make coffee and hot chocolate. Bundled up in their parkas, ski jackets and whatever they could find in their dressers to keep warm, many of our neighbors would come over to enjoy a hot cup of coffee and something to eat during those days without power. We shared laughs, frustrations and memories that have carried on in our hearts over the years.
Being a part of a village that looks out for one another is ingrained into our DNA. Our innate need to belong is everywhere - social groups, clubs, sports, friendship circles, families, workplace, and more. A sense of belonging is crucial to our life satisfaction, happiness, physical and mental health (even longevity), as it gives us a sense of meaning and purpose. This is true of our families, friends and neighbors.
Also, being connected with your neighbors also increases the safety of your community and reduces violence. When you and your neighbors keep a watchful eye on what's happening on your street and communicate about it together, it helps to strengthen a sense of trust and security with those who reside in the same immediate area as we do. Knowledge is power but knowledge cannot be acquired without first being shared!
Old-fashioned, in-person relationship gives us the chance to have meaningful connections with others, even among neighbors. Online apps that provide a platform for neighbors to communicate can be a great tool, but having a face-to-face relationship with a neighbor (especially those on your street) is far more personal and lends itself to a deeper understanding of one another. It's the kind of relationship that helps build trust and compassion in one another. One that moves your heart to make dinner for your neighbor when you know they've been going through a hard time, or stop by to let them know they have a few loose boards in the fence and their dog is trying to escape!
With the sharp rise of hybrid or remote working arrangements, people are spending more time at home than they used to. But in our digital age and with the lingering affects of the pandemic, far too many people don't know their neighbors, especially because they don't go outside where they're more likely to see a neighbor and potentially strike up a conversation.
So, how can you get to know your neighbors? Here are a few ideas:
Get Outside: Your neighbors probably won't come knocking on your door to introduce themselves any time soon, especially if they've lived on your street for a while. So, get outside so you can have opportunities to meet and greet. Do yard work in the front flower beds on Saturday morning, or hang a swing in the front yard so you and your kids can play while greeting your neighbors as they pass by with their dogs and strollers. Take a walk down your street and give a kind wave to a fellow neighbor.
Get Involved: Join a neighborhood club, attend HOA meetings, or become a block captain. By putting yourself in places where other neighbors will be, especially those who might have similar interests, you're bound to make connections. Check your neighborhood page right here on MyNeighborhoodNews.com to find neighborhood groups listings and get plugged in. Don't see any on your neighborhood page? Ask us how we can help!
Show Up for National Night Out: In early October, National Night Out, a national community-building campaign that promotes police-community partnerships, will be observed across Texas. Many HOAs and neighborhood groups are already working to arrange fun NNO events in your neighborhood. When you see information about NNO in your neighborhood, make plans to attend with your family!
Send Some Love: Drop off a small bouquet of flowers or some homemade cookies with a note and leave it on your neighbor's front door. For those who may feel a little intimidated at the idea of striking up a conversation in person first, this could be a great first step and besides, who doesn't like receiving gifts?
Host Dinner or Coffee: Invite a neighbor over for dinner or coffee at your home so you can get to know one another better. If you and your neighbor have kids, serve up pizza and let the kids play outside while the grownups chat and get to know one another better. At bus drop-off, invite your neighbor to come over for coffee.
Making new acquaintances can be challenging and perhaps daunting as an adult, but the benefits of meeting and getting to know your neighbors far outweighs any fear of saying "hello". You never know, one of your neighbors might become a best friend for life, or one of their children could become a childhood bestie to one of your kids. Take that first, brave step today and meet your neighbors. I bet you will be glad you did.
---
| | |
| --- | --- |
| | Tiffany Krenek has been on the My Neighborhood News team since August 2021. She is passionate about curating and sharing content that enriches the lives of our readers in a personal, meaningful way. A loving mother and wife, Tiffany and her family live in the West Houston/Cypress region. |
« BACK TO NEWS