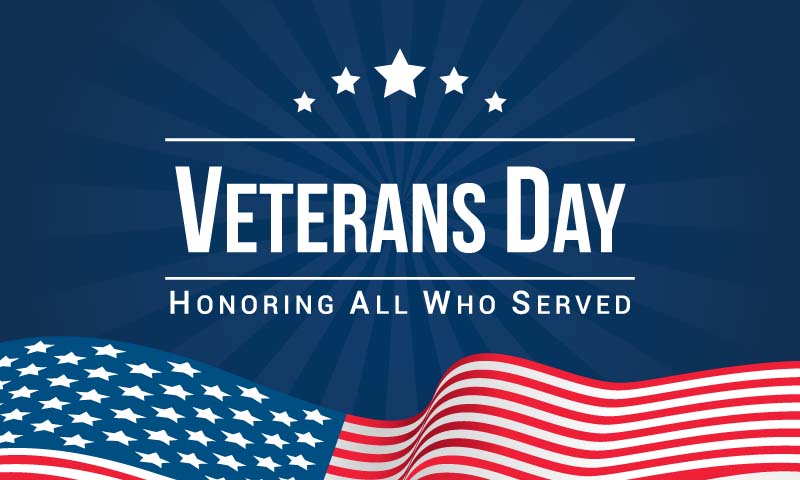 Community
Ways to Celebrate Veterans Day
November 11 2022
---
Today is Veterans Day! On this special day, we honor our military veterans of the United States Armed Forces. Explore ways to express your gratitude for those who have served our country.
City of Houston's Veterans Day Celebration
Texas has the 2nd largest veteran population in the nation with over 250,000 veterans in residence. The City is proud to pay tribute to our men and women in the military by providing an annual "Houston Salutes American Heroes Veterans Day Celebration". This civic celebration honors and celebrates the brave men, women, and families who have fought and sacrificed for our liberty and freedom.
The traditional Veterans Day Ceremony will be held on Friday, November 11 at 10 a.m. with acknowledgements and a distinguished keynote speaker recognizing our local heroes. At the 11th hour on the 11th day, there will be a Moment of Silence in memory of the 102nd anniversary of the signing of the Armistice, which ended WWI.
The American Heroes Parade will begin at 11:30 A.M. at Dallas and Bagby, and proceeds east on Dallas, north on Louisiana, west on Walker, south on Smith, west on Lamar, ending on Lamar at Bagby. Local Veteran organizations, ROTC and Junior ROTCs, bands, and supporters will march in the parade to show respect and to honor our veterans. This parade is open to the public and all are welcomed along the parade route.
Salute To Veterans at Weekley Community Center
Commissioner R. Jack Cagle is welcoming the entire community to join him in his "Salute to Veterans" on Friday, Nov. 11, from 6 to 8 p.m. at the Richard & Meg Weekley Community Center, located at 8440 Greenhouse Road in Cypress. Join us for this tribute to honor the courageous men and women who have served or are serving in the United States armed forces. Guests will enjoy patriotic music performed by the Brass Ensemble of Houston, special guest speakers, and light refreshments.
Transportation is available for those 50 and older from the following locations, departing at 5 p.m.:
Veterans Day Celebration by Central Green
Every year, we honor those who make it possible for us to live free, put themselves before others and serve our country. This year we will make this one of our biggest celebrations. DIAMOND RIO will perform at Central Green Veteran's Day on November 11 from 6:30 pm - 8:00 pm. The event starts at 5:00 pm with a Historic War Bird Flyover. The opening act is Katy's own, Hayden Baker at 5:30 pm. The free concert was made possible by the Willow Fork Drainage District and Cinco M.U.D. 12.
A Million Thanks Letter
A Million Thanks is a national organization that collects and distributes millions of letters of thanks and support and sends them directly to our active, reserve, and veteran military. Spend some time today composing a few "thank you" letters to our military and submit them in time for December 1, the holiday deadline. Learn more about this initiative
here
.
Volunteer with or Donate to the VA
VA Houston Health care depends on the goodwill of donors and volunteers who want to give something back to America's heroes. The Center for Development & Civic Engagement (also known as Voluntary Service) coordinates volunteers and donors for VA Houston and our Community Based Outpatient Clinics.
Volunteering is a great opportunity to "serve those who have served." Volunteers provide much-needed help throughout the health care system and make patients' experiences more enjoyable. Many different volunteer opportunities are available, and each volunteer's talents are closely matched with one of our assignments. Volunteers can choose to serve at the Houston VA or one of our community based outpatient clinics.
To learn more about how you can get involved with the VA Houston, please visit this
website
.
Volunteer for Soldiers' Angels
Soldiers' Angels is dedicated to serving our past and present heroes in whatever way we can. They have many opportunities available for almost anyone. Volunteer opportunities can range from a few hours a month to as frequent as your schedule allows. Soldiers' Angels uses VolunteerMatch to post and advertise available volunteer opportunities.
To learn more, please visit their
website
.
Volunteer with USO Houston
At USO Houston, volunteers play a special and vital role in strengthening our service members by connecting them to family, home and country. Whether it is welcoming visitors to one of our Centers with a cup of coffee or providing a free phone call to a loved one, volunteers lead with their hearts and serve with integrity. In Houston, over 250 volunteers annually contribute more than 28,000 cumulative hours in service to our troops and military families through the USO.
To apply to be a volunteer with the USO, please visit www.volunteers.uso.org and choose one of the four Houston locations to start.
« BACK TO NEWS