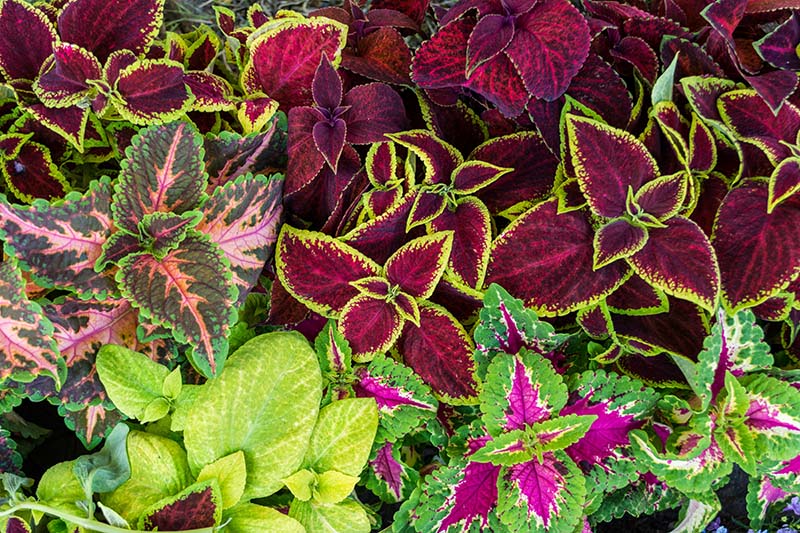 Home & Garden
Plant of the Month by Harris County Master Gardeners
September 14 2022
---
by Becky Lowicki, Master Gardener
Eye-popping color, intricate detail, and oh so strikingly beautiful – Coleus brings a certain joie de vivre to every garden setting.
If you're a fan of foliage, Coleus is comprised of a bounty of more 300 species and 1,500 varieties – each bringing its own artist's palette – with foliage resembling meticulously painted designs and show-stopping color arrays created with the utmost precision.
Where oh where to begin? First discovered in the 1850s in the mountains on the island of Java, Indonesia, Coleus is historically a traditional favorite in Victorian gardens, and a member of the Lamiaceae, or mint, family. While often mistaken for being only shade-tolerant, there are newer cultivars developed for sunny spots as well.
Vivid purples, vibrant fuchsias, punchy lime greens, regal reds and royal blues, accented with heart-shaped, pointed leaves tipped in color-bordered edges, fascinate the eye and bring wonder and majesty to any design-scape.
Easily propagated from leaf cuttings or seeds from its flower spikes planted in rooting medium or by placing stems cuttings in water, Coleus lends the ability to continue growing your own color combination from your favorites once the fall sets in and cooler weather arrives.
With names like "Mardi Gras," "Pineapple," "Fishnet Stockings," "Wizard Mix" and "Chocolate Drop," just to name a few, each spectacular variety brings both magic and delight to any residential landscape, container, window box and more – with countless opportunities to create your own colorful artistic masterpiece limited only by the eye and imagination of the beholder.
The following are top 2022 People's PicksTM for Coleus from this year's Horticulture Field Day hosted by Texas A&M AgriLife in Overton, Texas, in June as part of the East Texas Ornamental Plant Evaluations following field trials:
Main Street Ocean Drive
Multi-colored foliage in shades of hot pink and burgundy edged with bright lime green, this variety commands attention wherever it's planted.

Prefers part sun to part shade, moist, well-drained soil. Attracts hummingbirds and pairs well with begonia, calibrochoa, fuschia, impatiens and ipomoea.
ColorBlaze Torchlight
| | | |
| --- | --- | --- |
| | | Boasts fuchsia, maroon and green foliage on well-branched plants, and is known to be deer resistant. Adaptable as a houseplant indoors, and is sun to shade tolerant in landscapes and containers. |
ColorBlaze Wicked Witch
| | | |
| --- | --- | --- |
| Deep burgundy to chocolate foliage with a ruffled edge outlined in chartreuse with well-branched plants. Sun to shade tolerant in both landscapes and containers, as well as an adaptable houseplant indoors. Blooms late in the season which helps preserve the foliage presentation. | | |
Premium Sun Ruby Heart
| | | |
| --- | --- | --- |
| | | A new variety for 2023 with heart-shaped, ruby red leaves featuring a thin, chartreuse border on the serrated edge of the foliage. Low maintenance, full sun or shade tolerant in arid locations with low humidity. Tops of the leaves are red, while the underside is yellow-green, making long-lasting colors for use as a landscape or garden component. |
How to Care for Coleus
Requires well-drained soil. During the first week after planting, keep the root ball moist but not too wet to prevent stem and root rot.
Water when top inch of soil is dry.
To encourage branching and bushier growth, prune selected shoots when the plant is young for a rounded effect.
Fertilize in mid-summer with a liquid fertilizer at half the recommended strength.
Often grown as annuals or as an indoor houseplant in a sunny window.
Tender and a bit fragile, the square stems of branches break easily.
Easily started from seed indoors, cutting the flower spikes in late summer to extend the life of the plant and growth of new colorful leaves.
Can be propagated by rooting medium or placing stems directly in water vase.
Plant the rooted cuttings in small pots and keep near a sunny window for the winter.
Source: Harris County Master Gardeners Urban Dirt Newsletter (September 2022 Edition)
---
About Urban Dirt
Each month, Harris County Master Gardeners publishes an informative, resourceful newsletter entitled "Urban Dirt". This article was derived from the September 2022 edition. To read the September 2022 edition of this newsletter, click the button below.
URBAN DIRT - SEPTEMBER 2022 EDITION
« BACK TO NEWS
---
LATEST COMMUNITY NEWS
V
All
Development
Dining
Government
Home & Garden
Lifestyle
Outdoors
Pets
Transportation
Community
Non-Profit
Sports
Education
Health & Science
Religion
Groups
Entertainment