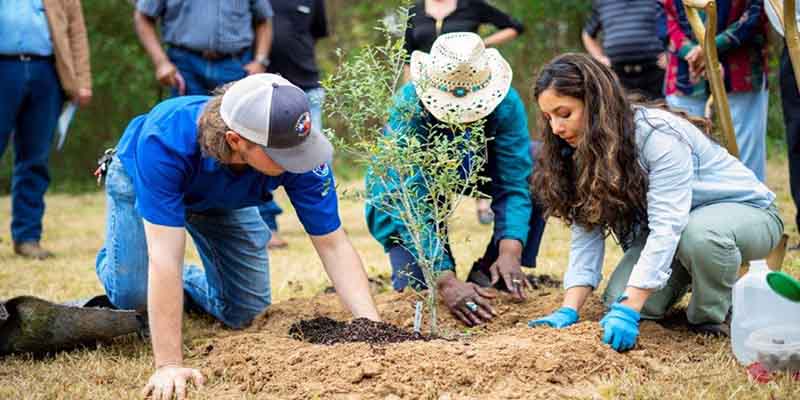 Community
November is Tree Planting Season
November 04 2022
---
When the growing season winds down, Precinct 4's Legacy Trees Project ramps up.
Fall is officially tree-planting season in Texas and one of the busiest times of year for Laura Medick, who leads Precinct 4's Legacy Trees Project. Medick brings historical, native, and orchard trees to public green spaces in neighborhoods, schools, and parks across the precinct.
Her goals include the following:
Planting and caring for urban trees to create healthier, more beautiful communities
Preserving the historic trees of Texas
And promoting the benefits of trees through educational events.
Medick travels across Texas to collect acorns and cuttings from famous Texas trees. She then plants the material to expand Precinct 4's historical tree collection. Precinct 4's Legacy Trees Project now features 35 named historical trees available to schools, residents, and nonprofits.
Did you know you can help beautify the community and preserve a piece of Texas history? You can participate in Precinct 4's Legacy Trees Project by visiting us online at
hcp4.net
.
About the Legacy Trees Project
Plans for a tree-planting program began in 2015 when Commissioner R. Jack Cagle received a historical tree donation from the Lady Bird Johnson Wildflower Center. The gift inspired him to create a program dedicated to preserving historical trees listed in the Texas A&M Forest Services' Famous Trees of Texas guidebook. Cagle expanded the program in 2018 to include fruit and nut tree plantings, educational events, and volunteer opportunities.
Source: Harris County Precinct 4
« BACK TO NEWS