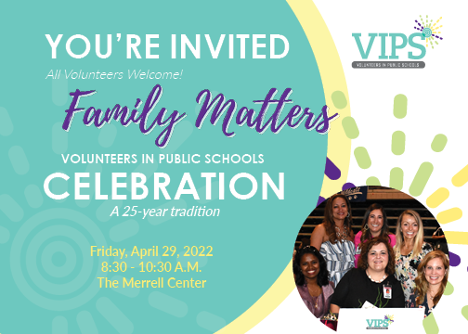 Education
Katy ISD to Host "Family Matters" Volunteer Celebration
April 05 2022
---
Katy ISD's annual Volunteer in Public Schools (VIPS) Celebration will return to the district's Leonard Merrell Center on Friday, April 29th from 8:30-10:30 a.m. Hosted by Katy ISD Partners in Education and its VIPS Executive Board, the event honors and celebrates the thousands of school district volunteers who give the gift of their time and talents to Katy ISD students and teachers. The Founder & CEO of Howdy Homemade Ice Cream, Tom Landis, will keynote the event which will also feature entertainment from Katy ISD campus principals, campus namesakes and students across Katy ISD.
All who have volunteered at a Katy ISD campus this year are invited to attend and should RSVP no later than April 26th by clicking here. Doors will open at 8:15 a.m. For more information about the event, volunteers should contact their campus VIPS Liaison or tammyrstringer@katyisd.org.
Katy ISD Partners in Education creates school-support opportunities for parents, businesses and the community by offering a wide variety of options amenable to every schedule, talent and expertise. We connect volunteers to every Katy ISD campus and for all grade levels. To learn more, visit Partners in Education or contact Cydney Wright at cydneyjwright@katyisd.org.
Source: Katy Independent School District
« BACK TO NEWS