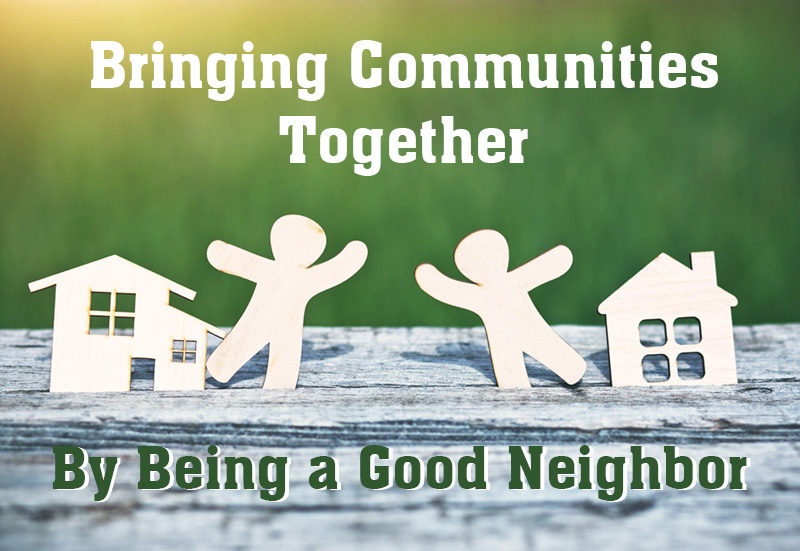 Pinned Notices
How to Show Gratitude to Your Neighbors
November 09 2022
---
BRINGING COMMUNITIES TOGETHER BY BEING A GOOD NEIGHBOR
November is a special month in many ways… Thanksgiving brings families together that may not communicate throughout the year; a feeling of gratitude is expressed and felt by so many; and acts of kindness can be seen all around. This is a great time to help bring happiness to your neighbors and community.

Below are some suggestions to help you become the kind of neighbor everyone wants to have:
Introduce yourself to your neighbors! Get to know them and build rapport.
Wave hello whenever you see them.
Invite them over for a cup of coffee or a glass of wine.
Host a gathering. These days, neighbors don't know each other as well as they used to. Have a barbecue and invite your neighbors. You could make it a pot-luck and have everyone bring their favorite dish or wine.
Go for a walk with them to talk and get some exercise.
Keep an eye on their house when they're away and pick up their mail for them.
Bake some cookies or cupcakes and bring them to your neighbors around the holidays or anytime to let them know you are thinking about them
Help them carry their grocery bags. This could be a blessing to someone with small kids, elderly, or someone that just seems to need help. You could help at the grocery store or help one of your neighbors. Just make sure they are okay with you coming in their house.
Offer to go shopping for an elderly neighbor or a new mom.
Everyone loves plants and flowers. Put a smile on someone's face by giving them a bouquet or a plant.
Invite them to volunteer with you at an event or charity. Not only are you offering to spend time with your neighbor, but you are also giving back to the community by volunteering.
Write a kind note to a neighbor or neighbors. Someone might be having a bad day or just needs something to pick them up. Even if it's just a small paragraph letting them know you are thinking about them, a little goes a long way.
Give them a hand with the garden. Yard work is not easy! If you see a lawn that needs some TLC or an elderly neighbor that could use the help, take a weekend or even just an afternoon to help tidy up their yard. This is not only a kind gesture, but will help make the community look more appealing as well.
Send your HOA a thank you note! These are volunteers and neighbors that have taken the time to make sure your neighborhood remains beautiful and a great place to live. They get a lot of grief, so do the opposite with a positive note of thanks for their hard work!
There are many other ways to show kindness and gratitude. Making an effort to get to know your neighbors and show kindness can make a tremendous difference in the quality of each of your lives, and will build a strong, caring community.
« BACK TO NEWS