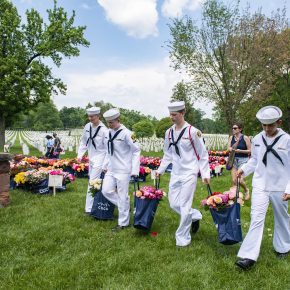 Non-Profit
Give Back This Memorial Day
May 13 2022
---
Every year on Memorial Day, those who risked or sacrificed their lives while protecting and fighting for our country are honored at Houston National Cemetery. Volunteers place a flower in front of each headstone while quietly reading the inscription and then thanking the person for their service.
According to the National Archives, Memorial Day is celebrated on the last Monday of May, commemorating men and women who have died serving the United States. It was first instituted to remember soldiers who died in the Civil War, and was originally called "Decoration Day" because of the tradition of decorating soldiers' graves.
Each year, the Memorial Day Flowers Foundation coordinates private, public, and corporate sponsors, as well as with local organizers and volunteers to place a flower on the grave site of interred veterans. This floral tribute connects communities to honor their heroes and the sacrifices they, and their families, made for our country.
Want get involved? Donations are being accepted for the. purchase of flowers needed to make this tribute possible. Volunteers are also needed to place the flowers on the grave sites. Commemorate the true meaning of Memorial Day this year and give back in a meaningful way.
Donate to Memorial Day Flowers Foundation
Volunteer at Houston National Cemetery
« BACK TO NEWS
---
LATEST COMMUNITY NEWS
V
All
Development
Dining
Government
Home & Garden
Lifestyle
Outdoors
Pets
Transportation
Community
Non-Profit
Sports
Education
Health & Science
Religion
Groups
Entertainment