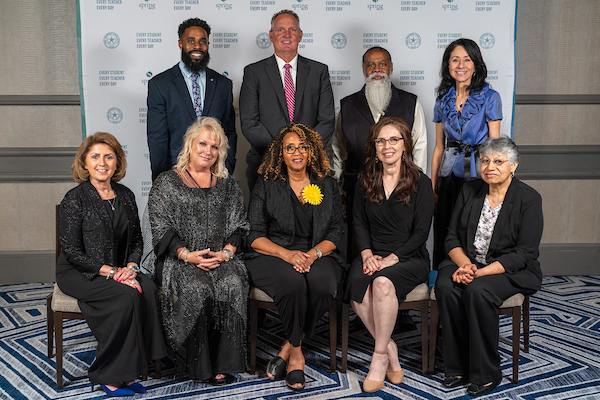 Education
Elementary and Secondary Teachers of the Year Named at Spring ISD's Annual Employee Recognition Banquet
May 16 2023
---
Hundreds of Spring ISD employees and their guests gathered in the ballroom of the Hilton Houston North on Friday for the district's annual Employee Recognition Banquet, which marks the approaching end of the school year with honors for top teachers, principals and other staff members, as well as special recognitions for rookie teachers of the year and employees who are retiring or marking service milestones within the district.
At the exciting culmination of the ceremony, CTE teacher Waylon Randolph – who teaches in the Criminal Justice pathway at Carl Wunsche Sr. High School – was named Spring ISD's Secondary Teacher of the Year and this year's top winner selected by the event's Platinum Sponsor, Randall Reed's Planet Ford, to receive a new Ford Escape donated by the dealership.
Planet Ford also donated a $2,500 prize to be awarded to Elementary Teacher of the Year Cinthya Bustamante Ramirez, a bilingual Pre-K teacher at Northgate Crossing Elementary School.
"It's such an exciting time, because tonight we get to celebrate you," Superintendent Dr. Lupita Hinojosa told attendees. "Spring ISD has had this long tradition of excellence when it comes to our educators, and this celebration is proof that the tradition continues."
Hinojosa emphasized the district's resilience during the pandemic, and Spring ISD's achievement – for the first time in a decade – of an overall B rating from the Texas Education Agency – an achievement she said had only been possible because of Spring ISD's extraordinary teachers and other employees.
"As I look out in this audience, I see you, and you are the ones that made it happen," Hinojosa said. "Each of you gives me reason to applaud and to celebrate, and to recognize the efforts, and the talent, and all that you do for our children – our students – every single day in Spring ISD."
Randolph, a former law enforcement officer with Harris County now going into his seventh year as a teacher at Wunsche, said he was in total disbelief when he heard his name called from the podium as the top prize winner this year.
"I didn't believe it. It took me a second to process everything," Randolph said afterward. "It's a huge upgrade from my 2014 Nissan, so this is amazing. I'm amazed, I'm blown away!"
He went on to acknowledge the contributions of those across the district who make student success a priority every day, and thanked Planet Ford, both for the new vehicle and for the many ways they stand behind the district and its students.
"It takes a village to raise kids. You hear that statement so many times, and Planet Ford is part of that village," Randolph said, "supporting us and supporting our scholars. It's absolutely amazing. What more can you ask? They're a huge part of our success in Spring."
Bustamante Ramirez said she was also surprised by her award and by being named Spring ISD's 2022-23 Elementary Teacher of the Year.
"I'm just so thankful, so humbled by the whole experience, by just being able to be here with my peers," Bustamante Ramirez said. "Any one of us could have been the winner, and I just feel blessed."
She said the experience had reminded her of an old quote that perfectly summed up her own path as an educator – the seeds of which were planted when she immigrated with her family to the U.S. as a young girl and struggled to learn English while adapting to her new home.
"'If you love what you do, then you'll never work a day in your life,'" Bustamante Ramirez said, "and that's what I've been doing for the past 14 years in prekindergarten. I love it. I wouldn't change it for anything in the world."
The event included a special shout-out for Spring ISD's 2022-23 Elementary and Secondary Principals of the Year – Cooper Elementary School Principal Mayra Garcia and Claughton Middle School Principal Rodney Louis.
The ceremony also honored the eight recipients of this year's Employee Excellence Award, presented to outstanding staff members by the Spring ISD Board of Trustees. Trustees review the nominations and select award recipients, then partner with the Spring ISD Education Foundation to present each winner throughout the school year with a plaque, pin and $100 check.
The Employee Excellence Award Winner of the Year for 2022-23 was Christine Olsavsky, a sixth-grade faculty member in the International Baccalaureate program at Springwoods Village Middle School. With the Education Foundation's support, Olsavsky received a $1,000 check during the Employee Recognition Banquet.
"As a board, we are often made aware of the incredible achievements of our students," said Board President Justine Durant. "These students are to be commended, of course. But we also know that these students would not have been able to achieve these things without the constant support and encouragement of their teachers, staff members on their campuses, and even the support of every single one of our Spring ISD employees."
Durant also thanked the team at Planet Ford for their longstanding support of the district, its staff and its students.
"Their partnership and dedication to Spring ISD throughout the years has made many things possible in this district," Durant said, "including the top prizes to our Teachers of the Year tonight!"
Planet Ford General Manager and Operating Partner Shawn Burns was on hand to announce the evening's final awards and to present Randolph with the keys to the Ford Escape. He also reflected on the dealership's commitment to giving back to the community and the importance of their decade-long partnership with Spring ISD.
"This is our 10th car that we've given away to Spring ISD. We started in 2014, and I've been here every year to give the car away," Burns said before announcing the top winners.
"I'm so touched every year when I come," he continued, "and I always tell my wife at the end, 'You know, if our children could just have teachers like in this room every year of their education life, they'd be so successful!' Because I know the type of work that you all put in, so congratulations to everyone. I wish everyone could win a car!"
After Randolph and Bustamante Ramirez received their prizes and attendees began exiting out into the Hilton lobby, Hinojosa added her thanks to Planet Ford for helping the district recognize and reward excellence in public education.
"Planet Ford here in Spring really recognizes educators and the work and the support that they give to our students," Hinojosa said. "This partnership is extra special, because they believe in our educators. They believe in Spring ISD."
Source: Spring ISD
« BACK TO NEWS
---
LATEST NEWS
V
All
Food & Beverage
Food & Dining
Shopping
Weather
Development
Dining
Government
Home & Garden
Lifestyle
Outdoors
Pets
Transportation
Community
Non-Profit
Sports
Education
Health & Science
Religion
Groups
Entertainment