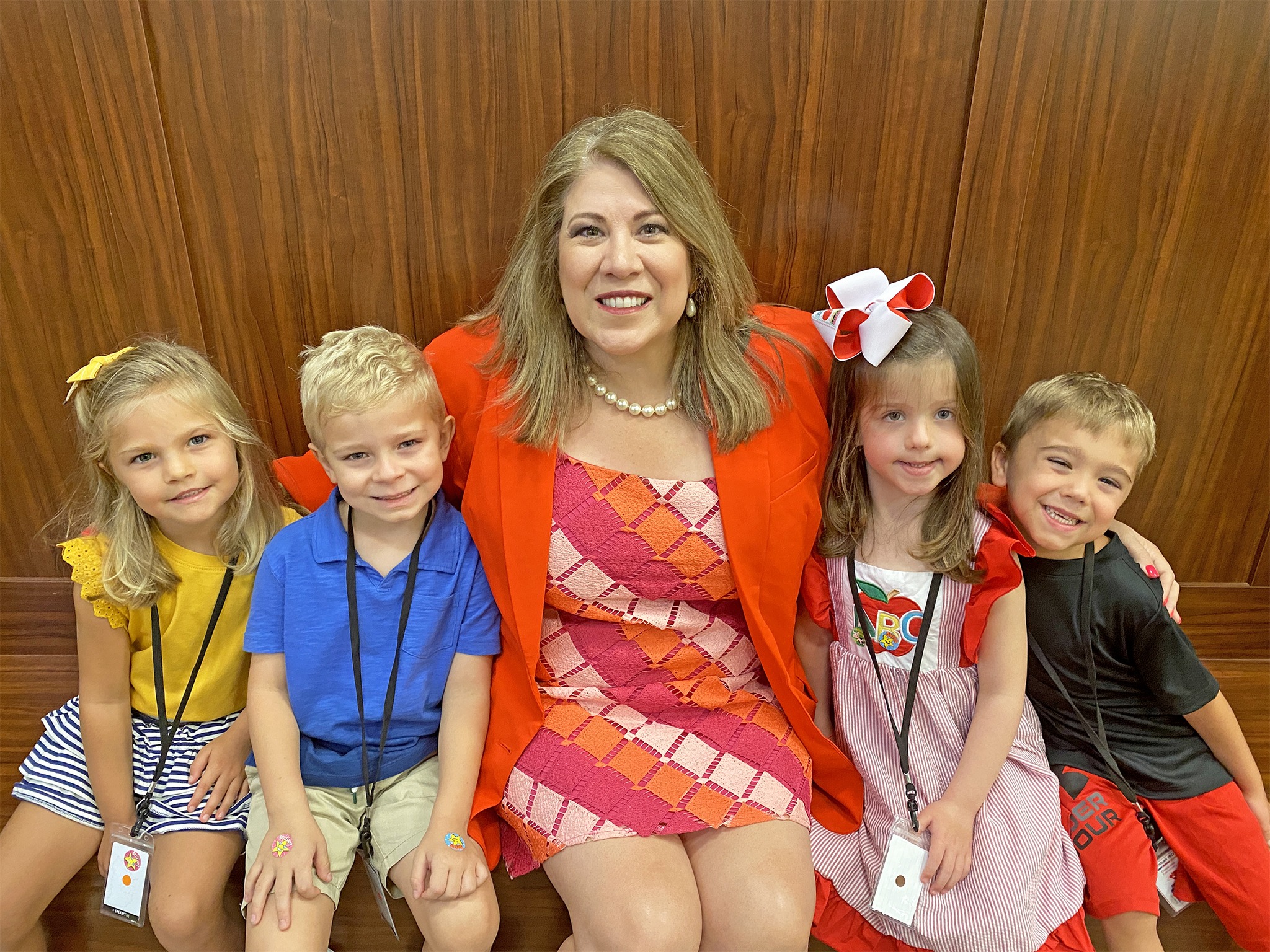 Education
Dr. Martha Salazar-Zamora Named 2023 Region 4 Superintendent of the Year
May 30 2023
---
Dr. Martha Salazar-Zamora, Superintendent of Tomball ISD, has been named the 2023 Region 4 Superintendent of the Year. As the Region 4 nominee for the 2023 Texas Superintendent of the Year program, sponsored by the Texas Association of School Boards (TASB), Salazar-Zamora will be among Regional winners who will be interviewed at the end of August and five state finalists will be selected. The Texas Superintendent of the Year will be announced at the txEDCON23 TASA | TASB Convention in September.
The Tomball ISD Board of Trustees unanimously approved a resolution during the April Board Meeting to nominate Salazar-Zamora for Texas Association of School Boards (TASB) Superintendent of the Year for 2023 (SOTY).
"The TISD Board is thrilled to see Dr. Z awarded for her tireless efforts. Whether it is promoting teacher improvement through collaborative learning communities, or dreaming up innovative initiatives to equip our students to become tomorrow's workforce, Dr. Z is helping the District achieve new distinctions and recognition like never before," said Lee McLeod, President, Tomball ISD Board of Trustees.
Salazar-Zamora brings over 36 years of experience in education and has served TISD as Superintendent of Schools since 2017. She previously served three years as the TISD Chief Academic Officer.
Because of Salazar-Zamora's leadership, Tomball ISD continues to set the bar high with innovative programs and initiatives that are student-centered and intentional. She not only leads a fast-growth district, but one of the highest academic achieving districts in the state of Texas, all while maintaining strong financial management practices.
"Dr. Salazar-Zamora's well-deserved recognition as the 2023 Region 4 Superintendent of the Year reflects her outstanding commitment to educational leadership," stated Dr. Rodney Watson, executive director, Region 4 Education Service Center. "Her tireless dedication to cultivating a nurturing and tightly-knit learning community that focuses on the holistic development of every student sets a remarkable example for education leaders statewide. We extend our heartfelt congratulations on this deserving accolade and wish her the utmost success in her nomination for Texas Superintendent of the Year."
Salazar-Zamora's leadership has led Tomball ISD to earn the distinction of the Top-Rated School District in both Harris and Montgomery Counties based on accountability ratings. Additionally, TISD was ranked No. 1 Best School District in Harris County and the No. 1 Best Place to Teach and No. 1 District for Having the Best Teachers in both Harris and Montgomery Counties and the Houston Area by Niche's 2023 rankings. In addition, Tomball ISD was a finalist for two H-E-B Excellence in Education Awards in 2023 for Large School District and Outstanding School Board, the only school district in Texas nominated for more than one award.
Salazar-Zamora without a doubt has put Tomball ISD on the map as a pillar of excellence through leadership and a continuous drive for high achievement and innovation.
"Dr. Salazar-Zamora leads with her heart and always demonstrates a relentless approach to growth," said Dr. Amy Schindewolf, Tomball ISD Chief of Staff and School Leadership. "As a life-long learner, she inspires others with her visionary mindset, and is so deserving of this honor. I'm thankful I have had the opportunity to work and learn alongside her knowing she genuinely cares for all students, staff, families and our community. We are lucky to have her as our leader in Tomball ISD."
Whether it was implementing Strategic Plan 2025, or the passing of Bond 2021, Salazar-Zamora has been forced to make critical decisions that ultimately impact the future of Tomball ISD. She spearheaded the purchase of a $300M commercial/industrial complex for just $37.5M to become a multi-purpose educational facility, all while maintaining solid financial ratings.
Salazar-Zamora balances the pursuit of academic success and the management of student growth with fiscal responsibility. In fact, because of this, TISD is consistently recognized by TXSmartSchools as a coveted "Five Star'' District. Under her leadership, TISD has been committed to significantly higher standards in financial reporting and has received multiple awards for transparency, financial statement presentations and disclosures. Notably, a very small percentage of school districts throughout the state have received the high ratings in financial excellence that sets TISD apart.
In addition to strong finances, and in order to support high academic achievement, Salazar-Zamora is intentionally focused on the learning excitement within the school atmosphere, specifically related to the Professional Learning Community (PLC) process. Because of that focus, Tomball ISD is a Model PLC District by Solution Tree, only one of four districts in Texas and one of just 32 in the nation with that distinction. Also, 11 TISD campuses have been recognized as Model PLC campuses. In addition to the PLC process, TISD has implemented Great Expectations (GE), a strong character education program at all elementary and intermediate campuses with 11 earning the highest recognition as GE Model Schools.
In addition to student-focused initiatives, Salazar-Zamora, along with members of her Cabinet, have strategically built a leadership pipeline and have successfully graduated from the Holdsworth Leadership Experience. Through this experience, the identity of Tomball ISD's Leadership Definition was created.
At the forefront of the District vision, "Tomball ISD students will lead in creating the future", Salazar-Zamora has led a strategic roadmap for CTE programming and has recently initiated four brand new programs in aviation, law enforcement, legal studies, and cybersecurity.
In the Fall of 2023, Tomball ISD will open its first P-TECH, focused on healthcare at Tomball Star Academy in partnership with Lone-Star College-Tomball and HCA Houston Healthcare Tomball. Tomball ISD will also open Early Excellence Academy, its newest Pre-K Center as part of Bond 2021.
Salazar-Zamora has successfully managed to lead a District that continues to maintain excellence in all areas. Because of her success, her leadership expands well-beyond the District boundaries in her pursuit to advocate for public education.
Over the course of her professional career, she has been afforded many opportunities to connect, collaborate and advocate with fellow colleagues through local, regional, state and national organizations.
Texas Education Agency (TEA) Commissioner's Cabinet
Texas Association of School Administrators (TASA) - President Elect
American Association of School Administrators (AASA) - Governing Board (Texas Representative)
Fast Growth School Coalition (FGSC) - Vice President
The Council of Women School Executives (TCWSE) - Vice President
Past President and Founding Member of Texas Association of Latino Administrators and Superintendents (TALAS)
Hospital Corporation of America (HCA) Tomball - Board of Trustees
Greater Tomball Area Chamber of Commerce - Board of Trustees
Her representation and her ability to provide valuable insight by serving on these committees and executive boards has positively impacted Tomball ISD, the community of Tomball, and education as a whole.
Salazar-Zamora is a role model and a positive influence in public education, serving as the first female Superintendent of TISD and the first Hispanic Superintendent of Tomball ISD.
"I am extremely grateful to work alongside such passionate educators in Tomball ISD who put their whole heart into their work each and every day," said Salazar-Zamora. "I am honored to have been selected as the Region 4 Superintendent of the Year and want to thank the TISD Board of Trustees for the nomination, and most importantly, for supporting and believing in a visionary mindset where every decision we make is for our students. This recognition is a culmination of the amazing work that continues to happen all across Tomball ISD as well as a representation of our commitment to our overall vision and mission."
According to TASB, the Superintendent of the Year (SOTY) award program has honored outstanding administrators for achievement and excellence in public school administration. These school leaders are chosen for their strong leadership skills, dedication to improving the quality of education in their districts, and commitment to public support and involvement in education.
Source: Tomball ISD
« BACK TO NEWS
---
LATEST COMMUNITY NEWS
V
All
Development
Dining
Government
Home & Garden
Lifestyle
Outdoors
Pets
Transportation
Community
Non-Profit
Sports
Education
Health & Science
Religion
Groups
Entertainment