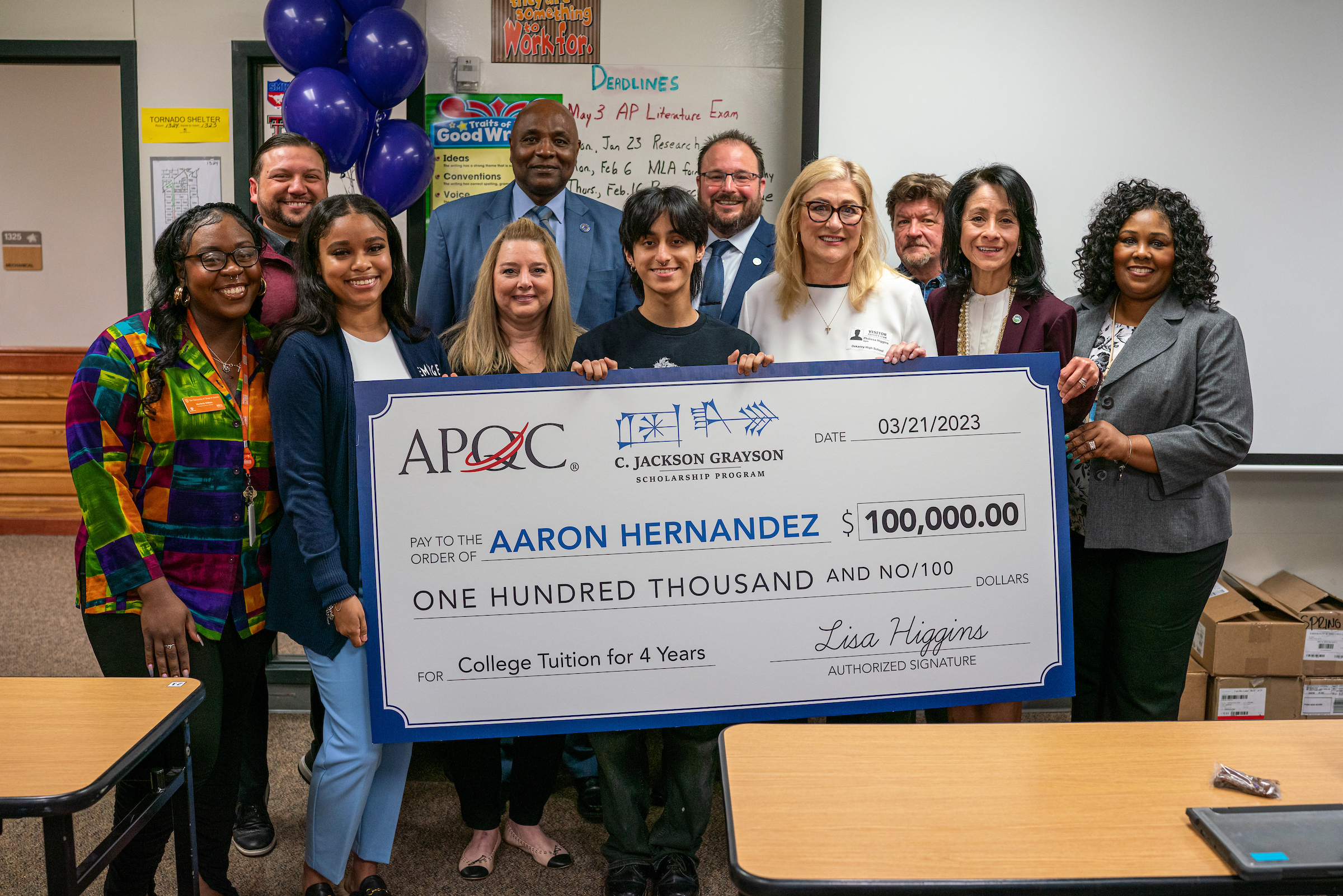 Education
Dekaney HS Senior Surprised with $100,000 Scholarship from APQC
March 22 2023
---
Aaron Hernandez was a little bit overwhelmed.
It made sense, of course, with a large group of Spring ISD and Dekaney High School administrators – many of them wielding cameras and cell phones – unexpectedly swarmed his mid-morning Magazine class at Dekaney High School.
He might have also been overwhelmed by the sight of a gigantic check made out to him — for $100,000.
The surprise – a scholarship funded by APQC (American Productivity & Quality Center) – even had Hernandez questioning whether any of this was real.
"This feels like a fever dream," the Dekaney High School senior said. "Tell me this is real."
It was indeed very real.
After applying for the scholarship last fall, Hernandez was surprised on Tuesday morning with the $100,000 award. Headed to Lewis and Clark University in Portland, Oregon, this fall, the scholarship allows the future Computer Science major to breathe a sigh of relief.
"This changes everything," he said. "I can put more money towards helping my family. This is just relief."
Hernandez is set to graduate this spring with a 4.0 GPA. He's also active in many clubs and organizations on campus, while also working 20 to 30 hours a week to help make ends meet for his mother.
As a Fellow with the EMERGE program, which empowers and prepares high-performing students from underserved communities to attend and graduate from selective colleges and universities, Hernandez worked closely with Robin Brumfield, a Program Manager with the EMERGE program.
"He is hard-working. He's worked since he was 16 years old to help his mom. He's kept his grades up. He's been working, but he's never lost track of his goal," Brumfield said. "He's always remained steadfast and put in the work to be here today."
The scholarship is a part of the C. Jackson Grayson Scholarship Program from APQC. Based in Houston, the nonprofit organization works with organizations to implement best practices and other process and performance improvements.
Named after the organization's founder, the scholarship program is in its second year. It funds four $100,000 scholarships each year to applicants from five counties across the Houston area, and focuses primarily on students with financial need.
The scholarship program is a favorite for everyone in the organization.
"Our founder Dr. Jack Grayson believed that education was what improved societies and ultimately allowed us to live that real freedom in our lives," Lisa Higgins, the President and CEO of APQC, said. "We wanted the award to change lives. Jack believed that if children can go to college and build their educational dream, they are able to overcome obstacles as individuals and in their families."
In addition to the scholarship funds, APQC sets up recipients for future success by offering paid summer internships, mentoring, and skill development.
For Hernandez, this scholarship is, indeed, life-changing. The first-generation college student believes this marks a new chapter for his family.
"Not only will this help me in my future, it helps me think of myself as an inspiration for my little sister," Hernandez said. "She's in fifth grade right now. [She] now has an influence to go to college, to apply herself to get to college. This is what I was hoping for."
Source: Spring ISD
« BACK TO NEWS
---
LATEST NEWS
V
All
Food & Beverage
Food & Dining
Shopping
Weather
Development
Dining
Government
Home & Garden
Lifestyle
Outdoors
Pets
Transportation
Community
Non-Profit
Sports
Education
Health & Science
Religion
Groups
Entertainment