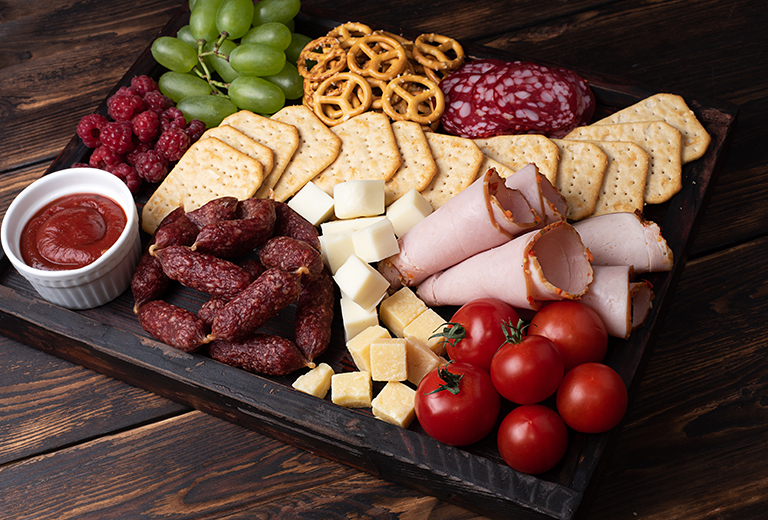 Boards and Bowls - Kid-friendly charcuterie boards
August 30 2021
---
Kids are back in school! Sports have started! Need quick and easy meals? Try these!
Meats:
Salami, prosciutto, or other deli meat
Sliced summer sausage
Sliced or cubed pepperoni
Beef jerky sticks
Cheeses:
Sliced cheeses
Cubed cheeses
Hard cheeses
Spreadable cheeses
String cheese or other cheese sticks
Mini Baby Bell cheeses
Fruits:
Grapes (these are SO simple)
Cherries
Whole berries
Apple and pear slices (dip in Sprite to keep them from turning brown)
Pomegranate seeds
Dried fruit — craisins, raisins, apricots, dates, etc.
NOTE: super juicy fruits like melons, stone fruits, and pineapples don't work well — also, I never include bananas.
Veggies:
Cherry tomatoes
Baby carrots and sugar snap peas
Sliced cucumbers and peppers
Any other raw veggie you like, cut into bite-size chunks
Pickles (or any pickled veggie)
Olives
Crackers, Nuts, Seeds, Bread:
Wheat Thins, Ritz, Saltines, Club, or any crackers you have
Tortilla chips
Pretzels (we love the long rods)
Pub mixes (like Chex Mix)
Veggie Straws, Goldfish, Cheese-Its
Crusty bread or breadsticks
Small sandwich chunks — depending on how hungry we are
Mixed nuts
Pistachios
Sunflower and pumpkin seeds
Dips:
Hummus or ranch for the veggies
Fruit dip or yogurt for the fruit
Guacamole and salsa for chips and crackers
Jams and jellies to spread on crackers
Spinach, artichoke, and cheese spread for bread and crackers
Anything else your family enjoys that is easy to eat with your hands!
Credits: ANDREADEKKER.COM
« BACK TO NEWS
---
LATEST COMMUNITY NEWS
V
All
Development
Dining
Government
Home & Garden
Lifestyle
Outdoors
Pets
Transportation
Community
Non-Profit
Sports
Education
Health & Science
Religion
Groups
Entertainment