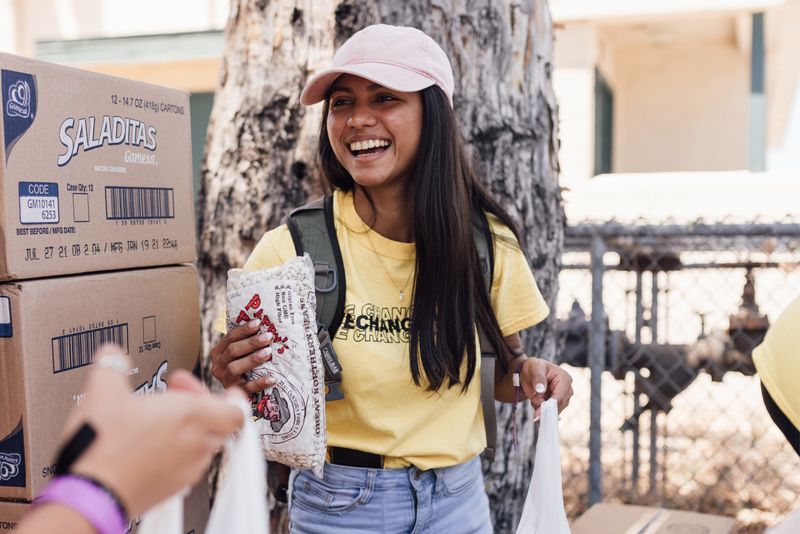 Community
Tim McGraw, Tobe Nwigwe and Parker McCollum to Perform at 1DayHouston Exclusive Concert Events
April 24 2023
---
Love Has No Limits (LHNL), a nonprofit working to address some of the nation's most pressing challenges by harnessing the power of collaboration, reveals the first wave of renowned artists Tim McGraw, Tobe Nwigwe, and Parker McCollum (who will be performing an unplugged, acoustic set) as performers at 1DayHouston's exclusive concert experience. The first 30,000 registrants to volunteer for the city's largest single-day giveback event Saturday, April 29 will gain access to one of two private concerts on Saturday, April 29 or Sunday, April 30 after serving the minimum of 3 hours of volunteer work. McCollum, McGraw and Nwigwe will be joining the 1DayHouston movement to celebrate the hard work of up to 50,000 local volunteers and inspire Houstonians to create meaningful change in their communities.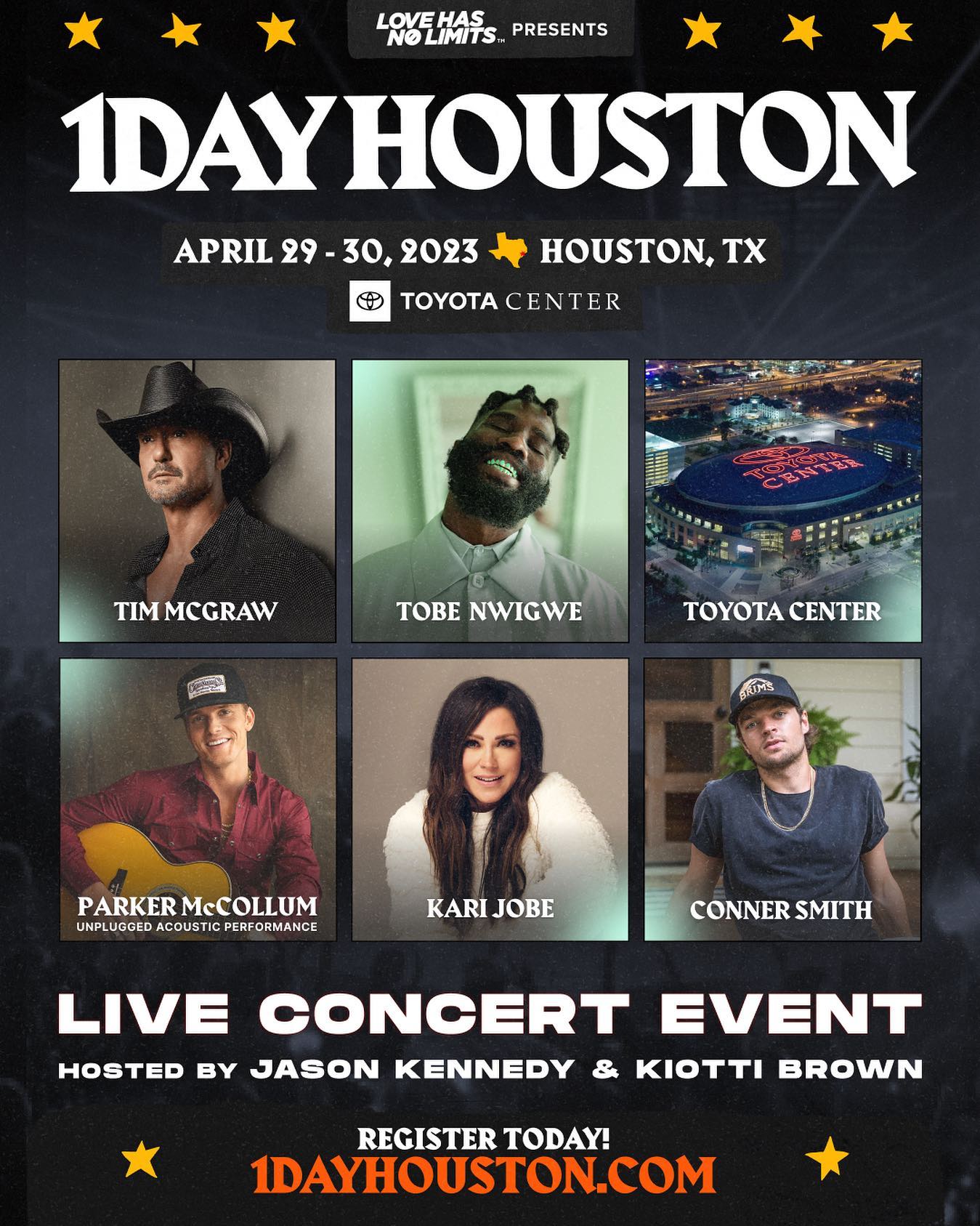 Tim McGraw is a GRAMMY® Award-winning entertainer, author, and actor who has sold more than ninety million records worldwide and dominated the charts with forty-six number one singles. He is the most played country artist since his debut in 1992, has four New York Times bestselling books to his credit and has acted in such movies as Friday Night Lights and The Blind Side. McGraw recently starred beside Sam Elliott and his wife Faith Hill in the Yellowstone prequel and three-time Emmy nominated 1883. He is the founder and inspiration behind health and fitness brand, TRUMAV. McGraw is considered one of the most successful touring acts in the history of country music. His projects have spawned some of the most meaningful songs of all time, including "Live Like You Were Dying" and "Humble and Kind," whose messages continue to impact fans around the world. McGraw will be performing at the concert event Sunday, April 30.
Tobe Nwigwe is a Houston-area native and enigmatic musician. With a music style that reflects his difficult upbringing as a first-generation Nigerian in Houston, Texas, Nwigwe has made waves in the industry. His performance on NPR's Tiny Desk Series was a huge hit, gaining him millions of views and critical acclaim. Recently, Nwigwe was prominently featured in Beyoncé's Adidas x IVY PARK Rodeo collection campaign and received his first Grammy nomination for Best New Artist. Nwigwe will make an appearance as one of the musical headliners on both Saturday, April 29 and Sunday, April 30.
Parker McCollum, Texas-based country artist and owner of PYM Music, has been singing and songwriting since he was 13 years old. McCollum has since released four albums and won the New Male Artist of the Year award at the Academy of Country Music Awards (2022) and the Breakthrough Video of the Year Award at the CMT Music Awards (2022). He is excited to return to his hometown and perform for thousands of volunteers who are passionate about serving the community. McCollum will be joining the artist lineup Saturday, April 29.
Love Has No Limits has been serving the Houston community since May 2022 in preparation for 1DayHouston, connecting hundreds of organizations and community champions to partner in brand new ways to serve the city and adopt long-term serving pipelines. The transformational service initiative has garnered the support of up to 1,000 partnering organizations and influencers such as local philanthropist Mattress Mack, Houston Rockets DJ Kiotti Brown and Houston Rockets player Jae'Sean Tate. The concert events will be hosted by TV personality Jason Kennedy.
Previously, Love Has No Limits hosted a 1DayLA event in 2021 that rallied over 20,000 volunteers and faith communities to empower more than 100,000 families in Los Angeles County. Volunteers were celebrated at a concert featuring Justin Bieber, Chance the Rapper, Chandler Moore of Maverick City Music, Tori Kelly and Jaden Smith.
Houstonians can register for the day of service Saturday, April 29 at 1DayHouston.com for the registration price of $15 which includes an official team t-shirt. 1DayHouston is a family-friendly initiative and welcomes volunteers of all ages. Serve Centers, or meeting points for outreach activities, will become available to volunteers to choose their serving location or area of impact soon after registration. Some of the service activities taking place include:
Distributing aid to the hands of families who need it.
Serving families at community festivals.
Assisting with urban garden and beautification projects.
Coaching and assisting with community sports clinics and events.
Teaming up with students and teachers to make a difference at local schools.
Leading a team of volunteers throughout the day of service Saturday, April 29.
Providing individuals access to healthcare through medical brigades.
Supporting the process for community members to receive free vision care.
For more information about 1DayHouston and to register for the event, please visit 1dayhouston.com and follow the organization on Facebook @lovehasnolimits, Instagram @lovehasnolimits and YouTube @lovehasnolimits.
---
About Love Has No Limits
Love Has No Limits (LHNL) is an apolitical, nonpartisan collaboration infrastructure uniting spheres of influence to produce sustainable change across America. Since 2021, Love Has No Limits has activated collaborative volunteer movements of organizations across the nation. The inaugural 1DayLA event mobilized over 20,000 volunteers and faith communities to unite Southern California, empowering over 100,000 families in Los Angeles County. In April 2023, the 1DayHouston service initiative will call on community members from across the Greater Houston area to unite and demonstrate how love can change a city. Learn more at https://lovehasnolimits.com/.
« BACK TO NEWS
---
LATEST NEWS
V
All
Food & Beverage
Food & Dining
Shopping
Weather
Development
Dining
Government
Home & Garden
Lifestyle
Outdoors
Pets
Transportation
Community
Non-Profit
Sports
Education
Health & Science
Religion
Groups
Entertainment