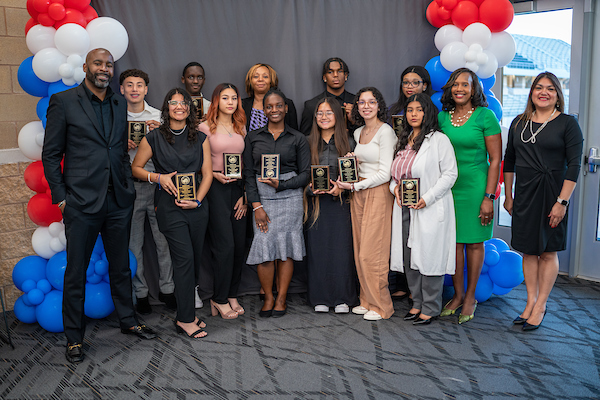 Education
CTE Advisory Board, Celebrating 40 Years, Awards $20,000 in Scholarships to Spring ISD Students
April 29 2023
---
It was a celebration Thursday evening, not only of the 20 Spring ISD seniors receiving scholarships but of 40 years of work by the Spring ISD Career and Technology Education (CTE) Advisory Board. Students, their families, district CTE staff, advisory board members, and other community members gathered at the Randall Reed Center to mark the double occasion.
"Forty years of our CTE program," Superintendent Dr. Lupita Hinojosa said. "Forty years of this amazing program and this amazing education could not be done without the support of our community, and without our board and our partners. We've got so many industry-based partnerships and many community-based partnerships that make these programs succeed."
In Spring ISD, 85% of students are involved in some way with CTE programs, with many earning certifications and associate degrees upon their high school graduation.
"One of the things that we must remember is that we have an amazing legacy here in Spring ISD," Hinojosa said. "And I believe I have an obligation — that we have an obligation — to carry that forward."
That legacy has been one that the CTE Advisory Board – made up of community members and leaders – has taken seriously for four decades. The mission of that advisory board is to advise, assist and support Spring ISD students with the opportunity to acquire challenging academic and technical skills and to prepare them for high-skilled, high-wage, and high-priority occupations in a global economy.
Donna Lewis, a longtime district volunteer and namesake of Lewis Elementary, was credited at the event with helping to found and establish the CTE Advisory Board, and was honored with a special recognition.
"It has been an honor and a privilege to be a part of this Spring ISD CTE Advisory Board," Lewis said. "This is my 50th year with the school district. And I hope, if all goes well, that I can continue that work for as long as I can."
Every year, the Advisory Board reviews scholarship candidates to select the final group of highly qualified seniors for recognition and scholarship awards. They are each awarded $1,000 scholarships – donated by a community member or organization – and are given in recognition of their successful progress through their CTE coursework during high school. Awarded students represented a range of CTE pathways – from pre-med and pre-law to business, engineering and law enforcement.
During a special keynote speech, H.B. Pierre Simon Jr. – a 2003 graduate of Westfield High School and current Global Vice President of Surgical Glaucoma Marketing for Sight Sciences – told the students that he was in their shoes 20 years ago.
"If you do what you love, two things will always come: success and happiness," he said. "Identify in college what it is that you love doing and focus on that. You may know exactly what that is right now, and that is amazing. But you might also enter college — as I did — with just an inkling of what it is that you love. And I submit to you that that is amazing as well."
The event also honored several CTE teachers who were awarded grants to support their innovative efforts in the classroom, including a Veterinary Office technology upgrade at Wunsche High School by Jessica Gray, a mobile welder for Agriculture Mechanics programs districtwide by Eudora O'Brien, districtwide industry-based certification preparation for teachers by Austin Hayward, an EMT birthing simulator for Wunsche High School by Steven Herbert, and an escape room experience for the law pathway at Westfield High School by Marcus Ford.
The scholarships and teacher grants are all a part of continued investment by the district in CTE programs, a fact noted by Board of Trustees President Justine Durant.
"The number one resource in our country are our kids," Durant said. "We need to deposit all of our resources in their future. We need to give them options and opportunities. And that's what our CTE program offers right here in Spring ISD."
Below is the complete list of 2023 CTE $1,000 scholarship winners:
Bevlyn Adomako (Westfield High School), attending University of Houston-Downtown to pursue a major in Biology and sponsored by Lone Star College-Houston North
Jose Benitez (Westfield High School), attending the University of Houston to pursue a major in Construction Engineering and sponsored by Leonard & Sherry Dunlap
Amy Cadena (Wunsche High School), attending McMurray University to pursue a major in Criminal Justice and sponsored by CenterPoint Energy
Crystal Chidi-Ubani (Wunsche High School), attending the University of Texas to pursue a major in Biology and sponsored by Michael & Cynthia Williams in Memory of Bernice Fiest
Jaidah Collard (Westfield High School), attending Prairie View A&M University to pursue a major in Nursing and sponsored by Willie Jones Jr. and Family
Gisele Cruz-Martinez (Westfield High School), attending Houston Christian University to pursue a major in Biology and sponsored by CenterPoint Energy
Jessica Flores (Wunsche High School), attending Texas Woman's University to pursue a major in Psychology and sponsored by CenterPoint Energy
Nelson Lazo (Wunsche High School), attending Lone Star College to pursue a major in Political Science/Government and sponsored by CenterPoint Energy
Mouhamed Lo (Westfield High School), attending University of Texas to pursue a major in Biology and sponsored by Dr. Kyrel Broxton
Anh Nguyen (Westfield High School), attending University of Houston to pursue a major in Business and sponsored by H5 Strategic Alliances
Litzy Norena (Westfield High School), attending Texas A&M University to pursue a major in Biology and sponsored by Marcus Ford and Family
Ximena Perales (Wunsche High School), attending University of Houston to pursue a major in Political Science and sponsored by T.A.S. Trucking Corporation
Valery Rojas (Westfield High School), attending University of North Texas to pursue a major in Political Science and sponsored by Anne & Clark Courtright Charity Fund
Jacquelynn Romero (Westfield High School), attending Houston Christian University to pursue a major in Criminal Justice and sponsored by CenterPoint Energy
Dexter Smith II (Westfield High School), attending Sam Houston State University to pursue a major in Education and sponsored by Marcus Ford and Family
Sara Soto-Alabarce (Wunsche High School), attending University of Houston-Downtown to pursue a major in Psychology and sponsored by Spring ISD Board of Trustees
Kevinn Tran (Wunsche High School), attending Texas A&M University to pursue a major in Computer Science and sponsored by Seth Sharr
Arieanna Ulloa-Jones (Dekaney High School), attending Prairie View A&M University to pursue a major in Architectural Design and sponsored by Bentley & Associates PC
Melanie Vallejo (Spring High School), attending Culinary Institute Lenotre to pursue a major in Culinary Arts Baking & Pastry and sponsored by Donna Lewis and Family
Andrea Villarreal (Dekaney High School), attending West Point to pursue a major in Economics and sponsored by Law Office of Chase Gregory Jones PLLC
Source: Spring ISD
« BACK TO NEWS
---
LATEST NEWS
V
All
Food & Beverage
Food & Dining
Shopping
Weather
Development
Dining
Government
Home & Garden
Lifestyle
Outdoors
Pets
Transportation
Community
Non-Profit
Sports
Education
Health & Science
Religion
Groups
Entertainment